10 Things You Didn't Know About Collegiate Racing
The College Files
by Lindsey Prososki
1. Collegiate racing covers all the cycling bases. There is mountain bike racing that includes the disciplines of cross-country, downhill, dual slalom, 4-Cross, short track, and short track relay. Collegiate racing offers road racing and criterium racing as well as track racing on the banked velodromes (many built on college campuses). They offer the hybrid cyclocross and some programs include BMX.
                                               
2. There are National Championships in each disciple, where all conferences come together to compete for a National Championship jersey and title.
3. There can be professional cyclists and Olympians in any disciple on collegiate teams.
4. College racing is taken very seriously by its athlete. They train year round for their discipline.
5. There are eleven conferences of collegiate racing.
6. Some college teams are like varsity team sports, where there are scholarships awarded to gifted athletes.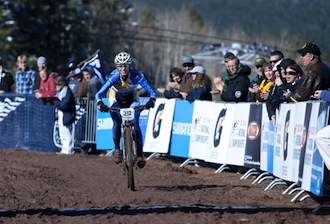 (Photos from USA Cycling)
7. Many top college athletes get to travel like professional cyclists with food, hotel, and race entries all paid for.
8. Some colleges only offer cycling as a club, so racers have to raise money and cover their own expenses. There are no cycling scholarships available from these schools, but club racing is still popular.
9. Schools that race at the varsity-sport level put on home races on their courses, just like any other varsity college sport would.
10. College racing would not be possible without coaches making training plans, working on courses, holding practices, and keeping college cycling alive.

Lindsey Prososki, here racing at Ray's Indoor MTB Park, is from Cleveland, Ohio, and has appeared in the pages of Mountain Bike Action a number of times over the years. She currently attends Lindsey Wilson College where she is on the cycling team and majoring in English and Journalism. Lindsey writes "The College Files" for us whenever her busy schedule permits.

THERE ARE SO MANY WAYS TO GET MOUNTAIN BIKE ACTION:

Mountain Bike Action
is a monthly magazine devoted to all things mountain biking (yes, that's 12 times a year because we never take a month off of mountain biking). It has been around since 1986 and we're still having fun. You can start a subscription by
clicking here
or calling (800) 767-0345. Also available from the
Apple Newsstand
for reading on your iPad, iPhone or iPod Touch.
Contact us via email at [email protected]
_______________________