Mountain Bike Action Product Test: Specialized Flux 1200 Headlight
Specialized Flux 1200 Headlight
If you're like us, you probably wish you could ride all day; however, family, work and other obligations often take priority. For those days when you just can't find time to get away, a night ride may be your best option. The key to an enjoyable night ride is having a quality night-riding light. This month, we decided to give the Flux 1200 from Specialized a try during one of our late-night spins. Read on to learn how it faired against other lights we've tested.
Tech features
The Flux 1200 offers 1200 lumens in its full-power output setting. The light has dual beams designed to cast a wider field of view than a single beam and comes with a quick-release handlebar mount for easy on/off action. The Flux has three main power modes: a high-output, 1200-lumen setting; a medium 600-lumen setting; and a low 300-lumen output setting. Run-times vary between an hour and fifteen minutes on high and five hours in low. A long press-and-hold places the light in its secondary settings, allowing for a list of flash and low power modes for road riding or off-the-bike activities. Riders looking to run multiple lights will be happy to know that the Flux light, along with its 900-lumen output little brother, can be attached to a helmet using Specialized's $20 helmet mount. Another key feature of the Flux light is that it can be charged to 90 percent of its power in just an hour and a half while a three-hour charge will bring the light to full power. The Flux 1200 weighs 185 grams (6.53 oz.) and has a retail price of $150.
Field test results
Before hitting the trails, we made sure to give our light a full charge by leaving it to sit for about three hours. We found the charging time to be quite accurate and headed out the door to hit the trails. The light's sturdy aluminum mount, along with the rubberized inserts, made attaching the Flux 1200 to our handlebars extremely easy compared to other lights' rubberized straps that need to be pulled taught around your bars. The Flux 1200 mounts quickly thanks to a simple tool-free quick-release lever and managed to stay in place throughout our testing.
This could be attributed to its wider shape compared to long tube-shaped lights that tend to bounce over rough terrain. When turned on, the Flux's dual beams cast a wide span of light that illuminates the entire trail. Thanks again to the mounting system, it was easy to place the headlight directly over our stem for an even distribution of light. The only complaint our test riders had was that the battery indicator light is easy to miss while out riding. A more prominent position would be preferable. All and all, the Flux 1200 is a great light for any rider looking for a sturdy and easy-to-use mount along with a dual-beam setup to eliminate nighttime tunnel vision.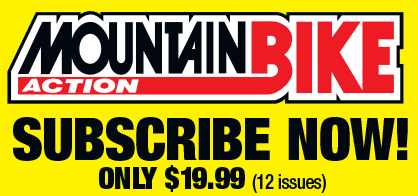 Hits
Price: $150
Contact: www.specialized.com
---
THERE ARE SO MANY WAYS TO GET MOUNTAIN BIKE ACTION
Mountain Bike Action is a monthly magazine devoted to all things mountain biking (yes, that's 12 times a year because we never take a month off of mountain biking). It has been around since 1986 and we're still having fun.
Start a subscription by clicking here or calling (800) 767-0345.