2022 KIDS MOUNTAIN BIKE BUYER'S GUIDE 
THE ULTIMATE KIDS MOUNTAIN BIKE BUYER'S GUIDE 
Some may recall the excitement of getting a new bike as a kid. Perhaps you were fortunate to ride around the neighborhood, to and from school, or on an adventure to hit the local dirt jumps with friends. Without a doubt, bikes are an excellent way for kids to get outside, expand their world, get exercise, and enjoy time with friends and family.
---
STRIDER CLASSIC

 KIDS BIKE
Some of us had training wheels when learning, but that is a thing of the past! The Strider Bikes Classic is typically for children 4–5 years old and for those ready to learn how to feel what it is like to balance a bicycle. 
Price: $109
—Built-in footrest
—Steel frame and fork
—12" Molded wheelset
—Flat-free Foam tires
KONA MAKENA KIDS MOUNTAIN BIKE

The Makena is a great starter bike after the balance is mastered for your little cyclist. The bike has 2.6-inch tires for traction, a 28-tooth chainring and a low standover, which makes it friendly to step on/off. There is also a 1x drivetrain with single-handed shifting for a rider to get used to having gears.

Price: $575
—Shimano Tourney 7-speed drivetrain
—Tektro V-Brake
—Kona Project Two JR rigid fork
—Kona 6061 aluminum butted frame
—20" double-wall alloy rims
DIAMONDBACK EL OSO NINO 20 KIDS FAT BIKE
Made to monster-truck over any obstacle in its path, this is Diamondback's smallest fat bike. The advantage is running low pressure in its 4-inch-wide tires, so the bike can grab every bit of traction available. This one is recommended for riders 44–55 inches tall and around 4–9 years of age who are ready to ride neighborhood trails. 
Price: $650
—Shimano Tourney 7-speed drivetrain
—Tektro V-brake
—Hi-Tens steel rigid fork
—Hi-Tens steel frame
—20" Jr. Fatty aluminum rims
PREVELO ALPHA FOUR 
For ages around 7 to 11 years old, the Prevelo Alpha Four is a lightweight stepping-stone bike to mix a little road and all-terrain cruising. It also features a wide 9-speed range with an 11-36t cassette.
Price: $549
—Shimano Altus 9-speed drivetrain
—Alloy V-brake
—Alloy rigid fork
—6061 heat-treated alloy frame
—24" aluminum with grinded sidewall rims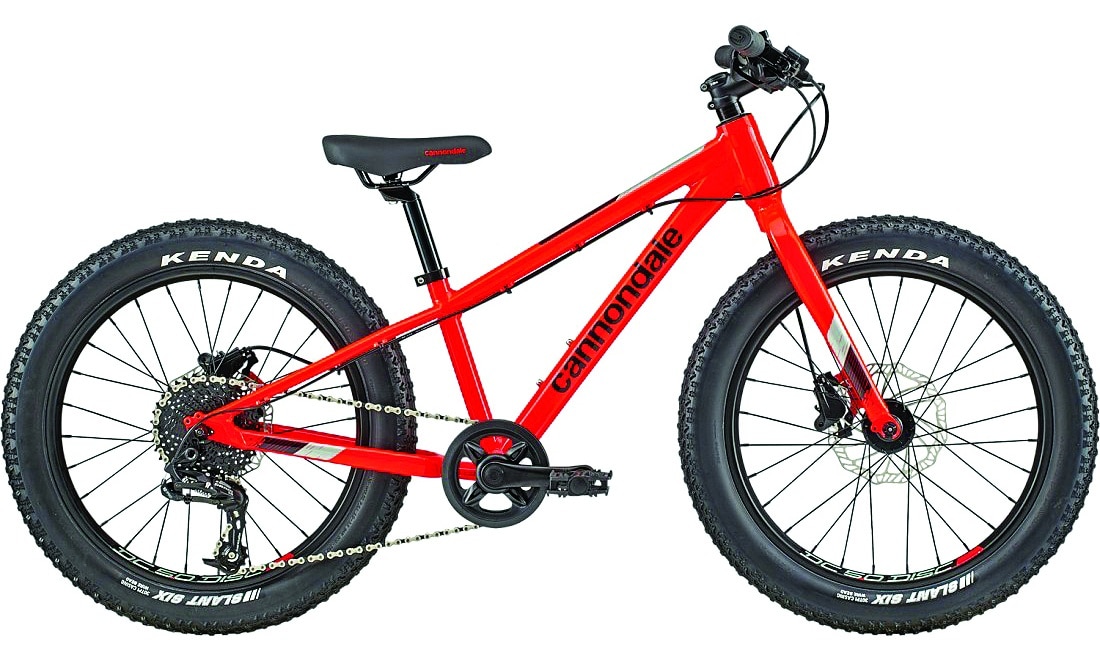 CANNONDALE CUJO RACE 20 MTB

Built and designed with low-impact trails in mind, the lightweight Cujo Race has some big benefits within its value. Not only does it have a wide 9-speed range on an 11-42t cassette, but it also features hydraulic brakes for better stopping power.
Price: $810
—SRAM X5 10-speed drivetrain
—Promax DSK-926 hydraulic brakes
—SmartForm C3 alloy fork
—SmartForm C3 alloy frame
—24" double-wall alloy wheels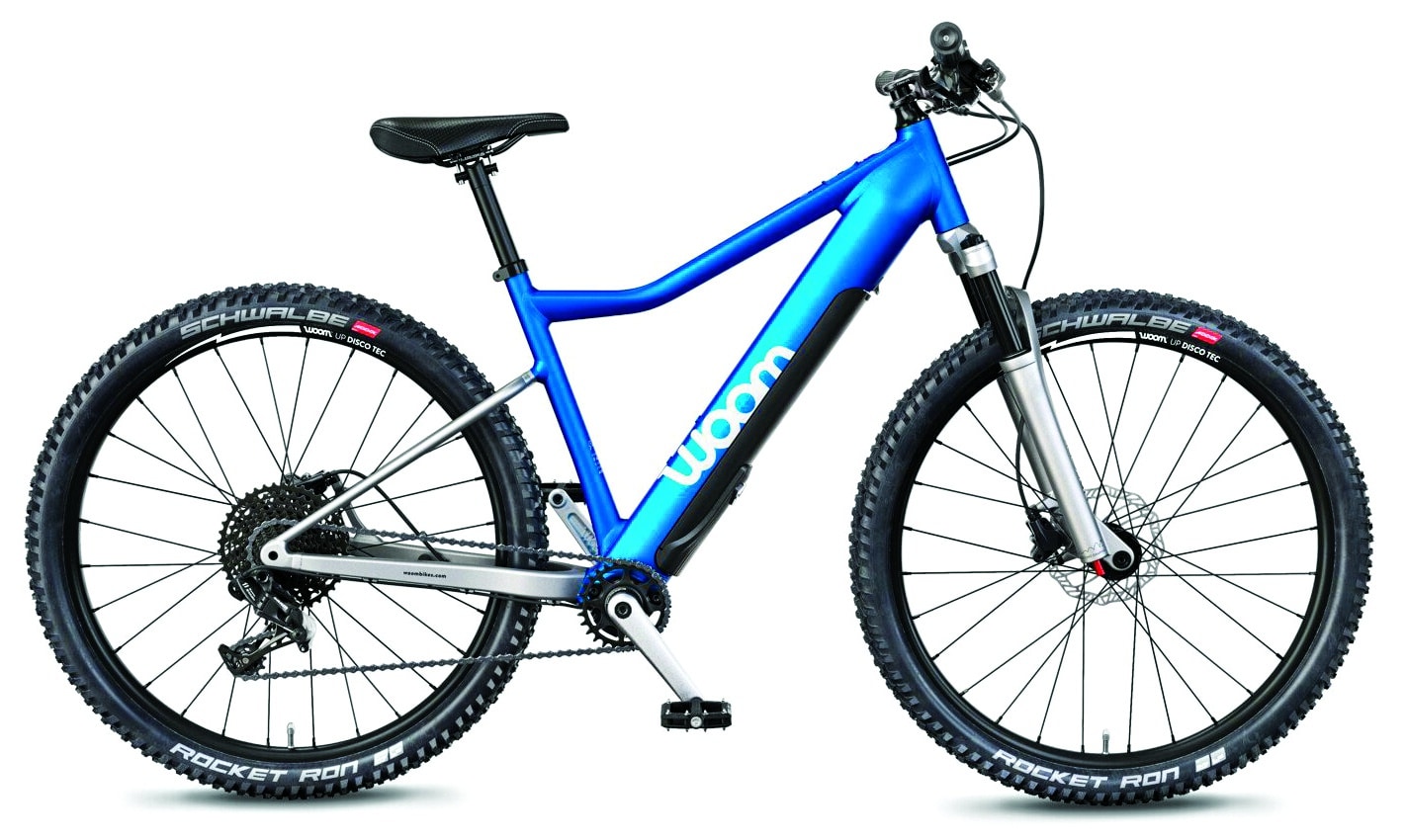 WOOM UP 6 KIDS E-BIKE
With a 12-mph pedal assist, 250-watt motor, and battery providing 55 N/m of pedal-assist torque, the Woom Up 6 is an electric bike powerhouse for a kid. This Woom Up uses a Fazua drive system that has been trusted by other bike manufacturers. The Up 6 is great for family excursions to singletrack shred sessions with friends.
Price: $3749
—SRAM NX 11-speed drivetrain
—Promax hydraulic disc brakes
—90mm-travel hydraulic air-suspension fork
—Hydroformed 6061 T6 aluminum
—26" aluminum rims
ROCKY MOUNTAIN GROWLER JR. 24 MTB
With tires the same width as some of the enduro bikes our wrecking crew are riding, the Growler Jr. is aimed to hop off curbs or charge unruly singletrack. The Growler is best for experienced junior riders who aren't afraid to go big and send it.
Price: $929
—MicroShift Advent 8-speed drivetrain
—Shimano MT4100 2-piston brakes
—80mm-travel Suntour XCM30 fork
—Rocky Mountain 6061 alloy frame
—24" JR30 tubeless aluminum rims
MARIN RIFT ZONE JR. MTB
The Rift Zone Jr. is for the ambitious kid looking to keep up with the adults and push the boundaries of the local bike park on a ride just as capable as its full-size sibling. Thinking ahead, Marin designed this bike so it can easily be upgraded to 26-inch wheels and longer cranks as your little shredder grows. 
Price: $1899
—Shimano Deore 11-speed drivetrain
—Shimano MT-201 hydraulic disc brakes
—120mm-travel X-Fusion Velvet RLC fork
—6061 aluminum frame
—24" double-wall aluminum wheels
KHS ALITE 24 MOUNTAIN BIKE
Hardtails can teach the basic fundamentals of mountain biking while also being easy on the rider's pocket. The KHS Alite 24 is a starting step for a young rider looking to get into the sport and perhaps take on some local cross-country singletrack. 
Price: $629
—S-Ride RD-M300C 8-speed drivetrain
—Bengal cable disc brakes
—80mm-travel SR Suntour XCT-JR fork
—Alloy butted 6061 frame
—24" double-wall aluminum wheels
MONGOOSE ARGUS ST 24 MTB
With all-terrain riding in mind, Mongoose sought out to build a fat bike for riders 4-foot-8 to 5-foot-6. Its 4-inch-wide tires are ready for low pressures to gain traction on sandy, rooted and rocky trails. This bike is a great value and an affordable option to get a young one into mountain biking.
Price: $479
—Shimano Tourney 7-speed drivetrain
—Mechanical disc brakes
—Hi-Tens steel rigid fork
—Hi-Tens steel frame
—20" single-wall aluminum rims
COMMENCAL CLASH 24 MOUNTAIN BIKE
Designed to be suitable for children measuring between 49.2 inches and 59 inches, this Commencal is ready for a kid looking to start going fast, jumping, choosing the steeper lines or even doing their first races. There is also an e-version of this already-impressive machine. 
Price: $3199
—SRAM NX 11-speed drivetrain
—Shimano Deore brakes
—145mm-travel Manitou Machete J-Unit Pro fork
—145mm-travel alloy 6066 frame
—20" Spank 28 alloy wheels
MEEKBOYZ MINI BEAST

 KIDS MTB
This is for the extreme mountain biker looking to have their kid on a multi-functional bike for all kinds of disciplines. This full-suspension carbon frame is prepared for downhill, cross-country and dirt jumping the local curbs. Overall, the Mini Beast is designed to provide an authentic downhill riding experience for children.
Price: $7850
—SRAM X01 DH 7-speed drivetrain
—SRAM Guide Ultimate brakes
—120mm-travel Fox 32 Factory fork
—100mm-travel T700 carbon frame
—20" Meekboyz UD carbon wheels
www.meekboyz.com