30 YEARS AGO IN MBA
Our January 1991 issue of Mountain Bike Action covered the first UCI Mountain Bike World Championships, which were held in Durango, Colorado, in mid-September. It was the first such event to be sanctioned by the Union Cycliste Internationale. For the three previous years, there had been other races billed as "World Championships"—races held in both the United States and Europe, but those events had been held without being under the auspices of the UCI, the official sanctioning body for most major international cycling events. After the UCI announced it would be holding its own yearly Mountain Bike World Championships, starting in 1990, the other major event promoters stopped using the name, and the UCI took over.
"Never again would anyone speak of an American world champion and a European world champion"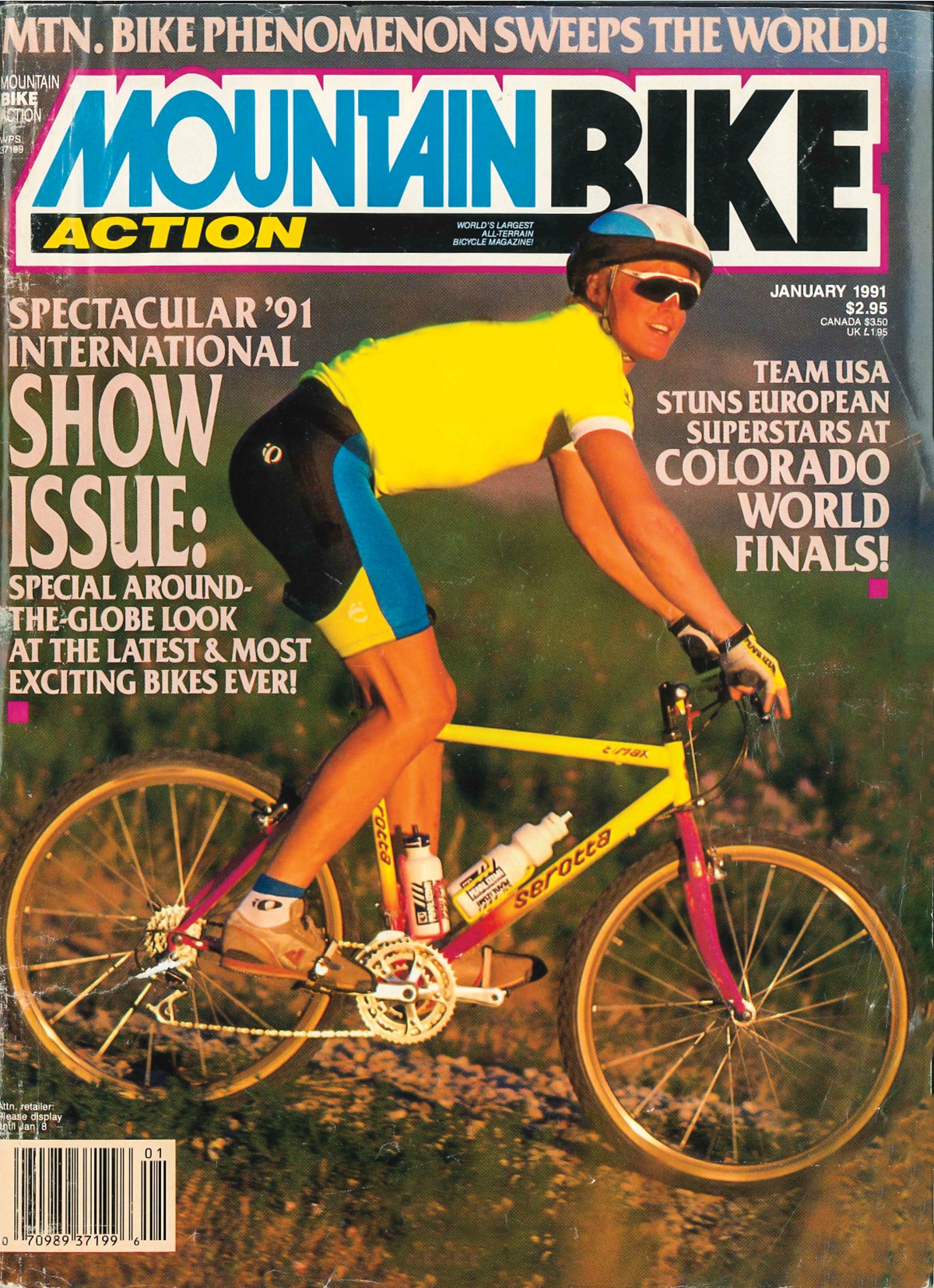 Now, 30 years later, it's hard to find any mention of those earlier "World Championships" held from 1987 to 1989, except for occasional mentions in the pages of this magazine. The UCI World Championships have, in effect, largely erased those other events from people's minds and the record books of our sport.
Among the people who won major titles at the UCI Mountain Bike World Championships in Durango in 1990 were Ned Overend, who won the men's cross-country title; Juli Furtado, who won the women's XC title (and took fifth in the downhill); Greg Herbold, who won the men's downhill; and Cindy Devine, who won the women's DH title.
The last half of the Elite Men's XC race was a classic: "In a race that was the most competitive in mountain biking history, Ned Overend simply pedaled away from a collection of the world's best.
America's Ned Overend won the first UCI Mountain Bike World Championship in Durango, Colorado. photo zap
In those days, the top riders often raced both cross-country and downhill. John Tomac, who was one of the favorites for both events, ran out of luck twice. "Tomac was leading the cross-country until he flatted at the end of the first lap."  "He did fabulous clickers off every jump as he worked back to sixth at the finish." As for the downhill race, "No one came down the Purgatory downhill faster than Yeti's John Tomac; unfortunately, three came down in better control and pushed Tomac back to fourth."
Tomac would make up for those disappointments a year later, however, by winning the gold medal in cross-country and taking the silver medal in downhill in the '91 Worlds in Italy. One of the biggest winners in Durango was veteran women's racer Lisa Muhich, who won both the downhill and cross-country titles in her class.
Among the many future stars in Durango was the junior women's downhill winner, Melissa "Missy" Giove. She'd later go on to win the Senior Women's Downhill at the '94 Worlds.
Another young upstart in Durango was BMX pro Dave "Cully" Cullinan, who edged out Greg Herbold to win the men's dual-slalom title. Herbold later said he played it safe in the dual-slalom finals to avoid crashing and ruining his newly acquired rainbow-striped jersey. Harry Leary, a long-time BMX legend, took third in the event. Cully would go on to win the downhill title at the Worlds in '92.
FULL-SUSPENSION BIKES
We also took a look at two new suspension bikes in this issue, one from Cannondale and one from Gary Fisher. Both bikes offered 2.5 inches of rear suspension. Fisher's system utilized the motorcycle know-how of Mert Lawwill for its design. Lawwill, who had designed a suspension system for his flat-track motorcycle in the past, said he had been working on his mountain bike suspension system for five years. We tried the two bikes in Durango, and we were favorably impressed with both of them.
---
Mountain Bike Action is a monthly magazine devoted to all things mountain biking (yes, that's 12 times a year because we never take a month off of mountain biking). It has been around since 1986 and we're still having fun.
Call us at (800) 767-0345