A FORCE TO BE WRECKONED WITH: GT'S NEW FORCE ENDURO BIKE REVIEWED
The Force will guide me
GT FORCE
Since 1972, GT has been building bikes that stay true to the company's heritage and its BMX racing roots. GT's designs have pushed the envelope in the name of performance for decades and produced some of the most iconic, noteworthy and race-winning designs in mountain bike history. This newest iteration of their Force enduro platform utilizes a modified version of the legendary, tried-and-true LTS suspension and has a radically different-looking drivetrain modification that GT claims extracts more performance from the design than ever before.
FRAME
Formerly offered in 27.5- and 29-inch wheel sizes, the new Force is a 29-inch wheel only because GT found that two 29-inch wheels were the optimal wheel pairing to maximize performance of the bike. The full-carbon frame sports a gravity-focused 63.5-degree head angle, a pedal-friendly 78-degree seat angle and a 480mm-long reach on our size-large test bike. Chainstay length is now adjustable via a rear dropout flip chip for plus or minus 10mm for either 435mm- or 445mm-long stays. The new ribbed chainstay guard and integrated chainguide called Ruckus Management is designed to keep things quiet and on track. Cables are routed internally via a tube-in-tube system for clean looks and quick builds.
COMPONENTS
The Force Carbon Pro LE is at the top of the food chain in GT's enduro bike lineup. It features a high-end parts package with a bang-for-the-buck value where you need it, such as the SRAM X01/GX drivetrain and Code RSC brakes. GT saves some funds by sticking with an aluminum Descendant crankset and aluminum WTB wheels, but the performance is spot-on for the price tag. The Force is offered as three complete bikes, ranging in price from $6300 to $3800, and a frameset.
SUSPENSION
GT's new Force is yet another on a growing list of mountain bikes to adopt a high-pivot suspension design. Dubbed High Pivot LTS suspension, it is effectively a 160mm-travel, four-bar, Horst-link design with a high pivot and an idler pulley wheel with an integrated chainguide. The idler pulley is there to make the suspension work better. By changing drivetrain configurations, designers are able to decouple pedaling forces, thereby freeing the system from pedal kickback to better control anti-squat and to balance pedaling efficiency with plushness. It's an added bit of complexity, but engineers swear it's worth the trade-off and the minuscule amount of friction it adds.
Although the new Force bike comes standard with an air shock, the frame is also approved for coil-over shock use, thanks to its shock rate and rocker-style linkage.
Compared to the old bike, GT claims the new suspension design has a more rearward axle path for improved bump absorption, increased anti-squat for better pedaling, and more anti-rise to keep the rear end lower under hard braking. A longer shock stroke and reduced leverage ratio are claimed to create a more constant rate at initial travel for improved "pump-ability."
CLIMBING
A bike in this category requires some strength and/or patience when pedaling to the top of the climb. The pedaling switch on the shock feels like a necessary feature on a bike with suspension this active. On steep and technical climbs, the Force responds with ample traction for clawing its way up nearly impossible, rock-stacked ascents. The mid- to heavy-weight bike requires the rider to supply enough power.
The idler system that allows the suspension linkage to work so independently and effectively is also an additional component that will need additional maintenance. Our Force developed a creak on every hard pedal stroke after about a month of riding. What we assumed was normal wear and tear from our miles of wet winter SoCal rides could not be cured with our normal clean and lube procedure. After further inspection, we found the bearing in the idler pulley was bone-dry and gritty, and indeed the source of our creak—possibly our fault for washing the bike too many times in the first month, but we're not the only ones guilty of this crime.
This little gizmo adds a tiny bit of friction to the pedaling of your bike. You won't notice it, or at least we couldn't. What we did notice, and now expect from idler drivetrain bikes, is an extra bit of work to keep them running smoothly. For the Force, that means removing the pulley and refreshing the grease from time to time. The procedure takes about 15 to 20 minutes on top of normal maintenance.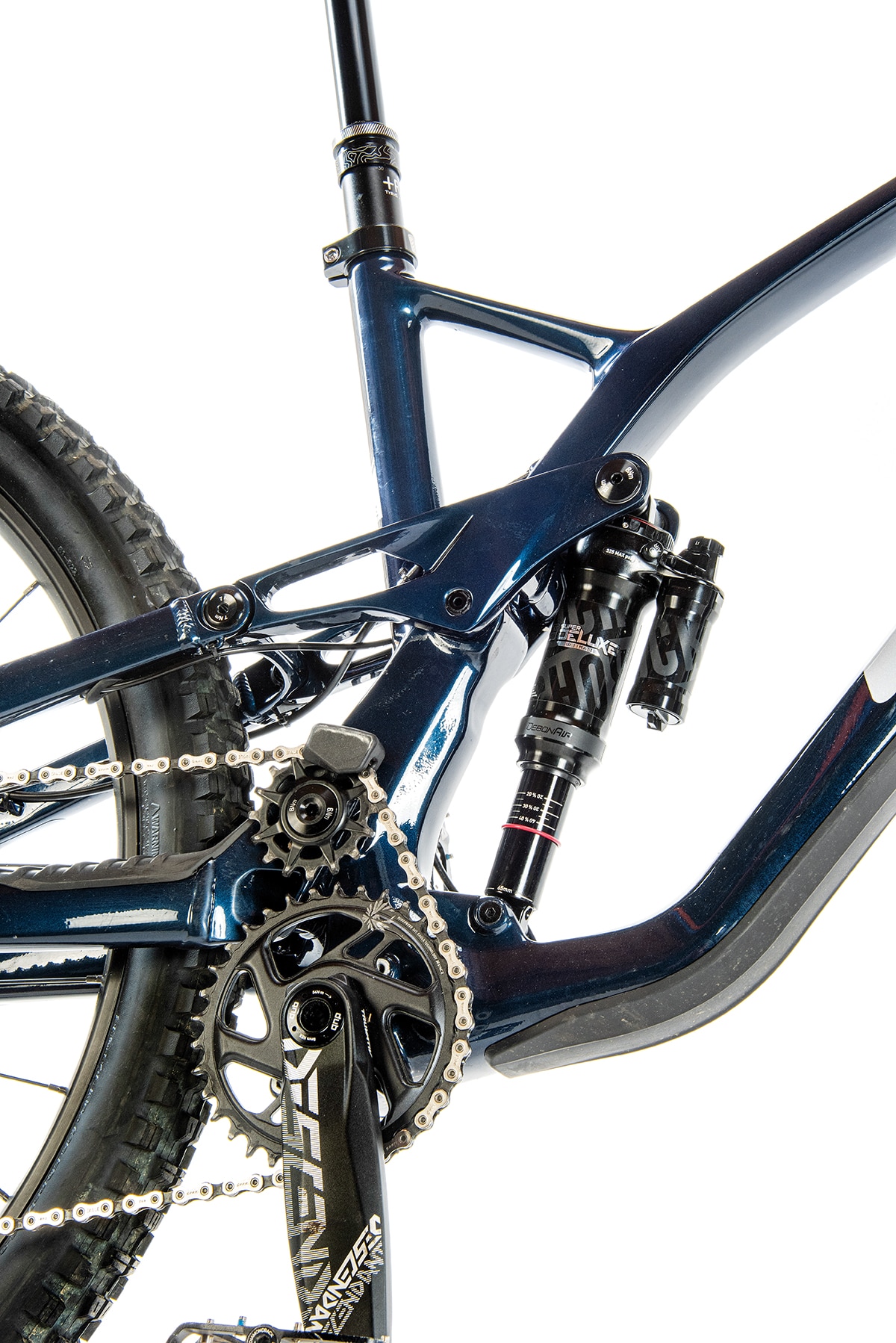 DESCENDING
With modern enduro geometry paired to a well-executed, four-bar, Horst-link suspension, the GT descends with confidence. On the trail, the Force suspension soaks up chattery high-speed vibrations and absorbs bombshell big hits with aplomb. The four-bar linkage didn't surprise us with that fact, as the Horst-link suspension design is where the tried-and-true part of the equation comes in. The effectiveness of the idler pulley is evident, as this bike feels active and forgiving on technical trails, uphill and down.
It's a race bike at heart but feels balanced and nimble enough to throw around switchbacks with ease. It's fairly forgiving on botched landings and jumps, something our crew was thankful for.
The adjustable-chainstay-length flip chip is a nice feature and tweaks the overall wheelbase by about 1/2 an inch. The shorter setting, with the wheel tucked more neatly under the rider, feels slightly more bike-park-friendly for manuals, rollers and jumps. We preferred the long position for the bulk of the test to reap the full benefits of the Force's stability at high speeds.
MODS AND UPGRADES
Most of the component spec is notably nice for the price tag, but GT missed the mark on the cockpit setup. The stock GT alloy bar has a large rise on top of the noticeably tall front end. Most riders will want to remove a few of the stock headset spacers or go for something flatter altogether. The dropper lever is frustratingly poor and feels mushy even when set up properly. We also couldn't keep it from fraying cables, so we went through a few attempts to make it feel better. If you're at all picky about cockpit feel, upgrade this immediately.
The internal cables exhibit clicking and clacking occasionally on big hits, and we would have appreciated an anchor to hold the hose and prevent it. The rest of the cable routing is a big upgrade from GT bikes we've tested in the past, including the predecessor to this bike, which had legendarily poor cable management. The Force sports a cross behind the seat tube, which moves a little on every compression, but it gave us no further hassles during our test.
BOTTOM LINE
GT designed the Force as an enduro race bike first, but it rides confidently as a big mountain trail bike, capable of handling very gnarly terrain. It has fast and capable geometry and a smart parts package that delivers value where you need it. It's not the lightest enduro bike we've tested, and the shock needs the help of a climb mode to spin to the top of the hill. The complex-looking drivetrain proved it's worth the bit of extra maintenance for the super-active suspension feel, but owners should be aware that the extra maintenance is necessary to keep it running smoothly. Bottom line, the Force comes to the trail with a simple mission: optimize a proven design and execute it with a solid parts spec. Mission accomplished. 
CATEGORY: Enduro
WHEEL SIZE: 29″
SUSPENSION: 170mm (front), 160mm (rear)