AMTBER XC/DC KNEE PAD REVIEW – THE LIGHTEST WE HAVE EVER TESTED!
Light, breathable and surprisingly protective.
AMTBER XC/DC KNEE PAD REVIEW – THE LIGHTEST WE HAVE EVER TESTED!
Tech features:
aMTBer is a small Southern California brand that says it tries to address the issues that others missed in hopes that every ride you take is just a bit more enjoyable while using its products. Its XC/DC kneepads are made for minimal levels of protection with high levels of comfort. They are constructed with a simple, lightweight Lycra sleeve and a sewn-in panel of cylindrical-shaped, closed-cell foam pads. There is a silicone gripper on the top cuff to keep them in place. They are offered in five sizes ranging from small to double extra large.
Field test results:
Test riders were skeptical about these pads until they tried them. Comfort is right up there with wearing knee warmers; you can hardly feel them. The foam padding conforms to every nook and cranny of your knee, unlike anything else we have tried, offering extraordinary comfort. Ventilation is also excellent with a lot of air moving to the skin under the pads.
These are not the kind of pads you want to crash hard in. Small spaces between the foam cylinders would make it easy for a pointy rock to get in, but for most low-speed get-offs and slide-outs, these pads will get the job done. We even had a few bigger straight-to-the-knee crashes in Sedona and came away unscathed. Their lightweight Lycra outer construction means these pads will not withstand crashes or brush well long-term, but their low cost will ease the pain of frequent replacement.
HITS: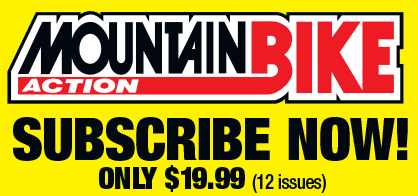 • Extreme comfort
• Excellent ventilation
• Ultra-light weight
• Inexpensive
MISSES:
• Low levels of protection
• Low durability
STAR RATING: ★★★★
Price: $35
Weight: 138 grams (pair)
Contact: www.amtber.com