TRAVIS BROWN – AS SWEET AND ALL-AMERICAN AS APPLE PIE
By Zap
Of the hundreds upon thousands of pro mountain bike racers who started racing with an eye towards making a living at it, really, only a handful have actually done so. Among the most successful are names that regular readers would recognize: Ned Overend, Hans Rey and Thomas Frischknecht. To that trio, we add Travis Brown.
After bursting onto the racing scene with a 10th-place finish at the 1990 World Championships, Travis turned an early passion into a full-time job, helping develop bikes for long-time sponsor Trek Bicycles. Over the years, he's not only garnered a NORBA National XC title and two Single-Speed World Championships, but also a legion of fans with his friendly and embracing demeanor.
A STORIED PAST
From standing around a multitude of racecourses throughout America and Europe to sharing a passion for Ducati motorcycles, riding sweet singletrack at the Trek/VW team camps, and even having "one too many" at the Good Luck Bar in Hollywood one night, I've shared many memorable occasions with the 51-year-old.
But, beyond the impact that Travis and his family have had on my life (page 10), it's the impact he's had on the mountain bikes ridden by hundreds of thousands of cyclists around the globe that is worth recognizing.
Since his earliest days at the NORBA Nationals, Travis has exhibited an analytical approach to both the personal and hardware sides of his racing effort. From experimenting with homemade tubeless systems (before tubeless became a "thing") to considering the effect of suspension settings on frame geometry, Travis has maintained a thoughtful and inquisitive role in the sport he's devoted his life to.
As if Travis' role in the sport isn't important enough, his wife Mary has used her role as the executive director of the Durango Trails advocacy group to help maximize and maintain the multi-user trail networks that make the Colorado mountain town so inviting for mountain bikers.
DOWN WITH BROWN
The first time I ran into you was at the 1990 Worlds when I shot that photo of you at the finish. What was that race like, and what were the bike's origins?
It was a Trek 8500 frame that I won earlier in the summer at the Colorado State MTB Championships (in the Expert class), and I built it up as my race bike. At the time, aluminum was kind of an exotic material, as Tange Prestige butted steel frames were still considered the standard for mountain bikes. I was a sophomore at CU Boulder in the engineering school and a Nordic skier on the varsity ski team.
I look back on that period and that type of training preparation, and it is curiously a lot more like what a current professional mountain bike training program looks like—with more cross-training and strength work. At that time, riding volume was the primary component of training for bike racing. I could have learned more about training for bike racing from that experience than I did.
After that race, you hitched a ride with Manitou. What were those bikes like?
The next season, I connected with Doug Bradbury (the founder of Manitou) for my first full pro season. Riding for Doug was a priceless part of my education in understanding bike design and geometry. Not only was Doug one of the key innovators of the period (his frames had 145mm rear spacing. He had his own drivetrain width standard and made his own front/rear hubs, stems, seatpost standard and suspension fork), he also graciously allowed me to experiment with the geometry I wanted on my race bike. This ingrained in me the process of fine-tuning geometry for different characteristics and field validating those differences.
Were those early Manitou bikes especially memorable for any reason?
They were such a good representation of the state of the art. To have had the opportunity to work with and learn from Doug on the design of my race bike, and to work with a genius designer and fabricator, informed everything that I have done in cycling since. It is hard to believe now that it was Doug and me driving his van to go to races for my first year racing the Pro class. The impact of his innovations can't be overstated.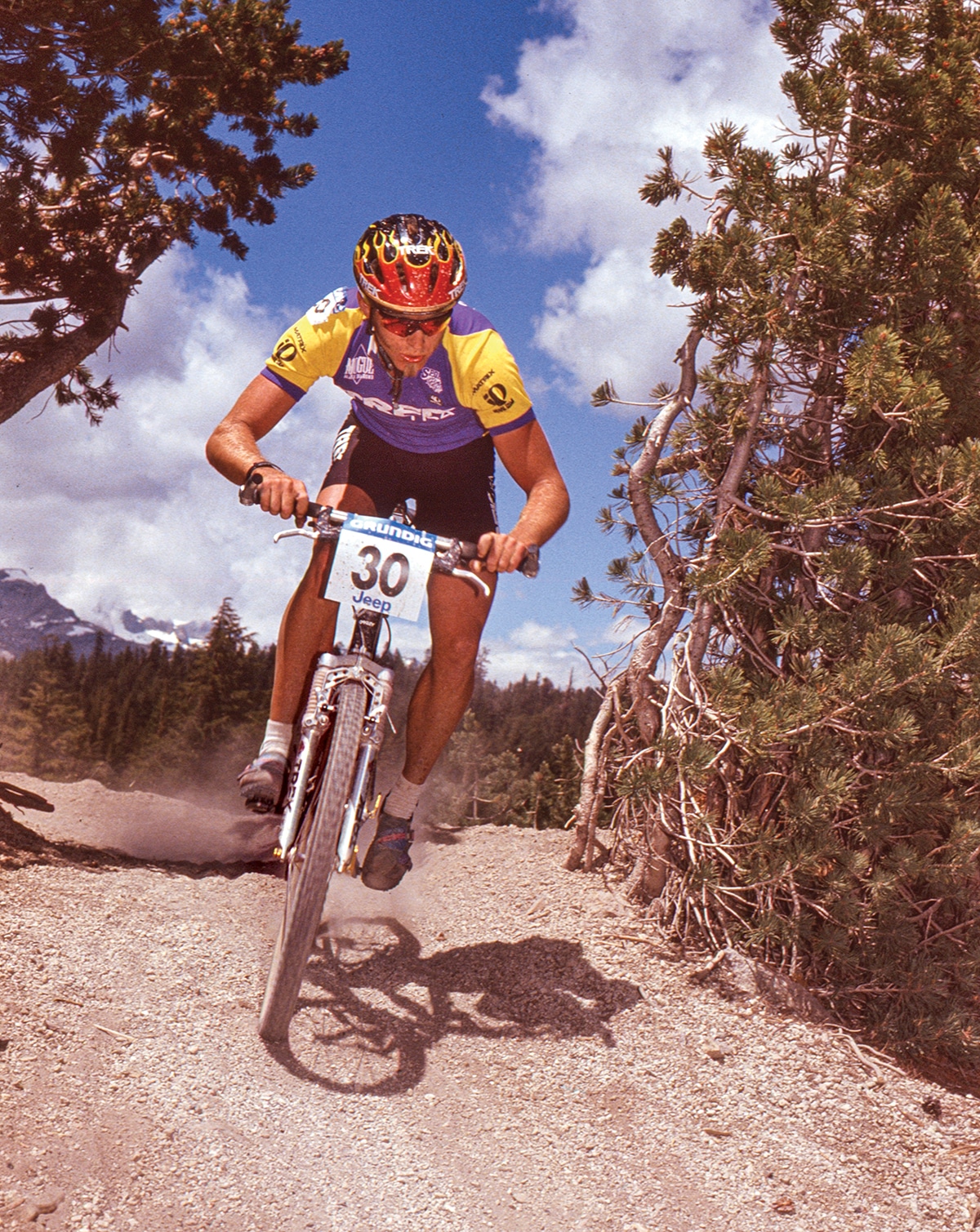 THE ROCKET BOYS ARRIVE
And then it was on to Trek and the Rocket Boys?
After two years racing with Manitou and becoming established in the Pro category, I had some great opportunities with teams for the '93 season. Mountain bike racing was booming, and that energy was clearly present in the race scene, evidenced by the many well-supported factory teams that had solid budgets.
I had outgrown the Manitou program, so I was looking at other programs with more sophisticated support structures. I signed a letter of intent to ride for a newly formed race team that was title sponsored by Volkswagen and Wheeler bikes; however, the director of that program was not particularly transparent about the security of the title sponsors and finances.
As early '93 progressed and bikes, kits and salary paychecks kept missing deadlines, it became clear that the team was not healthy. I started looking for other options. The other teams I had been in negotiations with for the '93 season had all moved on to other athletes. I was also graduating from college but had changed career course again away from continuing in academia to pursue the opportunity to race mountain bikes full-time.
I humbly began the '93 season as a privateer with bikes provided by Dean Titanium. I moved back to Durango and was working in a dental lab to support my racing ambition. In the late spring of '93, I got a call from Trek. Mountain Bike Action was kind of the center of the media universe at that time, and so that is where Trek went to find out who was available to put a team together. I recall the referral came from you, Zap. Trek had a late commitment to a racing program budget for that season and was looking for any pro riders who were available at that unusual time.
I came into Trek with some of my co-sponsors (Oakley, Scott [bars/bar ends] and Pearl Izumi), and then, in 1994, the team formalized with other sponsors, and the Rocket Boys team was launched.
How would you describe your role at Trek beyond being a racer? Which bike are you most proud of helping to develop?
Because of the formative beginning to my pro racing being so integrated with product development with Doug and Manitou, it was part of my paradigm entering into my relationship with Trek, and I assumed that product development was part of my role and responsibility as a professional racer for a manufacturer.
Looking back on my critique of product performance (often unsolicited), it might not have always been appreciated, but it quickly evolved into part of my role as a Trek athlete. That skill set and interest are also what provided the opportunity to transition into the product development team after my last year on the professional team in 2004.
I've been involved in so many inspiring projects at Trek. When I moved into product development, I was doing research for both Trek and (the Trek owned) Gary Fisher brands. The Fisher bikes were defined by their 29-inch wheels, while Treks used 26-inch wheels. We had many dealers who were both Fisher and Trek dealers. As 29-inch wheels started to get market traction after nearly 10 years in the making, having similar Trek and Fisher models on the same sales floor became a non-beneficial, cannibalistic situation.
I had been spending equal time on both 29- and 26-inch-wheeled bikes, and the primary thing I liked about the 29-inch wheel was the front-end stability and the off-camber and loose-conditions grip the larger wheel provided. So, I started experimenting with some mixed-wheel prototypes, and they rode well without the weight penalty and stiffness reduction in the rear wheel.
There are even some cornering advantages to the mixed platform that we consistently felt in the field that are different from both 29- and 26-inch bikes, and we still can't exhaustively explain the physics of that ride characteristic. Anyway, around 2004, this project evolved into the short-lived Trek 69er line at the same time that the 29-inch platform and the Fisher brand were absorbed into the Trek brand.
I thought the 69er was an elegant solution to a unique challenge that we had between Fisher and Trek, but once the consolidation of the Fisher brand happened, that situational challenge went away, and putting more resources into a mixed-wheel platform and philosophy made less sense than spending resources on capitalizing on our long-term investment in the 29-inch category, which was finally experiencing heavy growth.
So, while the 69er line was not a huge sales success for Trek, I think the models showed a lot of our willingness to experiment and innovate, and I think those bikes are an important value to the Trek legacy and brand today.
THE DIFFERENCE IN DECADES
How would you compare racing in the '90s versus the '00s?
I think first there was a lot of evolution from the beginning to the end of the '90s. The early '90s was such a boom for bike sales, quality and quantity of events, pro contract opportunities, and non-endemic sponsorship interest in the sport. By the end of the '90s, the cycling industry had mostly established its market share in the off-road space and enthusiasm for spending sports marketing resources on what had been a kind of a gold rush for pieces of the mountain bike pie that had started to wane.
By the end of the '90s, I think the culture had matured to where one was either an enthusiast or had a mountain bike in the garage collecting dust. So, the big money spent to grab pieces of a brand-new market fell out of favor. For me, the beginning of the 2000s was characterized by the dilution of the central event and discipline structure the sport had relied on. The DH/DS and XC/STXC sides of the sport started to evolve into subtle derivations to become new events. I think we still seem to be in the midst of discipline evolution, as gravel bike events include broad types of terrain, and some of them resemble mountain bike courses from the '90s.
Long before the Trek Fuel arrived, there was, of course, the Y-bike.
Yeah, the Y-bike was a really big product, so there was some pressure to race on it. Fortunately, it was pretty light, and with cross-country racing, weight is still a hard metric to overcome. The Y-bike pedaled quite well; the primary drawback wasn't actually the suspension design but the geometry. The refinement of full-suspension geometry and sag/static/fully compressed suspension with regard to bottom-bracket height was not as well understood as it currently is.
Trek erred by leaning too much towards a hardtail design philosophy for the bottom-bracket drop on that bike. By the time we realized what had happened, we had already cut the molds for the carbon main frames, so our only recourse was to raise the BB a bit via reorientation of the aluminum rear triangle. The downside of this was that it steepened the head tube. If you look back to where we were at the time, a steeper head angle was pretty much the wrong direction to go. I still think that the fundamental design of the bike is quite good for a lightweight, short-travel XC design. Maybe we'll do a heritage Y-bike someday with contemporary geometry and 29-inch wheels.
What about some of the bigger-wheeled bikes (see the Black Sheep 32-incher test on page 62)
When I look back at the 26- to 29-wheel evolution—the kind of resistance there was, the arguments for and against, the geometry challenges, the product quality and comparison challenges—to me, big wheels are a pretty clear area to be curious about.
Many of the geometry solutions that have been proven in the market to accommodate long-travel 29 bikes apply to shorter-travel and larger wheels. Even the current limited tire choices provide some insight into there being some kind of performance potential there for larger riders or for specific conditions.
The roadblock to distilling any added performance advantages of a larger wheel is still the existing tire quality, and this has been the case for more than 10 years. Tooling costs are considerable for larger tires that would have contemporary quality. If and when that happens, I think we will see some interesting evolution in the XC and short-travel trail categories. As the opportunities evolve to further prove the benefits of larger wheels, it will be something I will continue to look into.
VERSUS THE OTHER GUYS
Of everyone you raced against, which riders did you respect the most?
There are many racers that I respect. Because of their dominance and commitment to riding clean and, by extension, good sportsmanship, at the front end of my career it would be Ned Overend and John Tomac, and on the back end it would be Geoff Kabush. Sport provides a unique opportunity for humans to connect and evolve individually. A set of rules that provides a fair and predictable field on which to compete is a special place for competitors to dig deep, treat each other as a blessing and find something within themselves that they would not be able to mine out on their own.
Sportsmanship is ruined by cheating. The beneficial experience of competition loses a lot when athletes can't trust each other. Sport and competition create powerful human experiences. Sometimes it brings out our best and sometimes our worst.
How would you describe the early-'90s Euro invasion?
I wouldn't characterize it as an invasion. It was inevitable that American domination of a new cycling discipline that America invented would get chased down by the European countries that had a much richer and older bike racing culture. During my competitive window, it went from a few Euros, such Frischi and Gerhard Zadrobilek, coming to the U.S. to race the NORBA to being pretty clear that to be competitive in the World Cup you needed to spend part of the year living in Europe for the best chances to get results.
Right now, the U.S. is on a new first wave of creating its own unique cycling culture with NICA and collegiate racing. Those formative and fundamental programs are going to enrich the U.S. cycling culture in a big way. It will make the next couple of decades very interesting seeing how U.S. cycling compares to European cycling. It will be really exciting to witness that evolution.
You lost out on an Olympic team slot in 1996 when you crashed and broke your collarbone at the Traverse City, Michigan, National. And then, in 2000, it was the broken leg in Mazatlan, but that time you rebounded to make the team.
Yeah, the Mexico race was in the spring of 2000, and after having surgery, I recovered enough to race the last two Olympic qualifiers in Canada to make the team.
The injury in Mazatlan definitely felt like '96 all over again. It was a turning point in my consciousness about racing, results, competition and destinations. I knew that recovering from the leg surgery and getting back to race form in six or seven weeks was unlikely but possible. For me, letting go of the need to make the Olympic team and accepting that it might not be part of my cycling career liberated a lot of energy to focus on my training and recovery that was key to getting back to racing so soon.
It was also a good lesson for me that the practice is the point, and the outcome is the consequential side effect. Both the 1996 and 2000 seasons were tough lessons in destination attachment, and actually I wouldn't change how any of that played out.
What was it about single-speeds that you liked?
I started riding single-speeds as an off-season training tool. It was kind of an experiment akin to the road tradition of riding single/fixed for training benefit. I then realized that it distilled the direct experience of a mountain bike ride, and it became its own enjoyment. There was less thinking about gear changes and more reading the trail.
With less mechanical noise, I could focus more on hearing the tires interact with the ground. Single-speeds also allowed for a deeper exploration of how the body can manage a steep climb or a fast descent rather than relying on gear changes. It brings a bit of extra Zen into a ride. Plus, the single-speed culture at the time was a good balance to the mountain bike race scene that was beginning to take itself too seriously.
How hard was it to race and try your best knowing that the doping was going on?
It did affect my morale, and it was part of why I focused a bit more on domestic racing than World Cup racing. Not that racing in the U.S. was pristine, but I think mountain biking in the U.S. had the strongest anti-doping culture at the time (within cycling).
Still, regardless of my suspicions about drugs, which have been validated (and it was probably worse than I knew at the time), the experience of living that part of the mountain biking story and being able to make a living was a privilege.
THE LIFE

& TIMES OF

TRAVIS BROWN
Top Photo: John Laptad
---
MOUNTAIN BIKE ACTION MAGAZINE