Bike Test: Specialized Camber Comp Carbon 29er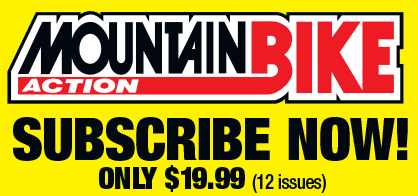 It's no secret that here at MBA we have touted the 29er's benefits in many cross-country and trail situations. But with the recent push for longer-travel options, we were curious about how much travel is necessary for the big-wheel platform. Specialized's Epic and Stumpjumper big-wheel, full-suspension options have been big hits with us. Could the company's burlier, longer-travel Camber 29 continue the trend? Is there a place in the aggressive-trail landscape for 29ers?
WHO IS IT MADE FOR?
The Camber is for trail riders looking for a do-it-all bike that is quick enough for cross-country rides, but offers enough travel and stability to handle technical, rough single- track.

WHAT IS IT MADE FROM?
The front triangle is made from Specialized's FACT 9M carbon, while the rear triangle is M5 Alloy. The frame is stout, featuring a 1 1/8- to 1 1/2-inch tapered head tube that flows into a massive downtube and Press-Fit 30 bottom bracket shell. The Camber sits on 4.3 inches of front and rear travel using Specialized's tried-and-true FSR suspension design in the rear. Oversized thru-axles are used front and back with a 15QR on the fork and 12×142 millimeters keeping the rear wheel planted. Internal cable routing for an adjustable seatpost is built right into the frame.
WHICH COMPONENTS STAND OUT?
The bike comes equipped with Fox suspension front and rear with a Float Evolution RL fork and the Specialized-spe- cific Triad II shock, which offers three compression-damping positions from open to locked out. The drivetrain is a mix of 
SRAM X7 and X9 and uses a custom 2×10 crank with an inte- grated bash guard. Avid Elixir 7 brakes with oversized, 7-inch rotors take care of the braking duties.
HOW DOES IT PERFORM?

Moving out: Throwing a leg over the Camber is confidence inspiring. The position is fairly upright, but still has a long enough reach so you can move around if needed. While the cockpit is comfortable, the bike's overall size feels large and gives you the impression that you could mash through pretty much anything. The front end ends up being pretty tall, thanks to the 4.3 inches of travel and 29-inch wheels. The 28.3-inch, low-rise bars felt perfectly suited for the rig.

Cornering: With the longer wheelbase and 29-inch wheels, we prepared ourselves for a wrestling match through corners. Fortunately, we were pleased to be met with a much more nimble bike than we had anticipated. That is not to say that the Camber is the best option for super-tight, twisting trails. On our tightest local test loop, we found ourselves feeling a bit overwhelmed getting the bike around. On the majority of our trails, which are more flowing with switchback climbs and descents, however, the Camber proved up to the task.
Climbing: The Camber is a straightforward performer when it comes to climbing. The FSR suspension provides a good pedaling platform, even with the shock in the open position. The cockpit is roomy and let us get into a low, aggressive climbing position. Despite its beefy weight, the Camber rolls uphill like a bike in a lower-weight class.
Descending: Let off the brakes and the Camber blasts off. Plowing through rough, chattery sections is where the bike shines. While it's not the most nimble machine for jumping back and forth across the trail, the bike is forgiving if you find yourself in the wrong line. The bike's ability to just keep rolling had us flying down sweeping descents at Mach speed.

Braking: Specialized's FSR rear suspension does a great job remaining active under hard braking. The 7-inch front rotor is a welcome feature. The Avid Elixir 7s aren't the most powerful brakes out there, but the modulation is consistent and predictable. Getting the freight train to a halt was never an issue.

TRICKS, UPGRADES OR TIPS?
For more aggressive riding, we would definitely take advan- tage of the internal cable routing and invest in an adjustable seatpost. The front end's height will be all right for some riders, but we felt an improvement after slamming the stem to the headset cap. This put more weight over the front end, increasing traction and cornering ability.
Rugged features: The Camber's head tube and downtube are massive. Large brake rotors were very helpful when shutting it down into corners. The FSR suspension remained active and supple under braking forces while still providing a good platform for climbing.
BUYING ADVICE
The Camber is a user-friendly bike. It's forgiving, com- fortable and tackles all aspects of trail riding well. Super- aggressive trail riders will likely look to more nimble options for technical riding, such as the 26-inch Camber, while the cross-country race and light-trail-use crowd will want something lighter to lug uphill. If, however, you are an all-around trail rider looking for a bike to make tackling rough terrain and long rides easier and more comfortable, the Camber is a great option.


Reprinted from the June 2012 issue. Like us on Facebook.