CONTINENTAL KRYPTOTAL TIRE REVIEW – THESE EXCELLENT GERMAN TREADS HAVE OUR ATTENTION
The new model in Continental's mountain bike tire line is a winner.
CONTINENTAL KRYPTOTAL TIRE REVIEW
It's safe to say Continental's latest line of mountain bike tires are an entirely new effort. Out of four new models and five new tread patterns, we opted to test the most universal offering, the Kryptotal Re and Fr. As the names suggest, these are front- and rear-specific treads, with the rear offering a bit more braking bite than the faster-rolling Kryptotal Fr. The Kryptotal model is available in three distinct casings and four specific compounds. Trail is the lightest casing, using a single-ply carcass for riders more concerned with weight than durability. The Enduro casing's carcass is reinforced with Continental's Apex feature, which is essentially a tapered sidewall layer that protects and stiffens up the sidewalls without adding the weight or stiffness of a proper two-ply casing. The Downhill casing features six layers under the tread and four plies, plus the Apex insert in the sidewalls.
Differences in rolling resistance are a key distinction among the four compounds, along with traction and durability. The SuperSoft compound is targeted specifically to Downhill and Enduro casing models and focuses entirely on grip. The Soft compound is still suggested for Downhill but offers less rolling resistance than the SuperSoft compound. The Enduro compound has the least drag and the most durability of the trio. Weights are 1040 grams, 1125 grams, and 1290 grams for the 29-inch options in Trail, Enduro and Downhill, respectively. The Kryptotal Fr and Re come in 29×2.4 and 27.5×2.4 sizes, and all casings are of the folding variety.
Field test results:
Our first set of Kryptotal tires were Downhill casings with the SuperSoft compound, which was appropriate for riding Whistler's bike park that week. Mounting the tires with WTB sealant on carbon rims required some forearm strength but no tire levers. We seated the beads with an air-chamber floor pump on the first try, though the rim and tire combo didn't allow for seating with a standard floor pump. The Trail casing versions were a little less taxing on the hands but required a bit more finesse to seat them with an air compressor.
The tires' performance was impressive. As expected, the SuperSoft compound offered grip that was on par with the best tires available. Steep, off-camber BC rock rolls were of little concern for the Kryptotal SuperSoft compound, and the tires played quite nicely with both wet and dry roots. Cornering traction and consistency were as good as it gets, not only in Canada but in Utah, Colorado, and California as well. The Trail compound wasn't quite as good at maintaining traction, but the performance wasn't affected as much as we expected.
The SuperSoft compound may be a smidge slower than Continental's other compounds, but it wasn't a night-and-day difference. In general, a tire with an aggressive tread like the  and R isn't expected to be an impressively fast-rolling tire, so it's safe to say the new Contis are about average in this department. The Trail compound was noticeably faster than the SuperSoft compound, but since these tires are almost ¾ of a pound lighter per tire than those with the Downhill casing, it's hard to say whether it was more of a drop in rotational weight or if the compound properties were really making a difference in the rolling resistance.
One interesting feature of the SuperSoft Kryptotals was a discernible damping sensation. The durometer seemed specifically tuned to rebound more slowly than typical tire rubber, which really added to confidence and comfort on the gnarliest of trails. The Trail compound did not have the same feel. One other interesting trait we noticed was a reduction in traction when temperatures dropped below about 40 degrees. Continental acknowledged this was an accurate observation. It happens to all tires, but it is tough to say if the gummy compound made this more noticeable than it would have been on a tire with a firmer durometer.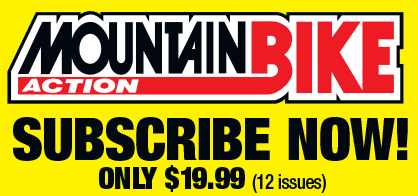 The SuperSoft's durability was as impressive as its grip. We used one set of tires for the equivalent of a typical rider's entire riding season, and not only did we not experience a single flat, the treads appeared to have about 50 percent more life left in them. For the softest offering, and for that kind of traction performance, this was truly noteworthy. Wear was also uniform. No knobs ripped off, and there was no notable damage to the tread or sidewall. Typically, tires ridden this hard for this long are riddled with battle scars.
HITS:
• Traction
• Predictability
• Durability
MISSES:
• Limited sizes
• A touch heavy
STAR RATING: ★★★★½
Price: $65
Weight: 1,040 grams (Trail casing, 29×2.4"), 1,375 grams (Downhill casing, 29×2.4")
Contact: www.continental-tires.com