Down The Trail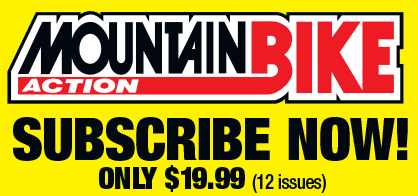 Thirty years ago our May 1989 cover of Mountain Bike Action showed then-BMX Plus! editor Karl Rothe having fun on a Specialized Stumpjumper we were testing.
The issue also included our very first test of the new Rock Shox suspension fork. No other cycling magazine had ever seen or tested one of the Rock Shox forks prior to our test, then-editor Zapata Espinoza remembers. Inventor Paul Turner personally drove out to meet the MBA crew and hand-deliver the fork to us.
While there had been some earlier front-suspension systems, none had really caught on with the public yet, as MBA editorial director Jody Weisel pointed out in his review of that first Rock Shox suspension fork: "Bicycle suspension? A pipe dream! Rube Goldberg devices! Not practical? Too heavy! Too flexible! Unnecessary! Those are the responses that the MBA wrecking crew got every time it mentioned mountain bike suspension systems. Shop mechanics would groan at us. Marin County granola eaters would chastise us. Even our buddies would look at us askance….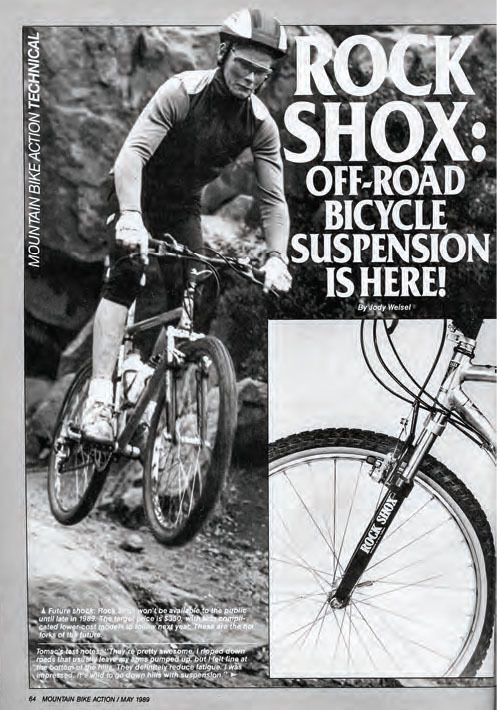 "Why did we turn the other cheek when faced with ridicule and derision every time we mentioned bicycle suspension?" Jody asked. "Because we had been riding a set of Paul Turner's Rock Shox forks on our test bikes throughout the winter, and we knew that it not only worked but was going to be the yardstick that all future forks would have to measure up to. These babies work!
"Rock Shox are going to blow the lid off of the critics of mountain bike suspension, because they answer all the questions that the scoffers have been asking.
"The biggest problem was that we didn't want to give them back to Paul," Jody said. "Since we had one of only a few pairs of Rock Shox, Paul needed our test units back to do more development on them. We couldn't have been sadder when we slipped them off our bike and sent them back.
"Do we believe that these forks are worth riding on? Emphatically yes!"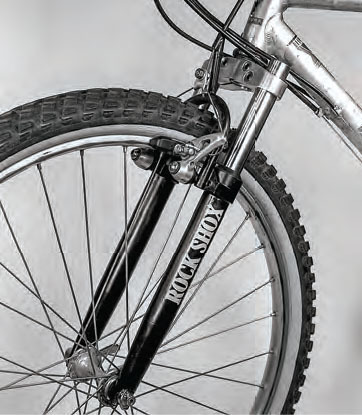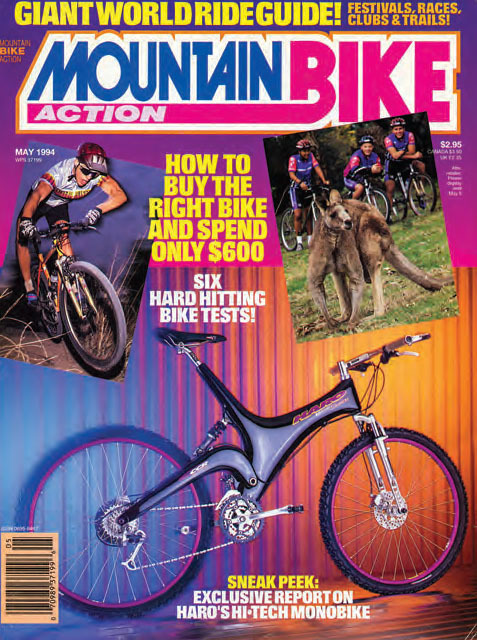 Our May 1994 issue offered our "Giant World Ride Guide," as well as our tips on how to buy the right bike for only $600.
Elsewhere in this issue, one of our editors offered a controversial article on the subject of wheel size, citing how mountain bikes had been sticking to the 26-inch wheel size for years, even though it wasn't necessarily the best choice. Of course, back in 1994, no one was offering 29-inch-wheeled mountain bikes yet. The 27.5-inch wheel size, aka 650b, was something that had been briefly offered by Tom Ritchey in the early days of the sport, but the idea didn't catch on back then either (though it would catch on in 2013 and quickly make 26-inch wheels passé).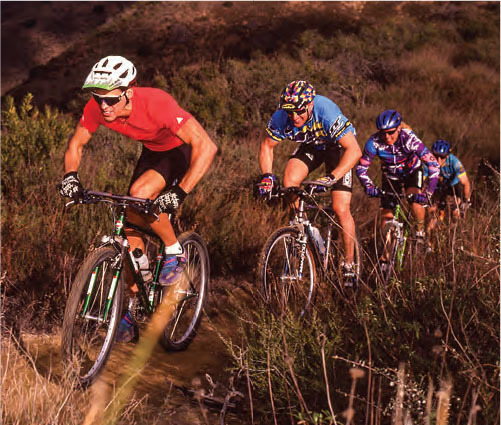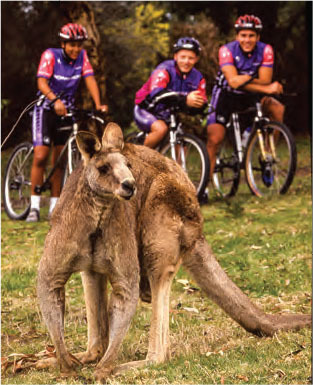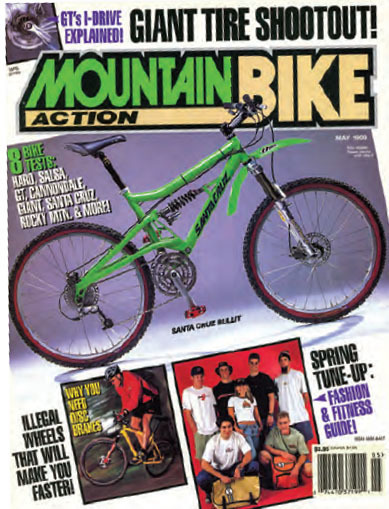 20 Years Ago
In our May 1999 issue, the mountain bike world returned to the subject of wheel size yet again. The 25-inch wheel size had not caught on, but smaller 24-inch wheels were starting to win fans. The 26-inch wheel was still the standard, but one key bike company in 1999 was willing to buck the status quo. It was Jeff Steber, the CEO of Intense, who made the surprising move to change the company's top-ranked downhill bikes from 26- to 24-inch wheel sizes. Cannondale had once offered 24-inch rear wheels on 26-inch mountain bikes in the late 1980s, but the company soon gave up on the mixed-wheel sizes and the idea was abandoned.
In 1999 the desire to change things up again brought about a new push for 24-inch wheels. Arrow Racing was making downhill bikes with 24-inch wheels, and they were apparently doing well with them. MBA had tested one, and we were impressed. After testing the benefits of the 24-inch wheel size himself, Intense CEO Jeff Steber decided to put the 24-inch wheels on the Intense downhill bikes for 1999. We asked Steber about the change in our May 1999 issue, 20 years ago: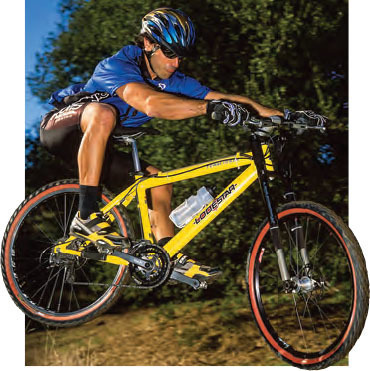 MBA: Jeff, what inspired you to go with the 24-inch wheel format?
Jeff: When we played around with the bigger 2.7- and 3-inch tires, they were heavy and sluggish. We wanted to keep the flat resistance and traction of the bigger format, and the smaller wheel format gives us that. The triathlon guys proved the concept works. You get a stronger, lighter wheel with less rolling resistance.
When Nokian came out with the 3-inch tire, we started working on the concept. We already knew that Arrow Racing had some success with its 24-inch setup, and we talked to Gus about it. Arrow makes its own tires, too. We have a 3-inch tire in development for the 24-inch format and a 2.7-inch size is on the way.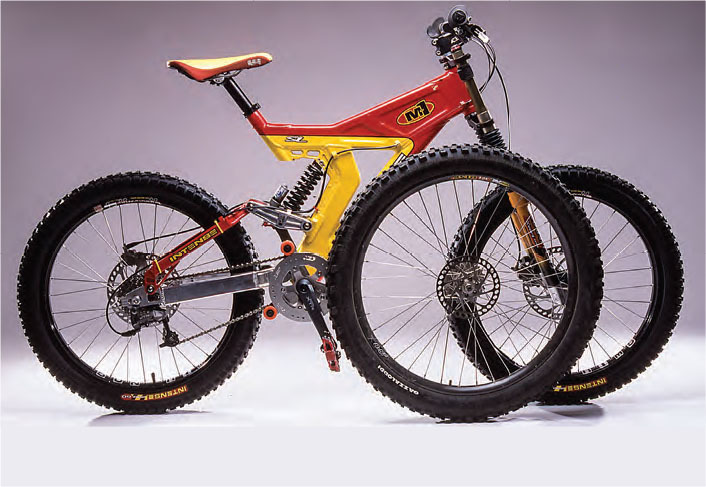 Intense decided to offer their M-1 downhill bike with 24×3-inch tires in 1999. While tests showed benefits with the 24-inch wheels, the public didn't really buy it. Check out the M-1 with its 24×3-inch tires when a bigger 26×3-inch tire was placed next to it.
MBA: What's the difference between a 3-inch tire on a 24-inch rim and a 2.3-inch tire on a 26-inch rim?
Jeff: About 1/2 to 5/8 inches in diameter. It's not a big difference. With the 24-inch format, you don't need a special frame or anything to use a 3-inch-width tire.
MBA: What do your team racers think about the 24-inch wheels?
Jeff: They are going to run them this season.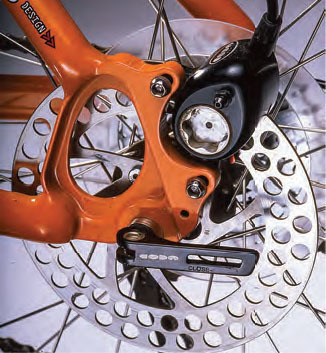 MBA: Will they use the small format front and rear?
Jeff: Yes. The diameters are similar and they roll over stuff equally well.
MBA: Who are the other players in the 24-inch game?
Jeff: Nokian and Arrow are the only other ones working on it now.
Of course, looking back on things now, 20 years later, the mountain bike market did not go for the 24-inch wheels in 1999, and Intense soon switched back to 26-inch tires for its downhill bikes.
Today, in 2019, the Intense team is on 29ers, with Aaron Gwin heading up the effort and ready to test any new ideas that he and his good friend Jeff Steber might come up with.
We'll have to see what the next wheelsize revolution will be. If you don't think there will be anymore wheel-size changes, remember what Heraclitus told the world 2500 years ago, "The only thing constant is change." (He said it in Greek, of course.)
---