FASST COMPANY FLEXX ENDURO BAR REVIEW – TAKING THE EDGE OFF
Suspension for your handlebars.
FASST COMPANY FLEXX ENDURO BAR REVIEW
Fasst Company is located in southwest Utah, just down the road from the Red Bull Rampage sites in Washington. Their Flexx bars are a spin-off of the popular moto version with hinged pivots and elastomers that provide movement in roughly the same plane as the forks.
Tech features:
These purpose-built, slimmed-down, mountain-bike-specific versions are offered in a 7075 aluminum or carbon, and both have titanium hardware. They are offered in either 8-degree or 12-degree bends. We tested the Enduro  Flexx bar but they also offer Downhill, ebike and XC/Bikepacking versions. At the time of testing, these bars were only available in a 31.8mm diameter, but Fasst now offers these bars in the more popular 35mm diameter.
The bars come standard with hard (red) elastomers, but they also include optional soft (blue), medium (yellow) and extra hard (black) elastomers. There are two elastomers on each side. The thicker one works on compression, while the thinner one works on rebound. Both are independently tunable, too. For example, you can have a soft compression and hard rebound elastomer in place if you want it softer on the downstroke and firmer when pulling back on the bars. Optional accessories include Black Ti, Oil Slick Ti or Burnt Blue Ti hardware and colored graphics.
Field test results:
Installation is as simple as swapping the handlebars. There is nothing special or different about the way they mount. We tested the Enduro bar in the 8-degree bend. There was nothing striking about the ride at first. Everything felt normal and natural. It was not until we got to rougher sections that we could feel the extra compliance. In rock gardens and on loose, choppy surfaces, the bars took the sharpness out of impacts. The most impressive part is that we could not detect movement, just the added comfort. We could not feel any movement when pulling up or back on the bars, either, although they do technically move upwards as well (just not as far as in compression).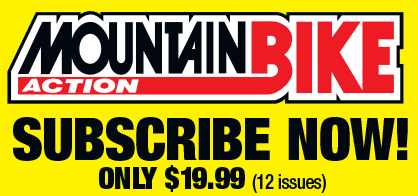 We started with the standard red elastomers, but also tried the softer yellow ones, and some of our lighter test riders preferred these. We also noticed that extreme temperatures affected the feel slightly. The only real downside to these handlebars is the extra weight. At 607 grams, they are significantly heavier than other aluminum and carbon bars on the market.
HITS:
• Provides extra comfort
• Tuneable
MISSES:
• Heavy
STAR RATING: ★★★★
Price: $324
Weight: 607 grams
Contact: www.fasstco.com