First Ride-Canyon's New Strive

First Ride
I
n early January we received a called from Canyon inviting the
MBA
crew to head down to its new U.S. headquarters in Carlsbad, California, for a secret unveiling of a new bike. Of course we jumped at the opportunity and daydreamed about what this new bike would be like as we sat in downtown L.A. traffic. Surprisingly, we got there early. Who knows how? Maybe the other drivers could tell we had important business to attend to. Upon arriving, we noticed Canyon's new headquarters just so happens to be next to GoPro and is a short walk from the beach. The Germans must be adapting to California life well. It also made us wonder if Canyon might have a new carbon surfboard in the works. All joking aside, we wandered around Canyon's new showroom only to find bikes we were already familiar with, but then the Canyon team took us up to the second floor where all the customer-service calls land. The bike we were invited to see was glowing in well-placed lighting, or maybe it was just our geeky bike brains adding special effects. Regardless, it was a bike we couldn't wait to ride.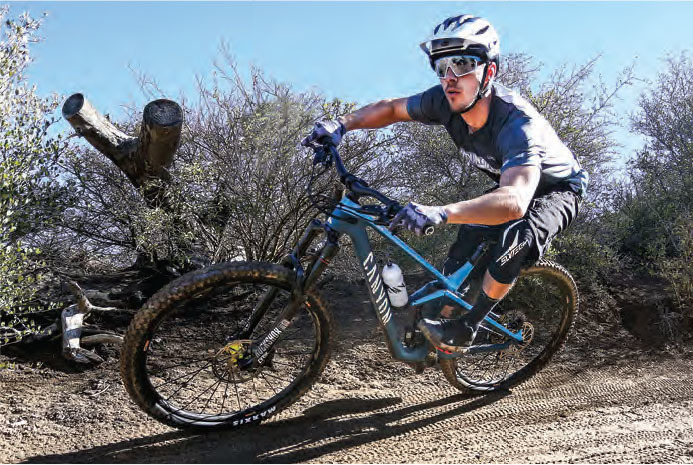 THE NEXT MORNING
We woke up early the next morning to begin our trip down to Pine Valley, a riding location that almost requires a passport due to its close proximity to the Mexican border. It had been raining in the days leading up to this trip, but the weather was warm and sunny that day, allowing us to leave our jackets in the shuttle rig. We climbed up a few miles of singletrack and encountered snow during our rip back down. We put the bike to the test on a road climb back to the top for what would be round two of an epic descent. The trail then made its way through some rough and rocky terrain, ending in a zone of massive dirt jumps said to be a training ground for Kyle Strait. A quick session through the smaller jumps was in order, followed by burgers and milkshakes. These are the kinds of days the MBA crew lives for.

SO, WHAT ABOUT THE BIKE?
We should mention that the bike we had all this fun on was Canyon's brand-new Strive. The Strive has long been known as an enduro race weapon, and while Canyon didn't want to give that up, the designers did want to make this bike more friendly for everyday trail riders. The most notable feature is its new Shapeshifter 2.0 system, which makes the previous Strive look almost prehistoric. So, let's see what this new Canyon is all about.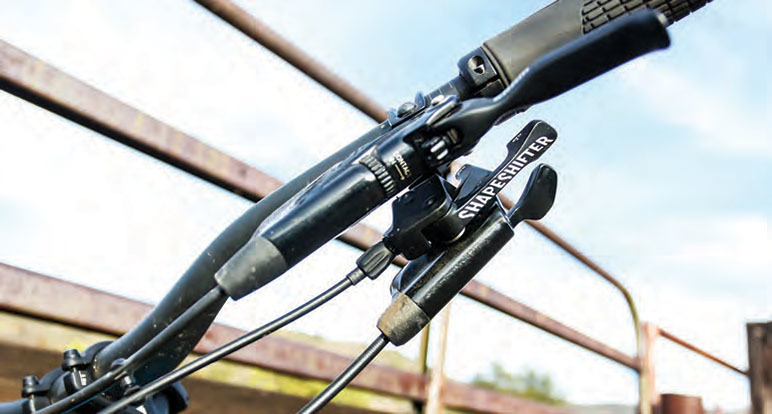 WHAT'S NEW?
• The Strive now features 29-inch wheels to help tame rowdier trails.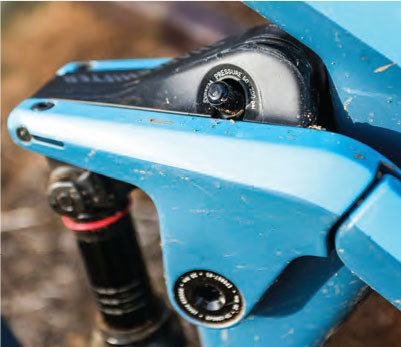 • Shapeshifter 2.0 offers two bikes in one. A small gas shock developed in conjunction with Fox is hidden inside the upper link to push the main shock into two different positions. The open position runs the shock in the best orientation for descending and offers 150mm of travel. Pushing the remote switch repositions the shock, changing its suspension dynamics and altering its geometry. This setting limits wheel travel to 135mm and gives the suspension a firmer feel. Furthermore, it steepens the head tube angle, raises the bottom bracket and steepens the seat tube angle, all in an effort to improve climbing performance.
• Triple Phase suspension offers sensitivity at the beginning of the stroke, then adds stability in the middle and becomes progressive near the end.
• It is only available with a full-carbon frame.
QUICK LOOK
• Price: $4000-$6000 (Frameset $3000)
• Sizes: Small to Extra-Large
• Head tube angle: 66 degrees in DH mode, 67.5 degrees in XC mode
• Seat tube angle: 73.5 degrees (DH), 75 degrees (XC)
• Chainstay length: 435mm
• Reach: 415mm–500mm (S-XL)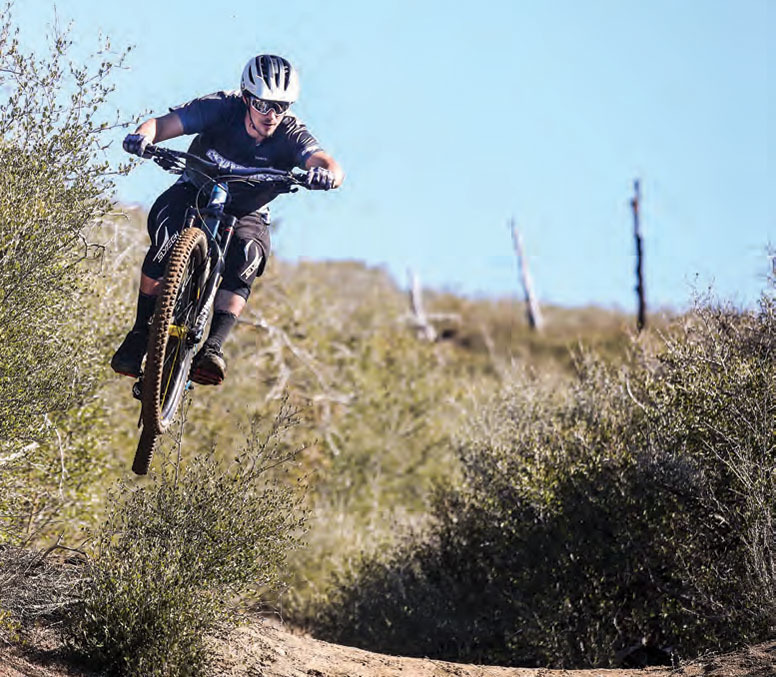 FIRST-RIDE IMPRESSION
If you're familiar with the old Strive, you likely remember how challenging it was to switch the previous version of the Shapeshifter between its two settings. Shapeshifter 2.0 is a night-and-day difference. Once the button is pushed, it only requires a small bounce on the suspension to engage either mode. The two settings are immediately distinguishable and can even be felt in the parking lot long before you feel the benefits off-road. It really makes it seem like you have two different bikes, since the geometry is changed so drastically. Imagine stopping mid-ride to rotate your bike's Flip Chip. In a way, Shapeshifter does just that, but with the convenience of using a handlebar-mounted remote.
We put the Strive's climbing abilities to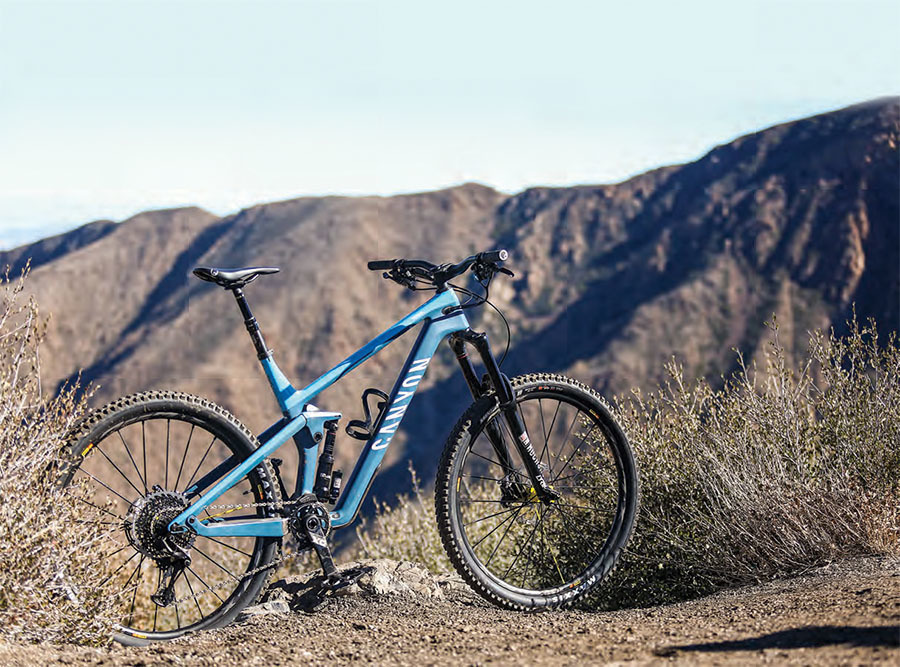 the test in both settings, and while it was no surprise that the XC mode offered a firmer suspension feel that aided in climbing, the Open mode did manage to surprise us with a fairly efficient platform. The opposite proved to be true on descents. While the long, slack and low position gave the utmost confidence, the XC setting gave the bike a quick and snappy feel, thanks to the drastic change in suspension dynamics and head tube angle. The Strive proved to us that it's possible to have one bike feel like two just by making small adjustments to the shock's mounting points. Canyon was kind enough to send us home with a brand-new Strive, so we will be able to bring you a full review in an upcoming issue of Mountain Bike Action.
---
THERE ARE SO MANY WAYS TO GET MOUNTAIN BIKE ACTION