First Ride – Giant Trance Advanced Pro 29 0
Over the years, the Trance has been the number 1 selling bike in Giant's lineup. We have been fans of the Trance over the years, including the original Trance X 29er that Giant released several years ago. With 29er technology evolving, it was only a matter of time before released their newest Trance Advanced 29er.  With over a two year development cycle and more than 14 Prototype frames, the new Trance 29 blends some proven technologies with some modern tweaks for one surprisingly capable bike. This project was one of the most comprehensive that Giant has had on the mountain bike front with the goal of producing a bike that is accessible to a broad range of riders. We spent a few days riding the steep and rocky chutes of the Italian Alps to see what Giant had been up to the last couple years.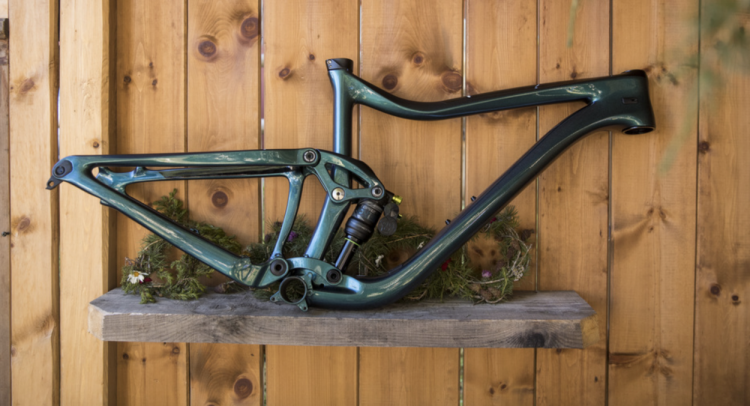 Quick Tech
-29-inch wheels
-115mm of rear travel
-130mm front travel
-44mm offset fork
-1x specific 
-Carbon fiber and aluminum versions available 
-DVO spec on the top level Advanced 0 build 
The Frame
Three years ago Giant updated their Trance 27.5 with an all new geometry, frame, and revamped Maestro suspension. This version of the Trance had a full carbon fiber main frame with aluminum rear triangle with composite rocker with full internal cable routing. The new Trance 29 has similar frame technology but with a full carbon fiber rear triangle and alloy bottom link with a composite rocker link. The lower end versions of the Trance will use an aluminum frame and rear triangle to help keep the price points down.
The Trance 29er frame uses full internal cable routing along with the ability to run a stealth dropper post and lower main pivot for a deeper insertion point. While some companies have moved to 157mm rear spacing the Trance 29 is sticking with Boost 148 and has room to run up to a 2.4-inch wide tire. Giant designed this bike solely around 29-inch wheels and thus it isn't compatible with 27.5+ wheels. Lastly the new Trance 29 is 1x specific with ISCG05 tabs. 
The Geometry
The boundaries of geometry have been pushed in big ways the last few years. You read all time about bikes getting longer and lower and the benefits of these changes, and the Trance 29 embodies the positive aspects of modern geometry. For a size large, the Trance 29 has a reach of 462mm with impressively short 435mm chainstays, rivaling that of most modern enduro bikes that feature much more travel. Most modern enduro bikes use reach numbers ranging from 460-475mm with 160+mm of travel. Giant designed the Trance 29 with a very slack 66.5-degree and steeper 74.5-degree seat tube angle. These numbers were brought together with a custom 44mm offset DVO Sapphire fork for an aggressive position when descending. 
Custom Tuned Suspension
The heart of the 115mm of rear travel on the Trance 29 is DVO's new Topaz 2 shock that was custom tuned for this bike. One of the major aspects of the new Trance 29 that sets it apart was the collaboration between Giant and DVO on the suspension tune for the Advanced 0 model. During the design process, Giant tested over 100 different variations of shock tunes from DVO ranging shim stacks to oil weight to find the right setup.
DVO designed a new version of their Sapphire trail fork around the Trance 29 with beefier 34mm stanchions. Internally the fork uses DVO's OTT adjustment along with high and low speed compression that are easily tuned. This was a massive project for DVO and a big step as a company with the OEM spec spreading across Giant's lineup of full-suspension bikes. 
Talking New Wheels

There are a lot of new bits and pieces in the Trance 29 including the redesigned TRX-0 wheels. Giant has been using the TRX line on their bikes for couple seasons now, but for 2019 are using a new rim shape. The TRX-0 has 30mm external rim spacing and 27mm internal spacing to accommodate wider tires. New for this year is a hookless rim bead and reinforced carbon around the spoke nipple holes. Giant is continuing to use DT Swiss internals on the hubs with the 0 level using 240 level bits. The TRX-0 has a weight of 1,662-grams.
First Ride
We'd be lying if we said we weren't fans of short-travel 29ers with progressive geometries, so after seeing the new Trance 29 in person, we were anxious to get out on the trails. DVO was on hand to get out suspension dialed in. In the fork we were running 15% SAG with OTT set about half way and the low speed compression in the softest setting for our first couple runs. In the shock we were sitting comfortably at about 27% SAG (the Trance was designed to run around 25-30%). The Topaz 2 shock has a separate air bladder that with increased pressure will make the shock more responsive for more aggressive riders.
DVO had us set with a base pressure for ride intro, but long term we are anxious to play with those adjustments. Swinging a leg over the Trance the longer reach had us feeling right at home with the 50mm stem and wider 780mm handlebars. We dropped the stem down for a slightly lower position, considering we would be descending some steep bits of trail. The trails in Europe are completely different from what is considered normal in North America, let alone California.
Giant had a mix of terrain prepared for us, ranging from rocky river trails to steep rocky chutes in the tree line, followed by high elevation fall lines and of course more rocks. The first bit of trail we covered involved quite a bit of pedaling, and even with the suspension open, the Trance pedaled efficiently. The rear suspension was plush off the top of the stroke and didn't feel overly stiff when we switched the shock into a firmer setting. 
We rode several steep sections of trail with tight switchbacks and all of the rocks that we would expect the Italian Alps to produce. Through the diverse and technical terrain, the Trance felt stable and planted, really feeling like it had far more travel than it actually did. At higher speeds the rear shock offered plenty of mid-stroke support that added to the overall stability. We were most surprised at just how easy it was to lay the Trance over in corners at high speeds and even pick our way through tight switchbacks. We didn't get as much opportunity to test the climbing characteristics of the Trance, but there will be long climbs during our long term testing. After spending two days riding the technical and epic terrain that Northern Italy has to offer, we were intrigued by the Trance.  "We wanted to build a short travel bike with big bike mannerisms" said Giant suspension guru Kevin Dana during the bike introduction. With a progressive geometry, custom tuned suspension, and some spirit, the new Trance 29 is far more capable than we were expecting. We will have a bike for long term review soon to test out on our local trails. 
Photos by: Sterling Lorence