FIRST RIDE GIANT TRANCE ADVANCED PRO 29 1 TRAIL BIKE
THE LATEST FOX LIVE VALVE ON A NEW MOUNTAIN BIKE DESIGN WITH ADJUSTABLE GEOMETRY
FIRST RIDE GIANT TRANCE ADVANCED PRO 29 1 & FOX LIVE VALVE GEN 1.5
The all-new Trance Advanced Pro 29 has finally landed and the frame has been re-engineered with adjustable frame geometry and an updated Maestro suspension system. The division/category this bike falls into, as Giant describes, is for "all-around trail performance." Giant's product development team worked alongside their riders, like their ambassador – Adam Craig, to bring more trail-specific features and functionality to the table while staying true to the core design of the Trance Advanced Pro 29 as a short-travel trail bike. Overall, this new machine has been produced to coordinate continuous control on technical trails while remaining proficient in climbing and pedaling efficiency. Before today's launch, our wrecking crew got their hands on the all-new Trance Advanced Pro 29 1 with the latest Fox Live Valve suspension with Gen. 1.5 update. We did a big first ride up in Big Bear, California to see what this latest tech could do.
UPDATES AND WHAT HAS CHANGED
Along with the adjustable bits, there is plenty that has changed on the frame from previous years. The geometry now has a longer reach and steeper seat tube angle (77-degrees). Optimized for 29-inch wheels, the frame has been updated with a slightly longer rear-center measurement (2mm longer than the previous generation), which increases rear tire clearance to offer a maximum width of 2.5 inches. The frame's new rear suspension setup adds 5mm of travel for a total of 120mm paired with 130mm of travel at the front.
The frame also has some new convenient features for beyond performance needs. There is now integrated downtube storage where a rider has the ability to open a latch in the downtube and store essentials – Snacks, inner tube, C02's, multi-tool, you get the idea. This all-new Giant also features enough space for a 21oz water bottle within the front triangle, chainstay/down tube protection, updated cable ports to eliminate rattling, and an ISCG-05 interface to mount a chain guide or bash guard.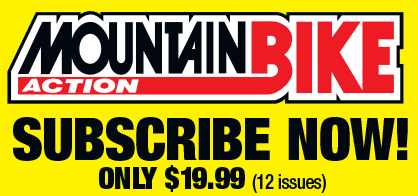 Making changes on the fly can now be done with help of the all-new flip-chip on the Maestro suspension rocker arm. Like we've seen on other bikes with this addition, there are two settings – high or low. The high position is intended for an emphasis on efficiency when pedaling: head angle of 66.2 degrees, seat tube angle at 77-degrees, and a bottom bracket drop of 35mm. The low setting is recommended for faster, more open terrain: switching to low causes the head tube angle to be slacker (65.5 degrees), increases the bottom bracket drop to 45mm, and the seat tube angle at 76.3-degrees. A few other changes that are noteworthy when giving the chip a flip is it will also adjust reach by 8mm, chainstay by 2mm, and the trail (also considered the tire patch) by 6mm.
FOX LIVE VALVE 2022 SYSTEM UPDATE (GEN. 1.5)
Before we cover our first ride, our test subject and build came outfitted with another new launch – Fox Suspension's latest Live Valve with Gen 1.5 Update. When live valve first hit the market it was only available on Fox's Factory level options making it steep in price for the most rider to utilize its performance. Now, Live Valve will be offered with other levels and price ranges but that is not all that has changed. On the software side, Fox has tweaked the Live Valve algorithms based on feedback from when it was first launched. They've reduced the decline angle required to activate descend mode, lengthened the duration of the timer, and decreased the bump threshold. It is very nerdy stuff but these adjustments are intended to improve descending capabilities of Live Valve without compromising pedaling efficiency. On the hardware side, Live Valve rear shocks now feature an all-new main piston ("mid valve"), borrowed from the Float X2 Performance Series. This is to provide a much broader tuning range. Live Valve forks and shocks have also both received entirely new valve codes (what would be known as "tunes"). Fox also went ahead and changed the "Closed" mode to still be firm, but not totally locked out. Through more research, Fox came to the conclusion that having no suspension results in increased rider fatigue and loss of traction/control. The final exciting update to Live Valve is that it now features Bluetooth connectivity. This allows the system to be controlled on a smartphone via the Live Valve app. Whether it is as simple as switching between the 5 factory pre-set modes or as complex as custom-tuning the specific parameters of each mode to your liking, the all-new generation of Fox Live Valve has stepped it up with much more – more info at www.ridefox.com
GIANT TRANCE ADVANCED PRO 29 KEY FEATURES
Maestro suspension: The updated Maestro suspension system now delivers 120mm of smooth, active rear travel.
Flip-chip: The upper rocker arm of the Maestro suspension system has a flip-chip that lets you choose a steeper or slacker head angle and seat tube angle depending on your riding style and terrain.
Frame storage: The downtube features an integrated storage system to carry essential tools or snacks. A clean, simple latch closure opens it up, and a water-resistant bag inside protects your gear.
Cable ports: New integrated frame ports for derailleur, brake, and dropper post cables offer a clean look and help eliminate any noise or rattling.
Frame protection: Frame details include integrated protection on the drive-side chainstay and underside of the down tube.
PRICING & BREAKDOWN FOR BUILD OPTIONS
| | |
| --- | --- |
| MODEL/BUILD | PRICE |
| Trance Advanced Pro 29 0 | $10,500 |
| Trance Advanced Pro 29 1 | $7,000 |
| Trance Advanced Pro 29 2 | $6,000 |
Trance Advanced Pro 29 0: Fox Float X Factory rear shock and Fox 34 Factory fork with 130mm of travel. It also includes the new Contact SLR composite handlebar and stem, a superlight integrated system with adjustable stem length and positioning, and a Zipp Moto wheelset.
Trance Advanced Pro 29 1: Fox Performance Elite Live Valve rear shock and Fox 34 Performance Elite Live Valve fork with 130mm of travel. It's built up with a Giant TRX 2 Carbon 29 WheelSystem and Shimano Deore XT drivetrain components/brakes.
Trance Advanced Pro 29 2
: Fox Float DPS Performance rear shock and Fox 34 Float Rhythm fork with 130mm of travel. It's built up with a Giant TRX 2 Carbon 29 WheelSystem.
FIRST RIDE IMPRESSION
We don't want to spill all the beans before our long-term review, but we will say, it does things that we like and want more of on the trail. We used the firmer setting on the Live Valve when starting our climb to the top of
Snow Summit
via the 2N10 fire road to ride all of the Skyline trail. For those unaware of the area, climbing this section of Skyline in Big Bear can be technical, but that's where the new Live Value and predictable handling of the latest Trance shined. We stuck with the bike in the high position of the flip-chip in order to be as efficient as possible when pedaling up. For the entirety of this 35-mile ride with just under 5,000ft of climbing, the Trance was comfortable, very lightweight, could roll up/over technical areas with poise and stability.
Asking a hand of a fellow rider to make things easier, we switched over the Trance into the low setting for the undulating hills and flat out speed for the trails back into town. Yes, it can be done trailside with a multi-tool but it is definitely smart to do beforehand to minimize losing parts/tools. With this quick flip, we could hold more speed in rougher terrain and felt we could hold a better body position over the bike for cornering/jumping. This all-new Trance was more confidence-inspiring in the low setting down steeper terrain, but we also felt that the high setting did not retract control on terrain where you could be in the low.  It just has a smidge more of that quick cross-country handling characteristic when set on the high position. We enjoyed the last iteration of Live Valve, without a doubt, the improvements are noticeable and at one point we truly forgot that it was doing all the thinking/ tuning for us to stay efficient. This was a doozy of a shakeout ride to get acclimated with the all-new Trance Advanced Pro 29, yet we are eager to spend more time in the saddle for our full review and see what other surprises this well-priced modern trail bike may have in store.