First Ride Santa Cruz Bronson – Mountain Bike Action Magazine
Born in 2013, the Santa Cruz Bronson shook up the mountain bike market with its in-between wheel size, known as 650B. Promising the best qualities of the two the most popular wheel sizes of that time, 27.5″ wheels became the the obvious choice for that versatile trail machine.
With a nod of the hat to Santa Cruz's roots and the industries most talked about wheel size, the Bronson grew into the well regarded bike it is today.The Bronson received further updates in 2016, but it wasn't until 2018 when the Bronson's styling and geometry really began to get shaken up.The all-new Bronson was drastically redesigned with a new low-link mounted shock, mimicking the Nomad, but in a shorter-travel package.The new linkage allowed Santa Cruz to give the Bronson a more linear feel aiding in small bump sensitivity while retaining a supportive mid-stroke and progressive bottom out. An additional upright was added to the rear triangle to enhanced the bikes ability to track the trails and increase torsional stiffness when sliding the rear end into berms.
Along with these changes the Bronson's reach grew by 15mm per frame size and its standover lowered by 10mm. The seat tube was pushed 1-degree forward to 75.3-degrees, aiding climbing performance and the seat tube was shorten by a full inch to allow for long-travel dropper posts. Additional features include a threaded bottom bracket, internal cable routing, the ability to run a bottle cage inside the front triangle and a rear shock cover for added protection. Shuttle Junkies need not to worry about scratching up their frames as Santa Cruz added a protective guard under the top tube for riders who like to shuttle their bikes lap after lap.
Follow Mountain Bike Action: https://www.youtube.com/channel/UCX_p…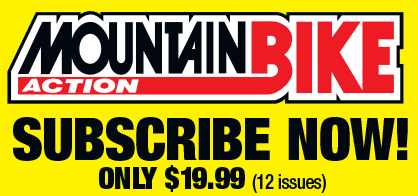 Mountain Bike Action Website: http://www.mbaction.com/Main/Home.aspx
Mountain Bike Action Facebook: https://www.facebook.com/pages/Mounta…
Mountain Bike Action Twitter: https://twitter.com/mbaction
Subscribe to Mountain Bike Action: https://hi-torque.com/product/mountai…
https://youtu.be/iZV809-Misc