IMBA Has 9 New Projects In The Works
Nineteen New Projects For More Local Trails

By IMBA
All of us at IMBA hope you are enjoying some great, safe fall riding as the season turns. And to the many mountain bikers in communities impacted by wildfires and floods: our hearts are with you. We will be ready to support our IMBA Local Partners as the smoke settles and work begins to repair local trails.
We're fortunate as mountain bikers that trails will always bring us together. Trails rely on partnerships deeply rooted in one shared value—respect and admiration for our great outdoors. Those partnerships have made monumental gains for trails this year: the Great American Outdoors Act, the Bonneville Shoreline Trail Advancement Act, and many local and regional initiatives across the country are making mountain biking better for everyone. Voting is a fine opportunity to pick our partners, and I hope you consider the best team for trails when you cast your ballot this fall.
Colorado is a vote-by-mail state and last week my wife Susan, our son Ben and I went through our ballots from top to bottom. We discussed, agreed, disagreed, and ultimately made our individual choices. We pedaled over to the county building, dropped our ballots in the ballot box and headed out to the trails, feeling energized and thankful we have the opportunity to vote. Thankful for that, and for great trails close to home!
Your Dig In Donations at Work
With the help of your dollars and the support of Shimano, we raised thousands of dollars each for ten Dig In projects supporting IMBA Local Partners in every corner of the country. And there is already great progress on the first round of projects. From Central Pennsylvania: 
"The Dig In program was key to helping our project move forward. Our goal is to develop a major expansion of an IMBA EPIC trail system that includes more than 30 miles of new trails and trail access from several towns and local Rail trail. Funds helped with the cost of tools and building materials that our volunteers utilized to put these new trails on the ground. This project is only phase 1 of a multi-year project. Major thank you to Shimono and IMBA for the support. New trails coming soon!"
— Nick Loftus, President, Susquehanna Area Mountain Bike Association
Check out the ten newest Dig In projects, from Louisiana to Maine to Texas. Make a donation and follow the progress as another trail comes to life.
Plan, Design, Accelerate
"We need to have bike parks … within a quarter-mile or half-mile ride of every neighborhood. What we're going to provide here is freedom and adventure for youth who may not have that access now." —IMBA's Mike Repyak
So much yes. Mike recently discussed planning a network of off-road, in-town trails in Madison, WIsconsin with the Wisconsin State Journal. The Parks Department initiative for urban trails will promote health, economic activity and access to the outdoors, especially in historically underserved communities. Madison is one of 25 locations benefiting from an IMBA Trail Accelerator grant to bring more trails close to home. Congratulations to the nine newest Trail Accelerator Grant communities!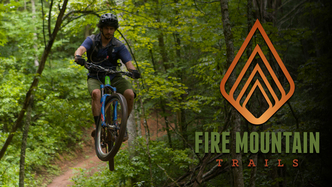 Trail Champions
IMBA's Trail Champions series gives a voice to partners working behind the scenes to provide the great trail experiences we all enjoy. Each video highlights the incredible progress trail stewards are achieving in their communities to create more trails close to home.
Learn about trail development at Fire Mountain in Cherokee, North Carolina, with the Eastern Band of Cherokee Indians. IMBA's Trail Solutions team caught up with Jeremy Hyatt, Secretary of Operations, while doing an assessment of the area for future trail planning and design.
Subscribe to our YouTube channel to keep up with new videos in the series!
Welcome, IMBA Local Partners!
We're routinely welcoming new Chapters and Affiliates into our IMBA Local Program. Thank you for all you do for mountain biking in your backyards. Let's make it even better, together!

---
Mountain Bike Action is a monthly magazine devoted to all things mountain biking (yes, that's 12 times a year because we never take a month off of mountain biking). It has been around since 1986 and we're still having fun.
Call us at (800) 767-0345