Job Search Tips From the Pros
Job Search Tips From the Pros
Tips from Mark Thome of Malakye
MBA: What is the main thing bike companies look for in a job candidate?
Mark Thome: The resume is important, but people are key. Companies look for candidates with at least a close match of their resume to the job description and requirements, but ultimately, you can teach anyone the ropes for just about any position. When bringing in new people, hiring managers look to find candidates who will be the best fit with the existing staff already there. They're looking for hires who will fairly seamlessly blend into the company culture.
MBA: How important is it for a candidate to convey his or her experience within a sport?
MT: Experience and enthusiasm are equally important. You should be able to relate what you've done in your previous work life to the position you're seeking to be hired for. You don't necessarily need to have direct lateral experience for the position you seek (although it doesn't hurt). But, if you make it to the interview process, you need to be prepared to talk about the company as much as yourself. Scour their website, current advertising and social media to have a thorough knowledge of what's important to the company and where they are going. Loop that back to how you can help the company move that agenda forward, and explain how you have unique and valuable skills that lend themselves to the company's goals. Hiring you should be a solution for something that company is seeking to improve or solve.
MBA: What kind of jobs are the most common ones in the bike industry?
Mark Thome: Most bike companies need people to fill the same roles required to run just about any other kind of company. Sales (in-house and outside reps), accountants, graphic designers, product developers, marketing people, website and social media gurus, IT professionals, warehouse people, human resources, operations, accounts payable and receivables—all that and more. What makes it cool is, if you're good at anything, you can probably be even better doing it with a company in an industry that you love, including bikes.
MBA: How helpful is it to have a background of racing or working at a bike shop when you're trying to land a job in the bike industry?
MT: Bike-shop experience is tremendously helpful, since that background requires a ton of product knowledge and people skills specific to bikes. Understanding retail and the B2B [business-to-business] landscape, who the brand and distributor players are, and how the business side of the sport gets done gives you a huge leg up on applicants without that background. Racing is great too, especially if you're going to have a function involved with the business side of racing. Competing on two wheels also translates into your career side, ideally enabling you to carry that competitive flame over into your business life by constantly striving for excellence and improvement, while the concept of good sportsmanship translates into being a decent human being to work with five (or more) days a week.
MBA: What kind of education does a person need to get a job with a bike company?
MT: Surprisingly (or not), the bike industry does not generally require a college degree in many cases, especially to at least get your foot in the door and get into an entry-level position. There are a lot of examples out there of a college degree only guaranteeing you the opportunity to ask, "Paper or plastic?" However, it sure doesn't hurt. At the very least, you do need a high school diploma to get looked at for most entry-level positions.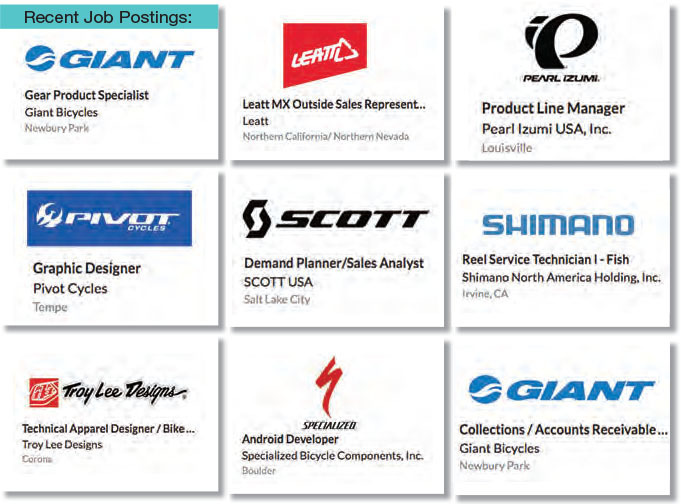 The higher up in the company (and your career) you are aiming to go, at some point having some higher-level education is usually never a bad thing. When you are competing with the next person(s) applying for the same positions, a degree can make the difference between you getting the nod over someone else.
MBA: Is there any kind of additional training that can enhance a person's chances of landing a job in the bike industry?
MT: If you already work at a bike shop, take every opportunity to attend trade show seminars (at Interbike for example) and any training offered by brands like Shimano and SRAM, even if it is primarily technical updates. If you have a career specialty, (like HR for example), pursue your professional certifications. Another example is if you are in graphic design, make sure you are fully up to speed and proficient on all the current popular software. Also, if you have experience of any kind supervising or training others in your current or recent jobs, that is valued and translates well to things ahead.
MBA: Any other suggestions?
MT: When you apply to a specific posted job listing, include a directly relevant cover letter to send along with your resume. You would be amazed at how few applicants do that simple thing, and it's an easy way to get their attention and stand out above everyone else who doesn't bother. Also, have a few variations of your resume in the chamber, and use the one most suited for this type of position you're pursuing. Many companies are now using ATS (Automated Tracking Systems) that match keywords in the job listing to applicants' resumes. Make sure the resume you are submitting matches up to light up the recruiter's spreadsheet.
Just be yourself! HR people and hiring managers, especially in these industries, can spot genuine people (and conversely posers) a mile away. It's hard sometimes to be relaxed for a job interview with a gig you really want—but aim for that. Companies (at least the good ones) hire people, not robots. If you're a good fit, you'll have a strong shot. And if not, at the very least it's good experience to apply and interview—you'll be much more well-prepared for the next one(s) after that.
And, network like crazy. Develop and leverage your relationships with people you know personally in the industry and at the bike companies. Connect with them on sites like Malakye.com and LinkedIn. Make sure your profile is current, complete, and compelling, including decent headshots of yourself with relevant and interesting background images. If the HR person or hiring manager sees that you are directly connected with someone already at that company, it is highly likely they are going to walk down the hall, and ask the person there, "Hey, do you know John? I see he's connected to you on LinkedIn. He applied for 'x' position. Tell me if you think he'd be a good hire for that?" That is golden. Conversely, call anyone you know at the company to put in a word for you with HR or the hiring manager. Instant holeshot.
In summary, getting your dream job is, well, a full-time job in itself. But, if you take it seriously and pursue the great opportunities diligently, your work will pay off by finding a great bike-industry job that you're stoked to show up for every day.
---
THERE ARE SO MANY WAYS TO GET MOUNTAIN BIKE ACTION