KONA REMOTE 130 REVIEW – A LIVELY AND PLAYFUL ELECTRIC MOUNTAIN BIKE
Everything you need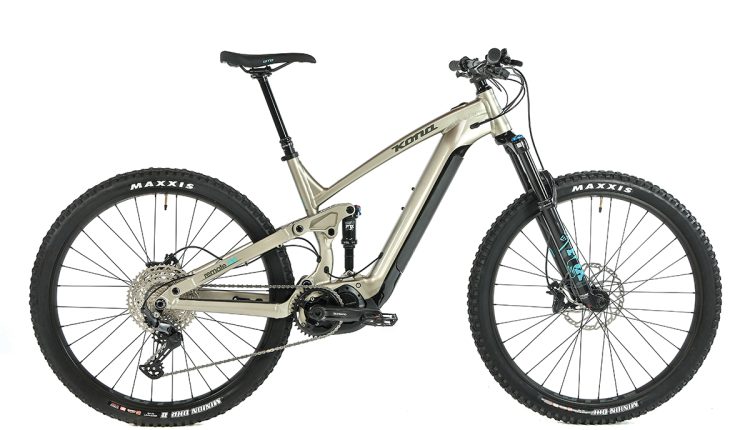 KONA REMOTE 130 REVIEW
Kona's electric mountain bike line consists of two models. We reviewed the Remote 160 in the November 2021 issue and loved its big-hit brawn. Kona's Remote 130 is its little brother and in a lot of ways an electric-assist version of its Process 134. In a world where bigger is better for most things, this mid-travel electric trail bike might seem average on paper, but out on the trails it is anything but.
FRAME
With the 6061 butted-aluminum front and rear triangles shaped in a manner that looks like a Kona, it's hard to mistake the Remote 130 for anything else. It's a somewhat no-frills basic build with a bottle cage mount on the downtube and not much else. Cables are internally routed through most of the downtube but are external on the bike's swingarm. There are no flip chips, so geometry is fixed with a 65-degree head tube angle, 76.6-degree seat tube angle and 475mm reach in a size large. At 435mm, chainstay length may sound long compared to the Process 134's 427mm stays, but these are actually on the short side relative to a lot of other eMTBs on the market.
DRIVE SYSTEM
Shimano's E7000 drive unit powers the Remote and is paired to a removable Shimano 504Wh battery. Compared to Shimano's EP8 motor, the E7000 is down on torque with just 60 N/m compared to EP8's 85 N/m. The E7000 is also customizable, like the EP8, through Shimano's E-Tube app, but the settings are more basic. Its display is the SC-E7000 variation that lacks the color screen and size of the EM800 version commonly paired to the EP8 system. The power button is conveniently located on top of the top tube, and the charging port is at the lower left side of the seat tube. Its charger is Shimano's STEPS 2-amp model.
COMPONENTS
There is only one model of the Remote 130, and it is built with a Shimano Deore drivetrain, four-piston disc brakes and E8000 crankarms. Its wheels feature 29-inch WTB KOM Trail i35 rims laced to Formula hubs, and they are paired to the classic Maxxis Minion 2.5-inch DHF and 2.4-inch DHR II combo. The cockpit consists of mostly Kona house-brand parts, along with a TransX dropper post and WTB Volt Saddle.
SUSPENSION
Kona uses its Beamer Independent Suspension system to get 130mm of rear-wheel travel. This is essentially a four-bar single-pivot system that may look similar to a Horst-link style, but has the rear pivot on the seatstays not the chainstays. In theory, the downside of a single pivot like this is slight stiffening under pedaling and braking, although none of the wrecking crew noticed either during testing. A Performance-level Fox Float rear shock handles the damping duties.
At the front of this bike is an interesting spec worth taking note of: a 140mm-travel Performance-level Fox 34 E-Optimized Float fork. The E-Optimized fork should not be confused with the E-Tuned versions; they are different. The E-Tuned forks have the same chassis as normal forks but typically see an extra volume spacer, a little less low-speed compression damping and a touch more high speed. The E-Optimized fork, on the other hand, has beefier, thicker upper legs and steerer tube along with a solid crown, as well as the E-Tuned damper and air-spring tweaks.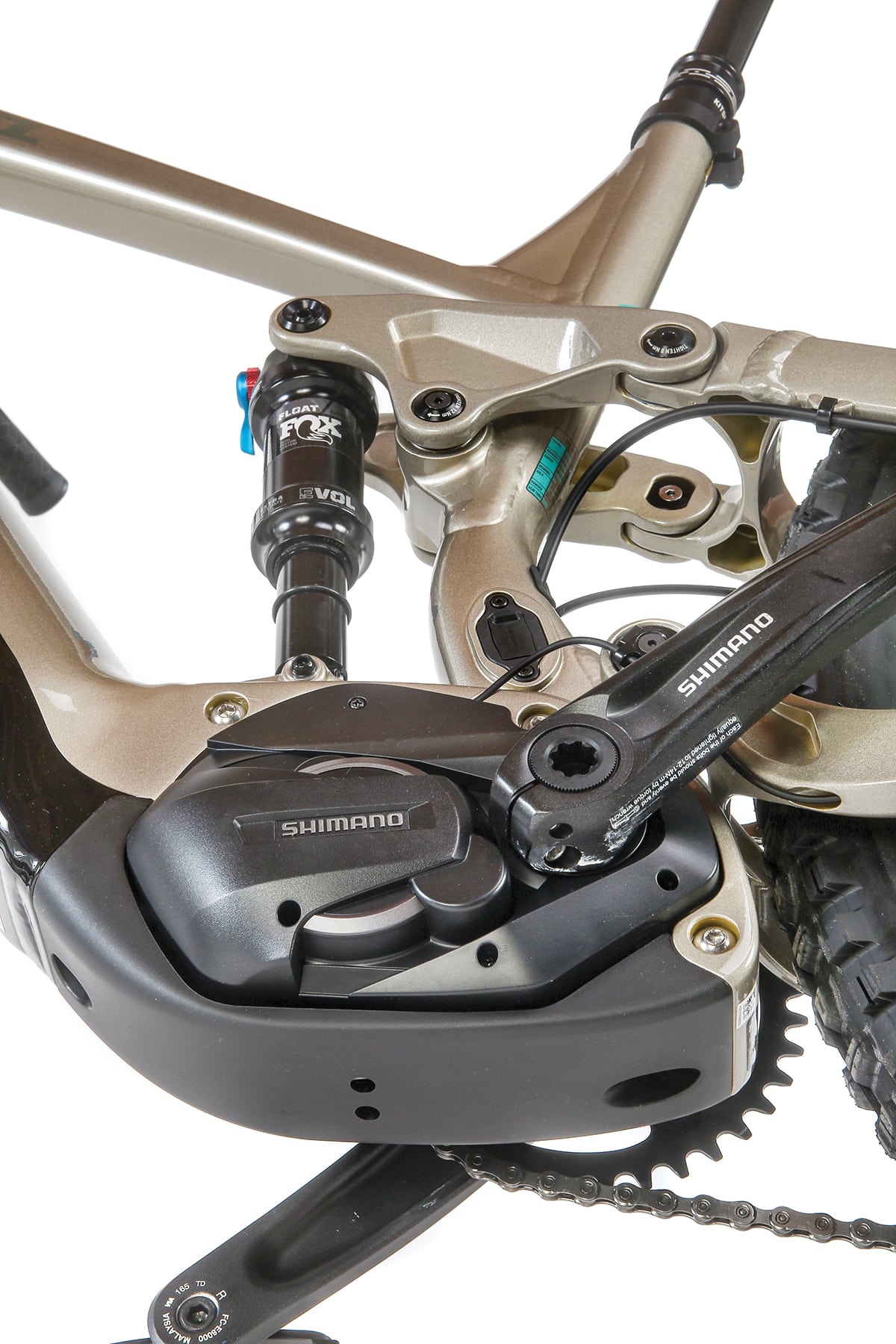 CLIMBING
If you've ridden Shimano's lower-level components after riding its flagship line, you can probably predict what you are going to get with the E7000—much of the same without a few of the nicer details. With just 60 N/m of torque, there is a noticeable difference between this motor and the EP8, but the gap is not as big as the numbers might suggest. We still found ourselves spending most of the time in Eco and Trail with brief stints in Boost to bridge a gap in a group ride or scale a nasty climb. The difference becomes most noticeable when riding in a power-hungry group that Boosts everywhere, requiring more work to keep up. With the lower output, battery range seemed more than adequate for most rides and better than we expected.
Performance-wise, the Kona climbs surprisingly well for a midrange, all-aluminum bike. The rider position is efficient and there is minimal movement out of the suspension while pedaling. Compared to bigger-travel models, the steeper and quicker-handling Kona is easier to handle and more accurate at low speeds. Instead of plowing uphill sections, you can ride with finesse on this bike.
DESCENDING
When we first saw the Fox 34 fork on this bike, everyone was certain that the front end would feel like a noodle, but that simply was not the case. Even those who sometimes find the standard-issue Fox 36 flexy on some eMTBs didn't even notice the E-Optimized 34 on this one. It's truly shocking just how much of a difference thicker walls in the upper legs, steerer and crown make in this case. And the Remote 130 is capable of getting loose and rowdy on the trail. To everyone's surprise, this fork doesn't hold it back one bit and performs quite well overall.
Matching the front end is a rear suspension that feels progressive and well supported, even when pushing the bike into enduro and park-style riding. The bike has lots of pop and life to it, encouraging bunnyhops and jumps off trailside features. A few riders were surprised to find it had just 130mm of travel because it often feels and performs like it has more than that. It does have its limits, though, and speed needs to be checked when the going gets super gnarly. Handling is probably the highlight of this bike. It is nimble and quick in a sea of point-and-shoot, plow e-bikes. The short chainstays and lowish bottom bracket height had us snapping through berms and blowing up corners wherever we could find them.
WHAT DID WE LOVE?
This is a very fun bike to ride. Everybody loved the classy look of the Gloss Metallic Pewter paint, too. We also appreciate the overall simplicity of this bike and easy-to-find and -use power-button location.
WHAT DID WE HATE?
The Remote 130 has bottle-cage mounts on the downtube, but they were located so high on our test bike that we could only use select bottle cages to fit a standard 22-ounce bottle without interfering with the top tube. Yes, the bottle is easier to reach up high like this, but it shouldn't be this cramped, and we would even like to fit a large bottle on the bike. There is plenty of room lower on the downtube, so this location confused us. Although it functions just fine like the Remote 160, we would prefer to see the rear-wheel sensor moved from the old-school spoke location to the much cleaner look of the rotor mount. Speaking of rotors, the 180mm rear got hot pretty fast, so we would prefer a 203mm size to match the front.
BOTTOM LINE
Kona built the Remote 130 thinking that everybody does not need a long-travel, big-hit eMTB, and we think they are right. Electric assist may make pedaling longer-travel beasts a piece of cake, but that does nothing for you on the downhills where a lot of these bikes can lose their pop and responsiveness. This is where the Remote 130 shines. It's lively and playful yet still very capable, thanks to its modern trail-focused geometry and progressive-feeling suspension. With the emerging lightweight, mid-powered eMTBs and full-power, big-battery models that everybody wants, the Remote 130 might fall into no man's land for many, but the truth of the matter is, it's exactly what many of us actually need.
CATEGORY: eMTB
WHEEL SIZE: 29″
SUSPENSION: 140mm (front), 130mm (rear)
Price: $6,399
Weight: 51.5 pounds (without pedals)
Sizes: S, M, L (tested), XL
Frame tested: Aluminum, 130mm travel
Motor: Shimano E7000
Controller: Shimano SC-E7000
Battery: Shimano 504 Wh
Shock: Fox Performance Float
Fork: Fox Rhythm 34 Float, 140mm travel
Wheelset: WTB KOM Trail i35 TCS 2.0, Formula hubs
Tires: Maxxis Minion DHF EXO+ TR 3C 29×2.5" WT (f); Maxxis Minion DHR II EXO+ TR 3C 29×2.4" WT (r)
Seatpost: TransX ( 170mm travel)
Saddle: WTB Volt
Handlebar: Kona XC/BC 35
Stem: Kona XC/BC 35
Grips: Kona Key Grip
Headset: FSA No.57E
Brakes: Shimano Deore
Rotors: Shimano RT66 203mm (f)/180mm (r)
Rear derailleur: Shimano Deore 12-speed
Shifters: Shimano Deore 12-speed
Crankset: Shimano E8000
Cassette: Shimano Deore 12-speed, 10-51T
Chain: Shimano Deore
Chainrings: 36-tooth
GEOMETRY
Head tube angle: 65°
Effective seat tube angle: 76.5°
Reach: 475mm (18.7")
Stack: 625mm (24.6")
Bottom bracket height: 345mm (13.6")
Chainstay length: 435mm (17.1")
Wheelbase: 1,243mm (442.6")