Lightweight Full-Face Helmet Shootout
Shootout


Lightweight Full-Face Helmets

 
T
he importance of a dependable helmet cannot be overstated. Mountain biking has evolved over the years, and naturally, so have protection requirements. More and more enduro riders are on the hunt for a lightweight full-face helmet. The goal is a helmet that is safe, downhill certified and highly ventilated, so a rider can climb while wearing it and still experience maximum comfort. With most helmet companies launching their own versions of these helmets, we decided to feature three popular consumer choices currently on the market.
TEST OVERVIEW
Trying to determine the overall winner of a helmet shootout is tricky, as so many of the relevant categories are subjective. So, we decided to highlight each helmet's features and let you be the judge. Of course, the most important quality is safety. Each helmet in this comparison has been ASTM F1952 certified (standard for helmets used in downhill bicycle racing), and all have a fixed chin bar. Yes, there are now convertible helmets that have a removable chin bar to maximize airflow when needed, but we chose to focus on full-face helmets with fixed chin bars that are designed specifically for breathability and comfort while out on the trails.
After all, the desire for maximum ventilation in a complete full-face helmet is why we are seeing more of this new-school design emerging. With this in mind, we tested each helmet in various riding conditions. This included, but was not limited to, truck shuttle or lift-service days and sun-slapped fire-road climbs with no coverage. Once we put these helmets through their paces, we focused on four categories and gave a star rating for each one. We focused on breathability, weight, fit, and value.
LEATT DBX 4.0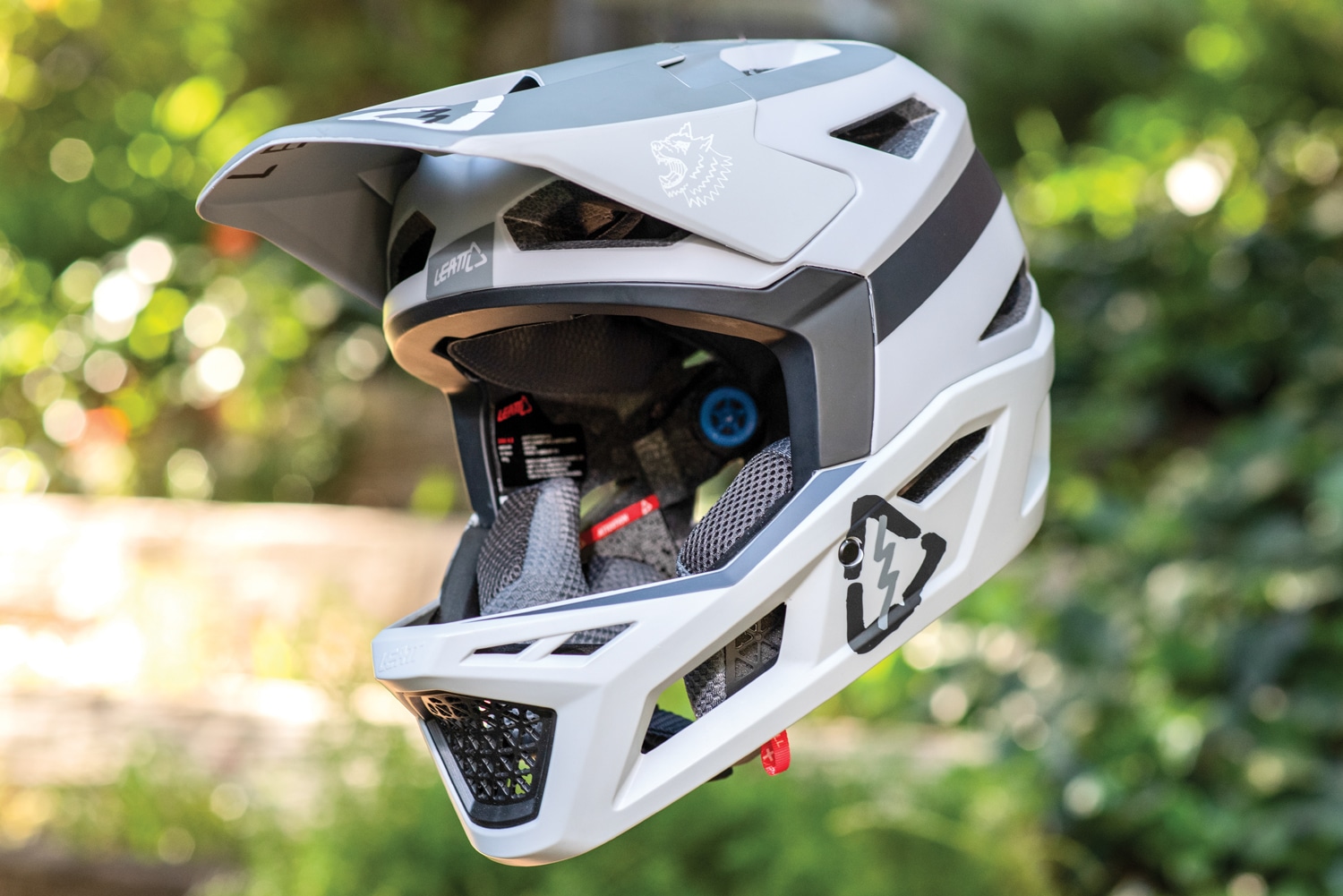 Tech features: Leatt is a company composed of individuals who understand why we do what we do. They take pride in providing riders with the confidence and the equipment to go harder than they thought they could. Leatt's mission is very much their release of the DBX 4.0, with its main feature being Leatt's 360 Turbine Technology, which uses multiple blue elastomer inserts that are placed around the inside of the helmet. Leatt stands by its Turbine protection design, claiming it reduces rotational acceleration impacts to the brain, minimizing the risk of a concussion.
Along with that protection feature, the DBX 4.0 is outfitted with EPS (expanded polystyrene) and EPO (expanded polyolefin) impact foam to further displace energy during an impact. The Leatt has a fixed visor, a removable grill for breathability and is secured to your noggin with a magnetic Fidlock closure system.
Field test results: Out of the gate, it's noticeable how much cushy padding covers the inside of the DBX 4.0 in comparison to the Stage and Proframe in our test. Don't worry, Leatt does include other pads with a variety of thicknesses to obtain your ideal fit. Our main test rider has a head circumference just over 57cm, which calls for a medium-size helmet according to Leatt's size guide. The liner and pads proved to be very soft yet durable over time. The only downside is that the thicker padding has less ability to breathe.
Also, it was tough…
↓
not to notice the weight in some trail situations, such as tightly leaned-in corners; however, the comfort and fit of the DBX 4.0 gave us the confidence to put down extra speed on rowdier descents. Overall, the Leatt DBX 4.0 helmet does offer innovative safety features while supplying a stable fit at an affordable price.
FOX PROFRAME
Tech features: If you are familiar with the Fox helmet lineup, you may notice that the Proframe resembles Fox's gravity helmet known as the Rampage. The Proframe shares the aggressive style of the Rampage, but the Proframe's increased number of ports offer significantly more ventilation. Fox kept in mind the demands for a light/ventilated full-face helmet while still packing in key safety features, such as MIPS for rotational forces and a dual-density EPS to help spread any impact across a wider area. The Proframe tips the scales at 1.7 pounds, making it the second lightest in our helmet test. Ventilation is enhanced with a fixed position visor that directly channels airflow to your head.
Field test results: Before we got too busy pushing the limits on the trails, we took the time to properly pick cheek padding, included with the Proframe, that offered a sturdy fit. With comfort dialed in, we set off on a steep climb in the blistering heat to test breathability. The Proframe did retain more heat than an open-face helmet, but it was manageable if we kept moving and much cooler than a typical full-face helmet. For our descent, we slapped on some goggles and got after some terrain.
The balance between coverage and…
↓