Review – Lizard Skins Lock-On Charger EVO Grip
Founded in 1993, Lizard Skins has made it their mission to create better products for riders and their rides. The company first launched an aftermarket chainstay protector and later introduced a line of bar tape. Grips came next, and the uber-lightweight DPS grips immediately captured the attention of gram-counting cross-country racers. Today, Lizard Skins makes a wide variety of products for cyclists, as well as baseball, hockey and lacrosse players, looking to enhance their grip. New for 2018, Lizard Skins introduced the Lock-On Charger Evo, a grip they call "the most complex grip we've ever created." We mounted the Charger Evos to one of our trusty test bikes to see what sets them apart from other grips on the market.
Tech features: The Lock-On Charger Evo grips feature a unique pattern that provides traction and comfort where you need it. The grips are held in place with a single lock ring and use a 3mm Allen bolt to ensure they stay firmly connected to the bars. The grips are made right here in the USA and feature a sturdy end cap designed to take a beating. Lizard Skins offers the Charger Evo grips in five different colors and three different lock ring colors, all for $30. For an additional $3, Lizard Skins will let you custom engrave your grips with up to 14 characters in your favorite font. You can even include a pre-designed logo.
Field test results: We slid these grips onto our handlebars and noticed they had a snug fit—not so snug that they were hard to install, but snug enough that with the help of the lock ring we were confident they would stay in place. Out on the trail these grips didn't disappoint. They stayed fixed to our carbon handlebar throughout testing, and the pattern proved to be comfortable with or without gloves. These grips have a medium tackiness compound and a comfortable size and width. Lizard Skins designed its all-new Lock-On Charger Evo grips with a neutral feel that should suit the majority of riders well. www.lizardskins.com
Hits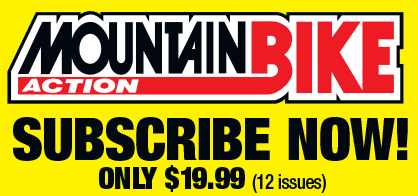 -Customizable lock rings
-Comfortable and ergonomic fit
-Made in the USA
Misses
-More expensive than other grips
Overall Rating – 4.5 out of 5
---
THERE ARE SO MANY WAYS TO GET MOUNTAIN BIKE ACTION