Looking Back 10, 20 & 30 Years
Looking Back 30 Years
Our November 1989 issue came out at a time when almost all mountain bikes were still rigid, 26-inch-wheel models. The term "hardtail" wasn't even being used yet. In fact, almost no bikes had suspension up front. Rear-suspension bikes had hit the market in very limited numbers in the early '80s, but they were still a rarity reserved mostly for bike shows. Back when this issue was produced, we were eagerly waiting for the first-production Rock Shox forks to start appearing on mountain bikes. We had tested some Rock Shox prototypes a few months earlier and loved them, but they still weren't on the market yet.
America's Greg LeMond had just won the Tour de France and how much that was likely to impact cycling in the U.S. We already had the world's most talented mountain biker of 1989, John Tomac, but suddenly we had the world's top road cyclist as well. It was a heady time for American cyclists.
Stream crossings didn't always go as planned.
Elsewhere in the issue, we shared our impressions of SunTour's electronic AccuShift Transmission. The innovative design, first developed by Browning, had appeared sometime earlier, but the Browning shifting system was so trouble-prone that no manufacturers wanted to put it on their bikes. SunTour was able to modify the system to work well enough for our staff to like it—since it didn't break in the first hour the way the Browning system did—but the fact that the SunTour design never caught on suggests that the electronic shifting of 1989 was still not ready for the big time.
In the early days of the sport, some mountain bikers chose not to wear helmets when riding.
In another story, Tom Ritchey, one of the founding fathers of mountain biking, talked about the validity of steel frames and wondered why so many people in the sport were veering away from the use of steel when he believed, with his experience as one of the top frame builders in the sport's history, that steel was superior to aluminum. Tom had recently come out with a sub-23-pound steel-tubing race bike, which helped show that steel bikes didn't have to be heavy.
We also tested a mountain bike made of magnesium, one of the lightest metals on earth. While we didn't love the bike's handling on rough trails, we did appreciate the innovation.
France's Cedric Gracia (2) knocked out all comers in the dual slalom race at Deer Valley, Utah, including Travis Collins (shown here)—until Cedric met up with his own teammate, Brian Lopes, who took the win in the finals.
Some of the industry's leading figures weighed in on what they thought the future trends in the sport were going to be. One of the things mentioned was that designers were still trying to come up with suspension systems that worked well enough to be worth buying. It would take roughly 20 years before most of the world's top cross-country racers would start using full-suspension bikes.
20 Years Ago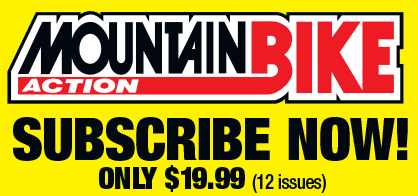 Our November 1999 issue featured Alison Dunlap on the cover (upper right); Shaums March (lower left); plus Kathy Sessler, Mike Cushionbury and Michele Lucero (bottom center). Alison Dunlap was in her prime and heading towards a win of the Elite Women's UCI World Championship in 2001. The issue was one of our thickest issues ever. In addition to its 148 numbered pages, it also included a 32-page Azonic catalog, a 24-page Iron Horse catalog, a four-page Kenda catalog and a 40-page AXO catalog, bringing the total number of actual pages in that one issue to 248. The issue was handed out to visitors at the popular Interbike show, which was discontinued after the event's final appearance in Reno, Nevada, last year.
Kathy Sessler, Mike Cushionbury and Michele Lucero checked the vital signs of a downhill bike for our November 1999 issue.
Myles Rockwell racing in Utah in 1999. Myles would win the UCI Downhill World Championship a year later.
10 Years Ago
Our November 2009 issue featured 21-year-old Aaron Gwin in action at the USA Cycling National Championships in Sol Vista, Colorado, where Gwin won his first downhill national title. Gwin impressed us at the race with his speed and control, as well as the big whips that he was throwing over the 55-foot double jump at the race. We said of Gwin in our story, "Considering that he made two World Cup podiums in two weeks, Aaron is America's most promising downhill competitor in 10 years." We got that right. Two years later, Gwin would set the record for the most Elite Men's World Cup downhill victories in one season, scoring five such wins in 2011. As of today, Gwin has won a total of eight downhill national titles and five overall World Cup titles. He missed his chance of winning both the U.S. and World Cup downhill titles in 2019 due to injuries.
Chris Sugoi, the founder of Niner, showed off his company's new carbon fork in 2009.
Our November 2009 issue also offered a look at some of the newest bikes and products on sale in the year ahead. One Our November 2009 cover. of the more striking sections of the issue was a 40-page catalog for Niner Bikes, a company that was growing quickly in 2009.
Jeremy Horgan-Kobelski (shown here) won America's Pro Men's XC title in 2009, while his wife, Heather Irmiger, won the Pro Women's title. Jeremy is the co-founder of Studio Shed, providing backyard storage sheds for cyclists. He and Heather now have two kids.
Pivot had a bold ad in the magazine, too. The ad's headline, "One Bike to Rule Them All," was no doubt inspired by the Lord of the Rings film series, but the ad referred to the Pivot Mach 5 trail bike, with its 26-inch wheels and 5.5 inches of travel. In 2009 the mountain bike world was divided over the question of what the best wheel size was. Some people said 26 inches, while others said 29. The 27.5-inch revolution would begin the next year.
---
THERE ARE SO MANY WAYS TO GET MOUNTAIN BIKE ACTION