Looking Back 30 Years Ago
Looking Back 30 Years Ago
Way back in our October 1989 issue, we took a hard look at the rise of elevated-chainstay bikes, a trend that was catching on big 30 years ago. Future MBA editor Richard Cunningham had kicked off the movement with his elevated-chainstay Nishiki Alien, which proved so popular that other brands jumped on board the design trend.
The vast majority of bikes in 1989 came without suspension. The Talon Elite, shown here, was designed and built by a three-man team that included Chris Cocalis, the CEO of Pivot Cycles.
One of our best articles that month was a special feature on how to improve your cornering skills. The legendary John Tomac gave us 10 tips that formed the heart and soul of the article. What's especially interesting now is that we revealed that John Tomac rode a motocross bike a lot in those days during the winter months to sharpen his riding skills, finding that the higher speeds of the motocross bike helped improve his ability on his mountain bike. "The Tomes" even showed up on a motocross bike in two of the photos in our article.
The legendary John Tomac revealed that one of his speed secrets for mountain biking was riding motocross on the side.
The legendary Tinker Juarez was beginning to demonstrate his impressive cross-country abilities in 1989. He had been a major star of BMX racing and skatepark riding prior to his mountain bike career.
Tomac's skills on motocross bikes would later be passed on to his son Eli, who is now a motocross superstar. Eli was born three years later, in November 1992.
Here are some of John Tomac's cornering tips from 1989: (1) Relax your upper body. (2) Brake before you enter the corner. (3) Look down the trail, keeping your gaze about 50 feet in front of you. (4) Keep your inside pedal up when you enter a corner. (5) Put pressure on the outside pedal. (6) When you corner at high speeds, don't turn the bars. Lean the bike over and let the lean do the cornering for you. (7) Don't pedal in the corners. Pedaling in turns is the biggest cause of crashes. (8) Downshift before a turn so you don't stall out when you go to exit the corner. (9) Choose a line through a turn that will set you up for the next corner, then glide through the corners. (10) Use the bars to hold onto, not to steer, except for emergency moves or turning around in box canyons.
Helmet painter Troy Lee showed off his riding skills in "How to Corner Like a Pro" for our October '89 issue.
LOOKING BACK 20 YEARS
Our October 1999 issue offered a look at some of the bikes of the year 2000. Manufacturers went out of their way to showcase the bikes that would welcome the new millennium.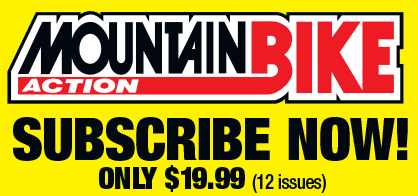 Toby Henderson was producing plastic fenders for mountain bikes in 1999 under the name Toby Henderson Enterprises. Toby is now the CEO of Box Components.
On the racing front, the year 1999 saw the return of Myles Rockwell to the top of the downhill podium. We mentioned that Myles had broken both legs in a motorcycle crash in 1995. After that, it took four years for Myles to win a national-level event in the men's downhill category. His long-awaited victory happened at the 1999 NORBA National at the Seven Springs mountain resort, 60 miles southeast of Pittsburgh, Pennsylvania. Myles would go on to win the men's UCI Downhill World Championship for the year 2000, which is the last time a male American downhiller has won that title. The Seven Springs NORBA National event drew riders from all over the world, including Italy's Olympic gold medalist (1996 and 2000), Paolo Pezzo, of the Gary Fisher team. Pezzo won both the women's cross-country and short-track races in Seven Springs.
Cadel Evans was the top-ranked cross country rider in the world in 1999. He'd later switch to road and win the Tour de France in 2011.
Shaun Palmer (left) and Missy Giove (right) won the World Cup downhill races at Big Bear, California, in 1999. Even Nicolas Vouilloz and Anne-Caroline Chausson, history's top downhill riders, failed to beat the American superstars this time.
International racers also came to California for a 1999 World Cup event in Big Bear. In a stunning upset, Shaun Palmer won the downhill competition among the men after Nicolas Vouilloz crashed, ending up sixth in the finals. It was a definite disappointment for Vouilloz, who would win seven elite men's UCI Downhill World Championship titles between 1995 and 2002, losing to Myles Rockwell in the year 2000. On the women's front, Missy Giove would win the women's downhill at Big Bear, defeating Anne-Caroline Chausson, who won a total of nine Elite Women's Downhill World Championship titles between 1996 and 2005, losing only one year—2004—to Vanessa Quin of New Zealand.
Italy's Paola Pezzo, mountain biking's Olympic gold medalist of 1996 and 2000, was one of the stars who showed up to race Big Bear in 1999.
In the realm of bikes and wheel sizes, 26-inch wheels ruled the market. Meanwhile, Toby Henderson Enterprises was becoming a key player in the business, offering T.H.E. plastic fenders to the mountain bike world to reduce the build up of mud on frames and drivetrains. Meanwhile, Rock Shox, Manitou and Marzocchi were battling for sales in the suspension-fork arena, where RockShox was the biggest player in that market.
LOOKING BACK 10 YEARS
Our October 2009 issue offered an impressive lineup of bike tests, with offerings from Trek, Specialized, Scott, Jamis, Santa Cruz and Pivot. The bike we tested from Pivot was the Mach 4 SL Carbon, a 26-inch-wheeled, 22.5-pound, full-suspension bike (weighed with Crankbrothers pedals) that showed how serious Pivot was about making highperformance, lightweight cross-country bikes. The bike cost $7695 and came with Shimano's XTR front and rear derailleurs, a Race Face chainring set (44/32/22) and an XTR 11-34 cassette. Elsewhere in the issue we showed a spy shot of a yet-to-be-announced Pivot Mach 429.
Emily Batty, who was 21 at the time. Emily told us how she had grown up on her parents' cattle farm in eastern Canada and had taken up mountain biking with her older brothers. By the age of 21, Emily had eclipsed her older brothers' racing careers and was becoming a major star. Batty had just won the Sea Otter's Short-Track Cross-Country event in the Elite Women's ranks and had already won two World Cup races for 2009 in the U23 ranks.
---
THERE ARE SO MANY WAYS TO GET MOUNTAIN BIKE ACTION