MBA LONG TERM REVIEW: ESKER CYCLES ROWL
Not just another trail bike
Somewhat new to the market as of late 2018, Esker isn't a company many are familiar with, as we gathered from the reactions we received when testing the bike on popular trails. More people inquired or at least commented about the pink—er, salmon-colored—Rowl than didn't, and only one fellow rider out of literally dozens nodded in recognition of the boutique brand headquartered in Whitefish, Montana. 
With such a fresh and seemingly unknown company, it's a bit surprising to see Esker claim first license to Dave Weagle's latest suspension platform, Orion Dynamics. However, their young and malleable status, along with almost serendipitous timing with Weagle's design, allowed a first full-suspension offering (the 27.5-inch Elkat reviewed in the August 2020 issue) to ride more like a multi-generational chassis—well, arguably short of the smaller wheels, which is where the new Rowl comes in.
FRAME
On paper, the 140mm-travel, carbon-composite Rowl is a bit of a mashup in geometry and spec. A Fox 36 fork angled at a rather slack 65.16 degrees would suggest more of an all-mountain bike if it weren't for its mere 150mm of travel (the shortest travel offering in a 36). Out back, impressively short, 425mm/16.73-inch chainstays sit within hardtail geometry range yet still provide enough room for a 2.6-inch tire in the tidy Orion suspension platform that nestles the threaded bottom bracket. Aesthetically, form and function melt into a pleasantly curvy design, including an almost gusseted-type thickness in the lower downtube for added stiffness. Internal cable routing for everything shy of the rear brake housing keeps things clean yet serviceable. There's one water bottle mount on the downtube, which offered enough room for a large bottle on our test bike. The usual rubberized chainstay and downtube belly protection, along with a pivot-protecting lower fender, round out the impressively refined Rowl frame.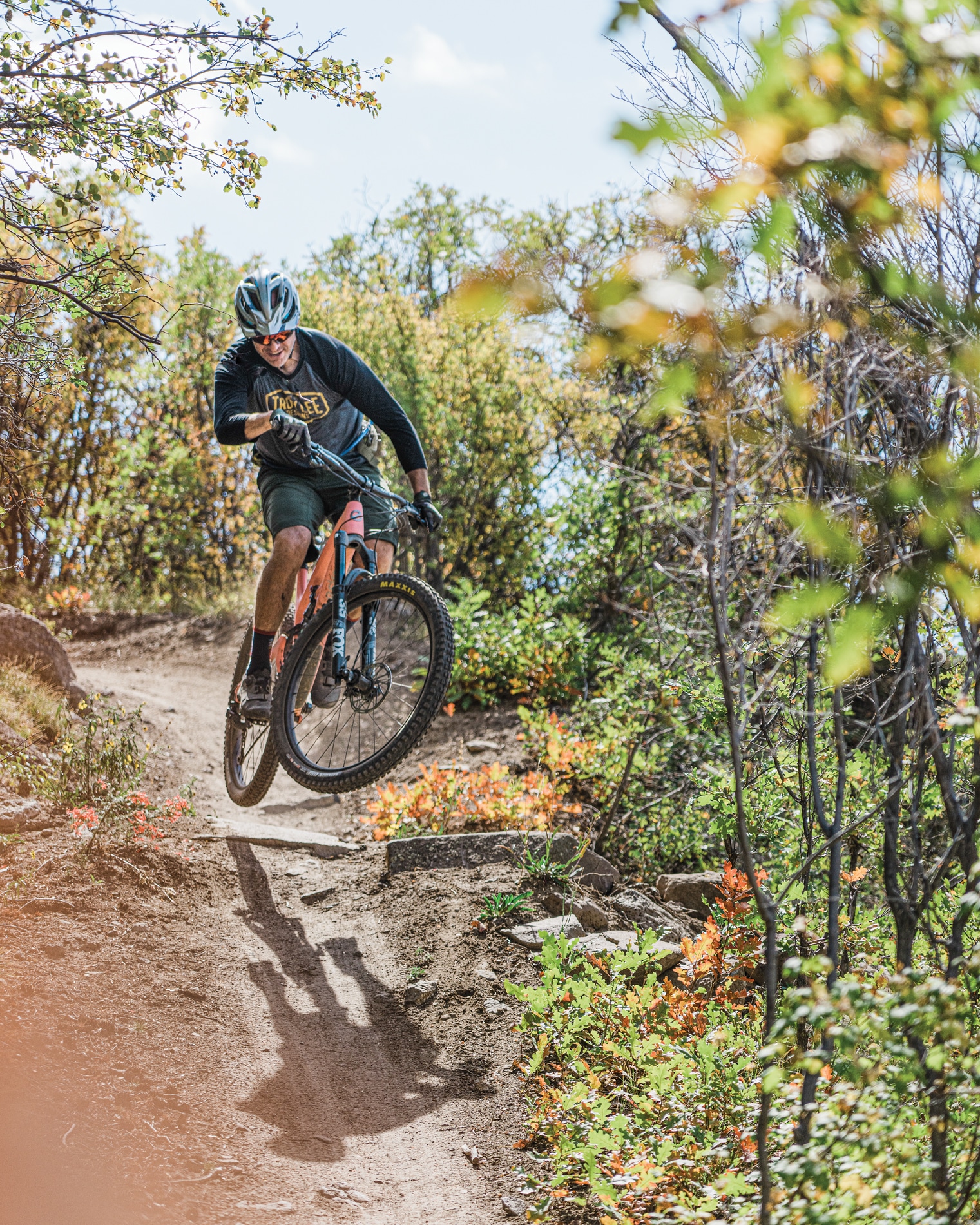 COMPONENTS
The Rowl is offered in three build kits, as well as a frame-only option. Our R2 build's highlights included a Fox 36 Float Performance Elite Grip 2 fork, and Industry Nine 1/1 Enduro S wheels that took a beating through consistently rocky trails without an issue.
One interesting spec choice was the Terrene Chunk 2.6 tires, which Esker simply stated came down to what was available in such a limited supply chain this year. Look for a 2.5-inch tire spec in the near future, but the big tires lent themselves nicely to dry, somewhat sandy and blown-out trails. Obviously that girth doesn't do any favors for rolling speed, and clearance in the frame was rather tight, as small rocks occasionally became lodged between the tire and fender. Ultimately, the Rowl will benefit from a more svelte set of tires, which Esker is well aware of.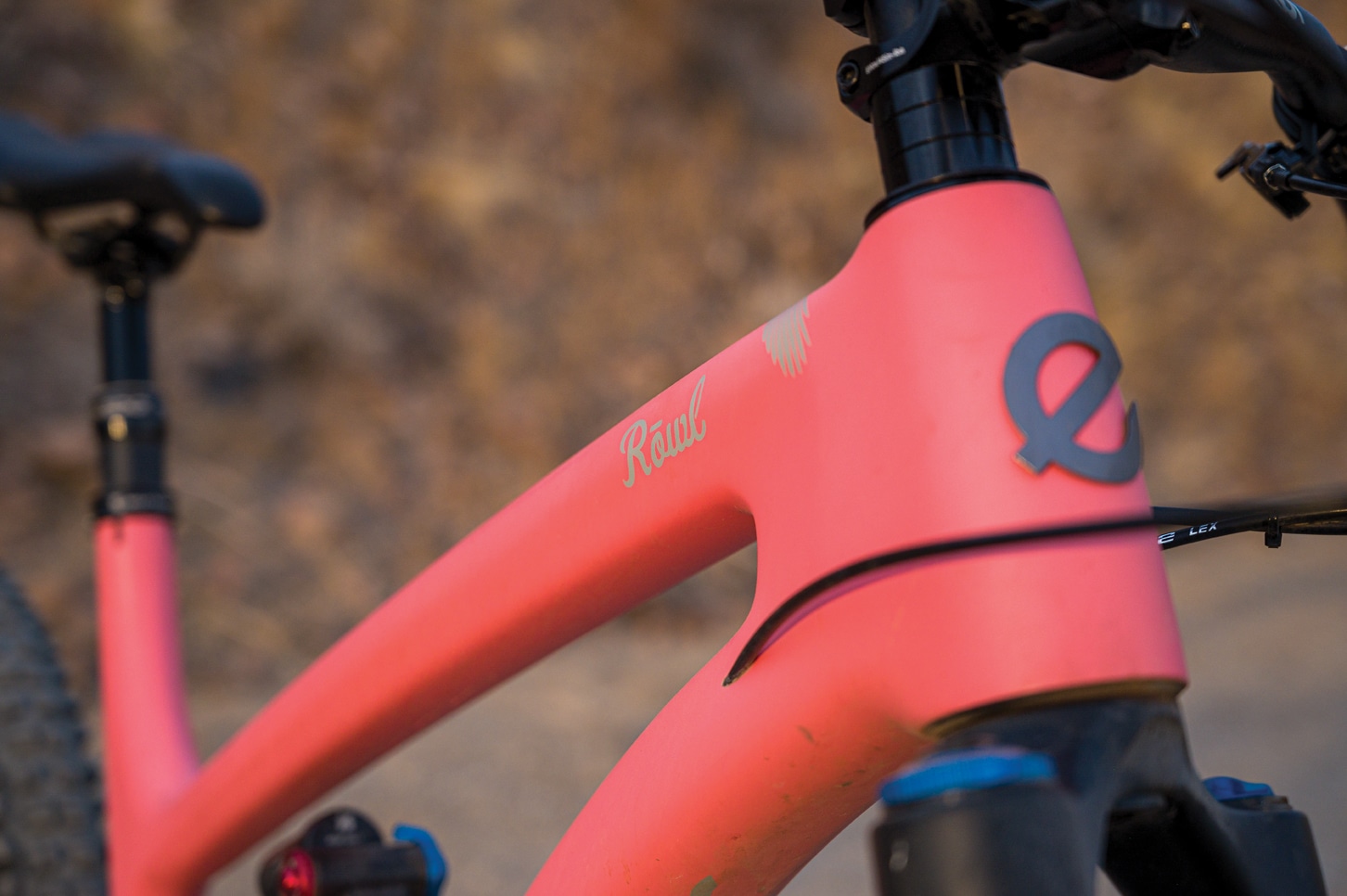 SRAM's GX drivetrain worked well, and its 52t rear cog in conjunction with a 32t chainring provided all the climbing gearing needed for the steepest trails in our region. SRAM G2 RS brakes with 180mm rotors front and rear offered predictable and consistent braking but blew through a set of organic pads in dry conditions way before the tires even hit the 50-percent worn mark. SDG's Tellis dropper-post length is tuned to 150mm for small and medium frames and 170mm for large and extra large, which is a great touch. 
SUSPENSION
Filing the patent for Orion Dynamics suspension in 2010, the biggest differences from Weagle's familiar DW-link are that Orion Dynamics is designed specific to a single chainring, and its target market was motorcycles; however, in conjunction with lackluster interest in the motorized world and mountain bikes evolving into single-front-ring bikes themselves over the last decade, the design ended up on mountain bikes, specifically Esker Cycles' suspension offerings. 
A one-piece rear triangle is married to the front triangle via two short linkages that create a virtual pivot point at the bottom bracket. Up top is a clevis-shock yoke, and it all pivots throughout the sealed bearings. For 2021, including the reviewed bike, a Fox DPX2 shock is in charge of controlling the Rowl's 140mm of travel. All sizes have the same shock tune, including the largest volume spacer. This was a slight disappointment, but will be a moot point in 2022 with Fox Float X replacing the DPX2. There will also be a Cane Creek Kitsuma option for 2022. 
Up front, a 150mm Fox 36 Float Performance Elite Grip2 seemed very appropriate on the Rowl. No surprises here, just buttery-smooth and stable performance throughout the test period. It's a decidedly stout fork for a 140mm-travel frame yet seemed completely appropriate out on the trail.
CLIMBING
Esker's Rowl fits into the somewhat common category of bikes that climb like they're lighter than they are. It's a high bar in the trail bike segment, and the Rowl is right there in the mix. On long, smooth climbs, it was rather common to flip the DPX2 to its firmest of three settings. Once things got a little bumpier and less monotonous, our test riders often chose the middle setting, but this may change with the upcoming shock update.
Wallowing into its travel after something like a square-edged hit was not in the Rowl's repertoire. Instead, it offered a stable and predictable ride height through tricky rock gardens that would be nearly impossible with the wavering crank clearances other less stable bikes provide. Standing up and cranking over or through a section did dip past this sweet spot on occasion, but overall it was still above average. 
And that slack head tube angle? Well, yeah, there's no real getting around a bit of bus driving when it comes to tight switchbacks. But, the short chainstays neutralized some of that effect by keeping the overall wheelbase manageable and trailing the front wheel very neatly. That tucked-in rear axle also created a light front end, making easy work of lifting the front wheel up onto or over rocks and logs. 
DESCENDING
The Rowl descended everything it was pointed down with the stability and capability more akin to an enduro race bike than a 140mm-travel trail bike. Rowl's small-bump compliance was really good, though admittedly it's hard to decipher how much of a roll the oversized and relatively under-pressured tires played in this. Still, compared to a Fox Live Valve-equipped 135mm/150mm trail bike, the Rowl felt like a hovercraft. Pleasantly, the smooth top-end performance didn't bleed into the mid-travel, as the suspension platform stayed in its neutral ride height impressively well when larger hits came into play or rider input increased.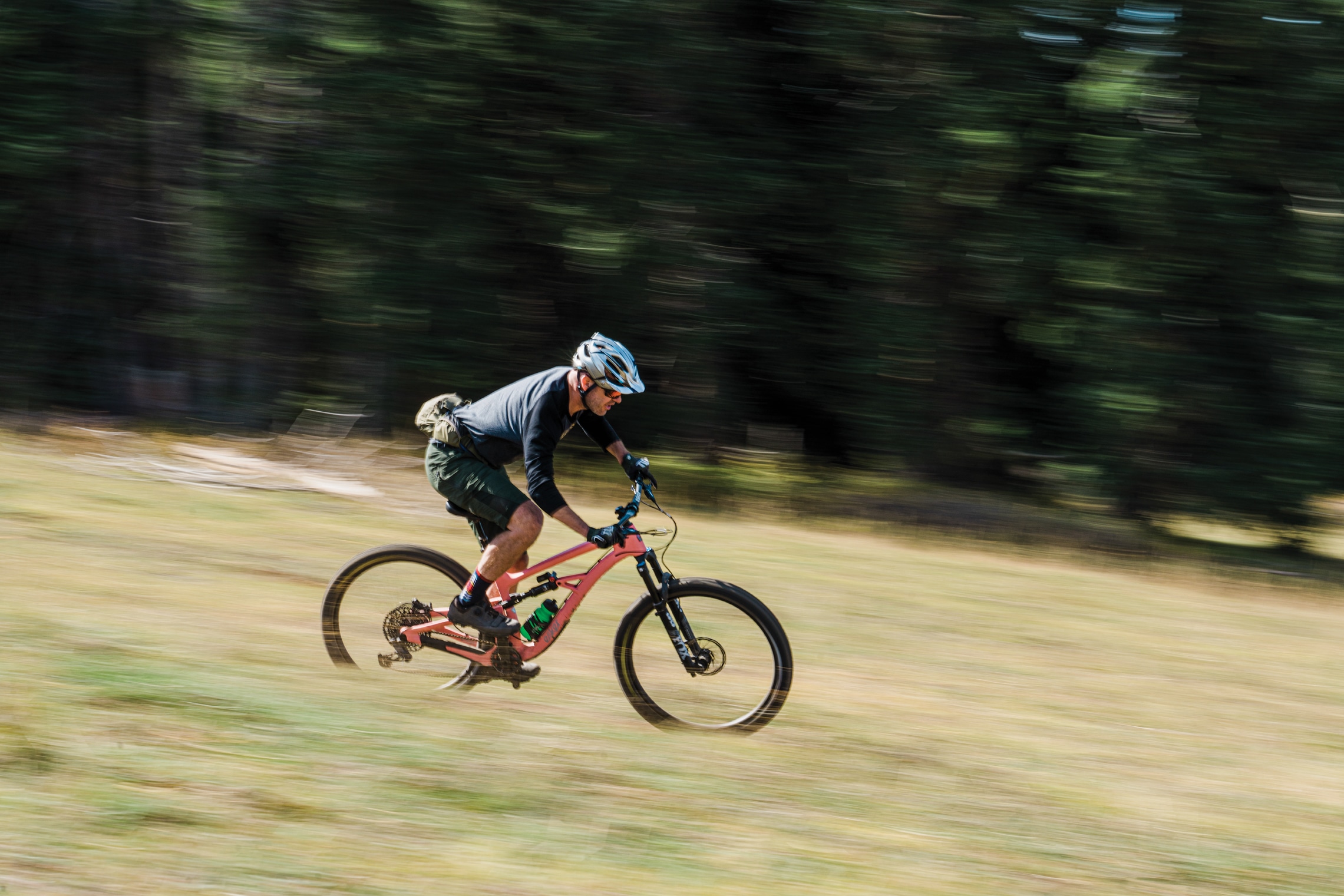 Mid-sized hits were handled so well by the Rowl's rear end that it almost became a bad influence on rider finesse, as the Orion Dynamic suspension just seemed to handle whatever was thrown at it. Stability and feel were seamlessly transitioned between small and medium hits, be it slow and funky climbing through rock gardens, high-speed descending, or janky descents through rocks and roots. On flow trails, the suspension pushed rider pump into berms and jumps with minimal energy loss and very stable exits and landings.
Larger hits and drops were handled surprisingly well by Rowl's 140mm of travel. It wouldn't be an ideal bike for riders who spend more than a couple of days riding parks, but the times this Esker was thrown into all-mountain travel territory, it didn't seem to complain. 
Those short chainstays won't make every rider happy, and it's an easy argument that the Rowl would be a bit more stable at speed with a longer rear end. That said, for riders who enjoy a more playful bike that's easy to manual, the Rowl is a blast to ride. It's also a bike that makes easy work of steep switchbacks and chutes with its slack head tube angle and tight rear end. 
MODS AND UPGRADES
Unfortunately, SDG's Tellis dropper almost instantly developed a millimeter or two of vertical slop, as well as a bit more lateral play than the average post. It never failed and otherwise worked pretty well (maybe a touch slow on its rebound), but it was the weakest link in an otherwise nicely spec'd bike. The SDG dropper has to go, and a tire swap would likely improve ride quality for most. Otherwise, Esker's R2 build held up nicely and performed well as is. 
BOTTOM LINE
The new Rowl is an impressive trail bike that has a broader range of trail performance than one would expect, even in an era where that statement is common throughout the market. The boutique brand factor makes it a fun bike to roll up to the trailhead on. Both the aesthetics and functional design are dialed, and it's priced very reasonably for the package offered.
ESKER CYCLES ROWL
CATEGORY: Trail
WHEEL SIZE: 29×2.6
SUSPENSION: Front-150mm, Rear-140mm
Price: $5500
Weight: 32.2 pounds (without pedals)
Sizes: S, M, L, XL (tested)
Frame: 140mm-travel carbon composite
Shock: Fox DPX2 Performance
Fork: Fox 36 Float Performance Elite Grip2 150mm
Wheelset: Industry Nine 1/1 Enduro S
Tires: Terrene Chunk 2.6 Tough
Seatpost: SDG Tellis w/ Wolf Tooth remote, 170mm drop on L/XL, 150mm drop on S/M
Saddle: SDG BA3
Handlebar: Epoch alloy, 780mm
Stem: Epoch alloy, 50mm
Grips: SDG Thrice
Headset: Wolf Tooth ZS44/ZS56
Brakes: SRAM G2 RS
Rotors: SRAM Centerline 180mm f/r
Rear derailleur: SRAM GX Eagle
Shifter: SRAM GX Eagle
Crankset: SRAM GX
Bottom Bracket: SRAM Dub
Cassette: SRAM GX Eagle 12-speed, 10-52T
Chain: SRAM GX Eagle
Chainring: 32-tooth
GEOMETRY
Head tube angle: 65.2°
Reach: 490mm ( 19.3″)
Stack: 630mm (24.8″)
Effective seat tube angle: 76°
Bottom bracket height: 340mm ( 13.4″)
Chainstay length: 425mm (16.7″)
Wheelbase: 1238mm ( 48.7″)