MBA LONG TERM REVIEW: FSA CARBON WHEELS, CRANKSET AND FLOWTRON DROPPER POST
Blurring cross-country and trail
Changing the components that serve as your main contact points on the bike can dramatically change its ride characteristics. Things such as a modern dropper post, a tubeless tires/wheel system and a 1x crankset can be essential for the type of terrain you ride. Of course, this range of components is seen on a variety of hardtails and all long-travel enduro machines. Any rider who plans to climb with efficiency and descend with confidence will benefit from one (or all) of these parts. When it comes to narrowing down options, there are so many choices that it can be overwhelming. From wheels to cranksets to handlebars and more, FSA (Full Speed Ahead) has some options the Mountain Bike Action crew has been using for quite some time.
Flowtron dropper: To kick off this roundup, let's take a closer look at the FSA Flowtron dropper post. The post features 125mm, 150mm and 175mm travel options. The post is available in 30.9 or 31.8mm seatpost diameters. The remote features an adjustable actuator that allows riders to custom tune the lever feel. The Flowtron dropper is designed with a head that integrates into the stanchion, allowing the saddle to be as low as possible. Not only is this sleek, but it reduces the insertion depth of the post into the frame. Our 150mm-travel, 30.9 test subject hit the scale at 564 grams (no lever, just post). It is not as light as the latest Fox Transfer that came in at 480 grams, but the FSA Flowtron is over $100 cheaper.
On the trails, this post does exactly what it's designed to do, which is to drop or extend the post with the touch of a remote-mounted lever. Throughout our testing, we had zero issues with its function and performance. We are glad to see that Flowtron now makes the 175mm travel option for taller riders as well. Overall, we have no complaints, as the Flowtron is a dialed post built to last. It will not empty your wallet, and it is versatile enough for a race bike or your burly all-day trail machine.
KFX modular crankset: The KFX modular 1x aluminum crankset is created via an innovative manufacturing process that dramatically reduces weight while increasing stiffness. The hollow construction begins with forging, then precision CNC machining, and then finishes up with an advanced bonding method. This crankset comes in at 520 grams with a 30-tooth chainring, which is lighter than some carbon cranksets, and is intended to blend strength and stiffness for performance while still being lightweight. Priced at 420 bucks, they are not the cheapest cranksets out there, but they are ideal for a rider seeking a blend of cross-country weight savings and all-mountain riding durability.
We've been testing this crankset with a 32-tooth chainring on a Rocky Mountain Element. We've raced cross-country and endurance, bike-packed, and even hit some of the flow trails at the bike park. The FSA KFX crankset keeps the weight to a minimum while providing a stiff pedal platform. While carbon crankarms can absorb chatter and provide noticeable vibration reduction at the pedals, we had no complaints with this alloy crankset from FSA. In fact, the added structure and stiffness gave us a more consistent transfer of power to the drivetrain.
K-Force i25 wheelset: Last in this brief roundup are the sleek yet strong carbon wheels that weigh 1566 grams for the 29-inch pair we've been testing. The K-Force i25 rim is 25mm wide internally, 30mm deep and features an asymmetric lace pattern that uses 24 spokes per wheel. Furthermore, they have an ISO six-bolt rotor mount, feature two-cross double-butted spokes with brass nipples, and have a six-pawl aluminum freehub for either Shimano 9-11 or SRAM XD 10-12 speed. For just over $1400, the set includes tubeless valves, tubeless tape and even a handy valve collar that matches the profile of the rim. As with all FSA wheels, the K-Force wheels are tubeless-ready, giving the rider an advantage in speed, comfort, grip and puncture protection.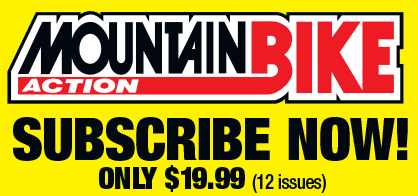 On the dirt, the wheels have proved to have good hub engagement (6.6 degrees) and are performing well in our SoCal conditions. Although the dropper post and the crankset could easily be considered appropriate for a cross-over of riding styles, we feel the K-Force i25s are geared towards the cross-country race or endurance rider looking for light and fast-rolling wheels. This is not to say that the K-Forces didn't hold up well in rough rock gardens, but we wouldn't use this particular wheelset when riding the bike park or taking on heavy-hitting enduro courses. Overall, for a system wheelset, they run well straight out of the box. Like any factory-built wheels, they did require some re-tensioning after the first 100 miles to ensure proper performance.
While these component options might not have been on your list before, they are worth considering if money is no object in your pursuit of excellent performance.
HITS:
• Strong and durable for everyday riding
• Lightweight enough for race-day performance
MISSES:
• High-end and well-thought-out designs come at a cost
STAR RATING: ★★★½
Prices: K-Force i25 carbon wheelset, $1418; KFX crankset, $420; Flowtron dropper, $263
Contact: www.fullspeedahead.com