MBA Product Test: Industry Nine A35 Mountain Stem
Industry Nine A35 Mountain Stem
Industry Nine (aka I9) is well-regarded as a premium wheel manufacturer, thanks to its wheels' signature styling, sound and appearance. It's hard to miss a pair of Industry Nine wheels buzzing down the trails. I9, however, is more than just a wheel company with the recent introduction of its all-new A-Series stems. These quality components are machined, anodized and fully customized to your order. Considering just how cool these all-new stems are, the Wrecking Crew just had to put one to the test.
Tech features:
Industry Nine constructs these stems from domestically sourced 7075 machined aluminum and pairs them with high-strength 316 stainless steel custom M5 bolts; however, the stem's stout materials are just part of the story here. I9 went a step further by offering 11 anodized colorways. Best of all, Industry Nine lets you configure your own color combination on their website. Along with the numerous color combinations is the option of a 31.8mm or 35mm clamping diameter. The 31.8mm stem is offered in 30-, 40- and 50mm lengths, while the 35mm stem is available in 32-, 40-, 50- and 60mm lengths. So, now that we've got the tech stuff out of the way, let's see how this stem performed out on the trails.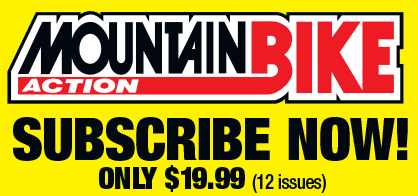 Field test results:
When our Industry Nine A35 stem arrived, our jaws hit the floor. This stem is one of the coolest components we've seen in quite some time. The colors were vibrant and the materials seemed sturdy as can be. We installed the stem and found the fit was spot-on. The steel bolts were a nice touch over cheap aluminum ones, ensuring they made strong contact with our Allen wrenches. When riding, the stem performed as expected and felt stiff, but it was not noticeably better than any other quality stem. Really what you're paying for here is customization. At $145, this premium stem will likely be reserved for riders who love to purchase additional accessories to make their bikes their own. As a performance upgrade, it makes little if any difference. With that said, this stem is a work of art and will give your ride that extra bit of personalization and flair.
Price: $145
Contact: www.industrynine.com
---
THERE ARE SO MANY WAYS TO GET MOUNTAIN BIKE ACTION
Mountain Bike Action is a monthly magazine devoted to all things mountain biking (yes, that's 12 times a year because we never take a month off of mountain biking). It has been around since 1986 and we're still having fun. Start a subscription by clicking here or calling (800) 767-0345.