MBA Product Test: Lizard Skins Machine Grip
Lizard Skins Machine Grip
Lizard Skins hit the ground running back in 1993 and quickly became a household name within the cycling community. The company continues to develop innovative bike gear with quality products, such as the all-new Machine grip. This month, the wrecking crew put these new grips to the test to see what the hype was all about.
Tech features: The Machine grip is secured to the bars using a single lock-on clamp and features a sturdy end cap to increase durability. These grips feature a half-waffle pattern, along with a gritty pattern to maximize comfort and grip. They have a 135mm length and a 31mm diameter, which brings their weight to around 101 grams. One final feature to note is that the Machine grip is fully customizable. Along with five different grip colors are three lock-ring color options to help riders match the grips to their bikes. Furthermore, Lizard Skins will even engrave your name in the lock ring for a small additional charge.
Field test results: We slid the Machine grips onto our handlebars and found they had a snug fit. And with the added security of the lock-ring collar, we were confident they weren't going to rotate. While installing the grips, we found a small logo indicating the left and right side grip. This added touch ensures that riders with minimal mechanic skills will put the grips in the correct position. On the trails, the grips offered a comfortable compound, not too hard and not too soft. Additionally, the waffle pattern provided excellent grip and an easy-to-find hand position. Overall, the new Machine grips didn't disappoint. We were quite pleased with everything they brought to the table—comfort, durability and a simple yet effective tread pattern. If you re looking to replace your grips soon, make sure to check out the newest addition to Lizard Skins' product line.
Price: $29.99
Contact: www.lizardskins.com
Hits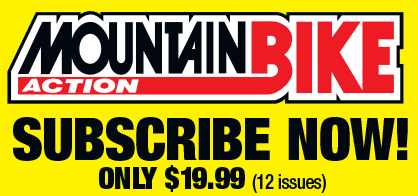 Comfortable tread pattern
Durable end caps
Misses
Star Rating
★★★★★
---
THERE ARE SO MANY WAYS TO GET MOUNTAIN BIKE ACTION