MBA Product Test: Stompump
Stompump
It doesn't matter what type of cyclist you are; whether you ride road, electric or, our favorite, mountain bikes, you can't escape the harsh reality that flat tires happen. When that time comes, the last thing you want to do is break out a mini pump only to find that 10 minutes later your tire is only half inflated and your arms have gotten numb. Stompump is a company that redesigned the portable air pump to make it more cyclist-friendly. You no longer have to struggle to use your nonexistent upper-body strength to pump up your tires, because the Stompump is designed to use a mountain biker's favorite muscle group.
Tech features: The Stompump was created by a team of people who love to design and build innovative products. The team has even competed on the TV show "BattleBots," where they have claimed seven championships. That knowledge and expertise has come into play with the development of the Stompump. This pump is designed to inflate a tire three times faster than the average hand pump. It's also quite a bit shorter than a hand pump, although it has a bulkier design. Weighing only 185 grams, the Stompump is easy to carry in your pack or can be mounted to a bike using the bottle-cage bolts. The pump is built from aerospace materials and features a long hose with both a Presta and Schrader valve. The Stompump is ideally suited for high-volume, medium-pressure tires with a maximum pressure rating of 60 psi. Stompump also added an integrated filter system that keeps out dirt and debris to ensure the longevity of the pump. This pump, along with a frame mount, sells for $69.95.
Field test results: Once we got our hands on the Stompump, we began to wonder what the best way to carry it would be. We started by trying to place it in a fanny pack, only to find it was a little too big to fit in our smaller waist packs. Next, we tried a hydration bag and found that it fit well, but its shape made it a bit more awkward to pack than a slim hand pump. The final option we tried was the bottle cage mount. In this position, the pump fit well and was out of our way until we needed it; however, we had to sacrifice our water bottle and carry our hydration elsewhere. The ideal setup was running the pump attached to our bike along with a tube strap to carry our spare tube and then a small fanny pack with our hydration, mini tool, and nutrition.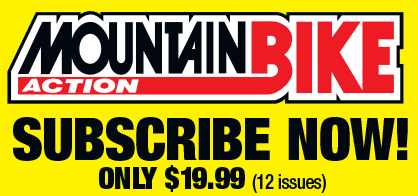 Instead of waiting to get a flat tire to test the pump, we decided to pull off the trail and release a large amount of air from our tires, then we got out our Stompump and put it to use. When threading the hose end to the valve core, there was no air loss. Each pump required a firm press with our foot, but it wasn't hard. In fact, our bodyweight alone easily compressed the pump. After a dozen or so pumps for each tire, we were back to our desired pressure and ready to get on with our ride. The Stompump rivals other portable pumps but doesn't work nearly as quickly as a CO2 cartridge. With that said, however, it's much more reliable than a CO2. All in all, if you're looking for a portable pump and are willing to deal with the Stompump's unique shape, you'd be hard-pressed to find a pump as easy and efficient to use as this one.
THERE ARE SO MANY WAYS TO GET MOUNTAIN BIKE ACTION