MBA WRECKING CREW TESTED: ROCKYMOUNTS MONORAIL 2 HITCH RACK
The ultimate takeaway is the adaptability of the MonoRail.
ROCKYMOUNTS MONORAIL 2
Started just under 30 years ago, the Colorado-based brand RockyMounts is built upon this creed: "When you absolutely, positively can't ride it there, we've got you covered." This motto has guided their business ever since. Today, they stick with their goal to make solid, well-designed and dependable racks to get you to the next ride destination. We had the wrecking crew load up the latest MonoRail car rack with capacity for two bikes and an extra add-on to make it possible for transporting three.
Tech features:
RockyMounts offers an array of options for riders to choose from, but the MonoRail is one of the more versatile racks in its lineup. Its overall design and functions allow for all styles of bikes to fit properly. That means the roadie skinny tires, hefty fat-tire bikes and even heavy electric bikes will fit on these racks; however, there are a few specs to consider if you are in the market for a rack.
This rack is offered in both a 1.25 and 2-inch hitch option; however, only the 2-inch is expandable to three bikes. When set up and fit for holding two bikes, the MonoRail is rated to 60 pounds per tray (120 pounds total). If you are running three bikes, it is recommended that you not exceed 45 pounds per tray (95 pounds total), so most eMTBs are not compatible. Each bike is secured by an arm that extends over the front wheel with a ratchet strap at the rear wheel that has an enclosure strap that is reminiscent of a snowboard binding. There is enough clearance for up to 5-inch tires with grooves in each tray built to accommodate the shape and contour of the tires. A user can mount a 20-inch kids' bike up to a 29er, with a wheelbase clearance from 36 to 50 inches.
When not in use, the MonoRail folds flat against the vehicle and is designed to tilt down 30 degrees. This is for rear clearance for the bike's handlebars on hatch-style vehicles where trunks open outwards. Also included are a locking hitch bolt, cable lock and standard nylon lock pods that are keyed alike with a set of keys included.
At $500 for the standard two-bike configuration, the MonoRail is competitively priced. The add-on to make it hold three bikes costs an additional $200. Only need to hold one bike? All the same great features apply to the MonoRail Solo with a price tag of $350.
Field test results: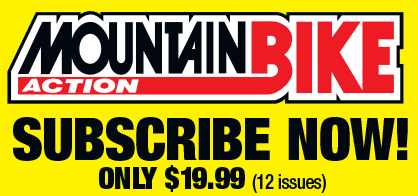 Setup and installation are a breeze with the MonoRail. All the tools you need to get the job done are included in the box, and the simple instructions fit on a two-sided pamphlet. Considering the size of the bike rack when fully assembled, you might think it would be tough to ship, but RockyMounts' simple design also makes it reasonably compact in the box it is shipped in. Placing each tray, we did need to make some slight adjustments to where the trays were positioned so that the bikes didn't interfere with each other.
If you've never had a hitch bike rack before, there is no question they are the definition of convenient. Overall, we were impressed with how sturdy the setup is for the MonoRail when running two bikes. The shape of the trays and the arm that locks over the front tire hold the bike securely with virtually no wobble. When running the add-on for three bikes, there is noticeable extra movement, but it's not unstable enough to cause concern. We liked the option to use the included cable and lock pods for added security. Although not a must, we would likely upgrade to metal lock pods and a more robust cable just to be on the safe side. The ultimate takeaway is the adaptability of the MonoRail. It is a straightforward two-bolt process to go from two to three bikes. The MonoRail is a smooth-operating hitch rack that is tough enough for your mountain shuttle journeys.
HITS
• Simple, sturdy and convenient
• No bike-to-bike interference or rubbing
• Installation can be done with one tool
MISSES
• We recommend a higher-grade cable and lock pods
STAR RATING
★★★★½
Price: $500
Contact: www.rockymounts.com