MBACTION.COM Review: Pearl Izumi Divide Glove
Looking for a way to make the summer heat a little more bearable?  The Divide Glove from Pearl Izumi is a small step towards making hot summer days feel a little better.  In Southern California we are no strangers to long, hot summers, and are always trying to gain an edge on the dry heat.  It might be a small detail, but Pearl Izumi has done a fantastic job creating a glove that is lightweight and comfort.
This minimalistic glove has a synthetic mesh leather palm that allows for good grip and bar feel while being a breathable glove.  Pearl Izumi perforates the leather to make the glove feel softer and provide better grip.  One of the best features of the Divide glove is the touchscreen-compatible finger tips.  Whether you're using your cell phone or have a touchscreen on your Garmin, these gloves work well.  With a slip on fit these gloves are truly the ideal minimalist glove.  At $30, these gloves will make your summer riding a little cooler.
We were impressed at how lightweight these gloves felt on hot rides.  The perforated palm worked well to offer more grip and actually did make the glove feel softer, even when damp from sweat.  Initially the mesh palm was a little questionable, but Pearl Izumi did their homework on that feature.  The palm was one of the most comfortable that we have felt in a glove and didn't have us moving our hands around for a better position on longer rides.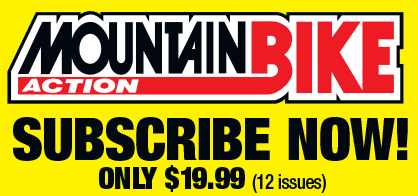 This is defiantly a one crash glove.  Most gloves don't make it through more than one hefty crash though. After all, gloves are there to take the brunt of the carnage.  Therefore, we didn't let that dampen our opinions on how well the Divide did its job.  The slip on fit is a love/hate relationship for most riders, but in this case we loved it.  The glove has a versatile fit that we think will satisfy a range of riders who couldn't normally wear a slip on design.
THERE ARE SO MANY WAYS TO GET MOUNTAIN BIKE ACTION:
Mountain Bike Action is a monthly magazine devoted to all things mountain biking (yes, that's 12 times a year because we never take a month off of mountain biking). It has been around since 1986 and we're still having fun. You can start a subscription by clicking here or calling (800) 767-0345. Also available from the Apple Newsstand for reading on your iPad, iPhone or iPod Touch.
Contact us via email at [email protected]