MBACTION.COM Review: Red Monkey Karv (xt) Grips
Grips can make or break a ride.  They're small in size but have one of the biggest effects on comfort.  As you know, the wrong grip can cause soreness, pain, and just make for a miserable experience.  Red Monkey's Karv (xt) grip is a simple design that gave us nothing but comfort on long rides.  The Karv is 133mm long with 6.5mm of silicone padding and comes in seven different colors including a custom option at a retail of $19.99.
There is a loyal following of riders who swear by slide on grips, and the Karv is and should be one of them.  We had no issues mounting these guys to our first test bike.  Red Monkey recommends using a dab of rubbing alcohol on the inside of the grip, we followed their recommendations and the grips slid right on.  We let them sit overnight to make sure the alcohol dried and that the grip wouldn't slide off mid ride.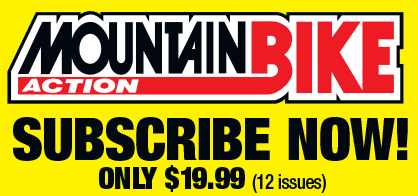 The 6.5mm of padding seemed to be just right amount for our test riders.  The Karv defiantly had a very unique squishy feel that made for a really comfortable ride, it felt similar to a tempurpedic pad but a little denser.  One concern we had over the previous Red Monkey grips was how they reacted to moisture and rain water.  Previous grips we had tried would loose their hold on the bar and slide around if a certain amount of moisture got on the grip.  We were fortunate enough to try the Karv on a rainy ride and had zero issues.  On cross-country rides and even all-mountain rides the grip stayed in place and didn't move around.  Sadly we didn't experience any crashes so we didn't get to see how well they stood up to an impact, but we would be willing to bet, like most silicone and foam grips, they wouldn't make it through a crash.  The Karv is light, comfortable, and made in the USA.  That makes this grip a slam dunk in our book.
Red Monkey doesn't just make awesome grips, but they are very involved in the community and generous supporters of several charities focusing on Breast Cancer research and supporting returning Veterans.  So much so that they produce two special edition Karv grips that 50% of the proceeds go directly to various Breast Cancer and PTSD (post traumatic stress disorder) charities.