MBACTION.COM Review: Ergon SME3 Pro saddle
In the past, we've been fairly critical of companies slapping the enduro-specific description on their components. It's hard for us to accept that some items can be enduro-specific, but in the case of Ergon's SME3 Pro enduro saddle, it's actually true. Its features certainly cater towards the needs of an enduro racer or any other rider who looks to get rowdy on the descents.
At 10.75 inches long, the overall length of the saddle is shorter than most and therefore stayed out of our way when throwing the bike around through rocky descents. It didn't hang up on our shorts when pushing the bike out in front of us and helped remove the worry of a seat snag from our mind.
The TiNox rails, paired with a carbon fiber composite shell, provides a lightweight construction that will add 226 grams to your bike. That puts it up there amongst the lightest when it comes to mountain saddles with titanium rails. Although, the rails were also the only aspect of the saddle we had any issues with. After a few rides we began noticing a creak where the rails attach to the nose of the saddle. Therefore, it wasn't noticeable when in a more upright position, but made a presence whenever we were edging towards the front of the bike on a steep climb.
The short nose of the SME3 Pro also limits the potential of unwanted interaction that could occur while throwing a bike around. For riders who like to whip out their airs, the shorter nose makes it easier to get a leg in front of the saddle without being hung up.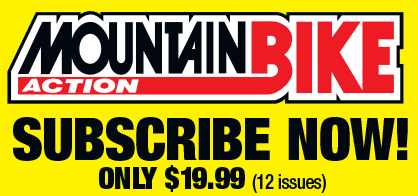 Now, here's the part of every saddle review that covers features where our opinion is completely subjective and will vary from rider to rider. First of all, the surface of the saddle is fairly curved compared to their flatter SMC3 models. Second, the amount of padding it provides is very middle-of-the-road. It's certainly not a gushy comfort saddle, but provides much more comfort than a standard race saddle. In our experience, it was plenty of padding for the longest rides we could throw at it. It's available in four colorways, which all have the black top surface with the option for blue, red, black or hot pink accents. What will it run you? $130.
________________________________
THERE ARE SO MANY WAYS TO GET MOUNTAIN BIKE ACTION:

Mountain Bike Action is a monthly magazine devoted to all things mountain biking (yes, that's 12 times a year because we never take a month off of mountain biking). It has been around since 1986 and we're still having fun. You can start a subscription by clicking here or calling (800) 767-0345. Also available from the Apple Newsstand for reading on your iPad, iPhone or iPod Touch.
Contact us via email at [email protected]
____________________________________