MBACTION.COM Review: iSHOXS ProMount Action Camera Mount
Action cameras have taken the mountain bike community by storm over the last few years. Many have gained a desire to record every one of their rides. Some to capture the ripping descents and others simply to prove that they really did flip three times during their last crash. They're looking to get as many angles as possible of their favorite jump or rock garden. Until recent times, however, the mounts have always been the weakest link. German-based, iSHOXS has created their ProMount as a remedy for the shaking videos from plastic mounts that flex and wiggle at their mounting base.
The aluminum construction of the ProMount makes it the stoutest action camera mount we've ever used. It feels solid in hand and clamps with an amount of tension that feels adequate. Another benefit of the aluminum construction is the tight tolerances it offers in the ball/yoke connections.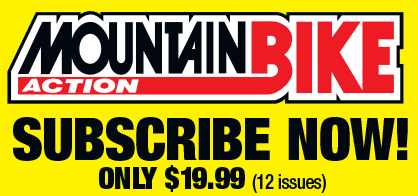 The ball/yoke adjustment allows for quick changes to ensure a level camera view, as well as the direction in which it's pointed. Other mounts often require changes to two adjustment screws to make this happen and one of them may end up being loose and rotating while riding. No matter what we rode, we could not get any amount of unwanted camera movement on the handlebars or seatpost. The Vibration Reduction System consists of interchangeable plastic spacers (blue in the photo above) that are offered in various sizes to adapt to handlebars, seatposts, forks or even top tubes.

What's our only gripe with the ProMount? It's not carbon-friendly. The clamping attachment requires it to produce a moment of excessive force on the mounting location while tightening it down. It doesn't continually put out this massive clamping force while secured, but there is a brief period while tightening it down that left us scared of hearing the dreaded carbon crack. If this problem was remedied and the $180 price tag was dropped a bit, it would be receiving a much higher rating.