Meet The Riders & Their Rides: Steven Walton
MEET THE RIDERS AND THEIR RIDES
Steven Walton
Steven Walton, 20, has been one of the top downhill riders in California for years, racking up numerous wins at both Fontana and Bootleg Canyon (Nevada). He was almost unbeatable as an amateur, and now he's brought that competitive spirit into the Pro class. When long-time KHS pro Logan Binggeli took on the role of team manager for 2020, Steven moved up to take Logan's place on the pro team. Walton is doing well, too. He is currently ranked second among the Pro Men in the NW Cup downhill series for 2020.
RIDER PROFILE:
Name: Steven Walton
Nicknames: Swalto, Spilly, Swaltonator
Age: 20
Birthdate: November 30, 1999
Birthplace: Corona, California
Height: 5-foot-10
Weight: 168 pounds
Shoe size: 10
Helmet size: L
Waist: 32
Marital status: Single
Current home: Murrieta, California
Car(s): Ford F-250, Ford Ranger
Started racing or competing: 2013
Turned pro: 2018
Racing/riding specialty: DH, dual slalom
Favorite course or riding area (North America): Mountain Creek, New Jersey
Favorite course or riding area (Europe): Maribor, Slovenia
Favorite food: Sushi
Goals: Become a highly competitive Elite World Cup racer
Heroes: AG, Logan Binggeli, Kevin Aiello
Favorite recording artist: Andre Nickatina
Favorite movie: Blades of Glory
Favorite hobbies: Golfing, tennis
Jobs held (other than racer): Custom-sign fabrication, commercial Christmas light installer
Most embarrassing moment: There's been quite a few over the years, and to be honest, I can't even think of any right now. Embarrassing moments are part of life. Best to just shrug it off and keep going!
Always takes on a trip: Noise-canceling headphones
What you would be if you were not a racer: If I was not a racer, I would most likely find a way to do something else I love to do. Work is meant to be fun, and I'll be sure that whatever I end up doing in life, I'll be doing while having fun!
 

Steve Walton's

KHS DH 29
Frame: "KHS DH 29, 180mm travel, frame size large, alloy. Switching from the 27.5 version to our homemade 29-inch version of the 27.5, then all the way up to what we have now with this properly developed 29-inch DH bike has been fantastic. My favorite part of this bike is the way the layout of the frame flows. It looks good to the eye."
Shock: "Fox Float X2. Settings: Shhh, a secret!"
Fork: "Fox 49, 180mm. Settings are pretty standard. I usually toy around with it when I'm first getting a new frame setup, and then for the most part my settings stay the same throughout the year, minus a few tweaks here and there depending on the track."
Tires: "Kenda Hellkat 2.4; front pressure 25 psi; rear 28 psi."
Tubeless setup: "Cush Core tire insert with OKO Magic Milk sealant. Utilizing both Cush Core and the OKO Magic Milk Sealant for the last two years has been great. I've seen a large decrease in the number of tire and wheel issues compared to my previous setup, and it's been great having that extra added confidence in the products that keep me rolling."
Rims: "FSA Gradient 29, alloy. These wheels are nothing short of phenomenal! I can say I have definitely put them to the test on some of the toughest tracks out there (including Fort Bill), and they have exceeded all my expectations."
Spokes: "FSA Spokes."
Front hub: "Onyx."
Rear hub: "Onyx."
Brakes: "Shimano Saint, 203mm rotors. Over the years I've had the opportunity to run just about every single brand brake available. One thing that sticks out with Shimano is the engagement. I really enjoy that 'click' feeling where you go from light modulation to a very engaged feeling."
Stem: "FSA Gradient direct-stem 45mm."
Handlebars: "FSA Gradient riser, alloy, 780mm wide, 25mm rise, 9-degree sweep. The 780mm bar width has been my go-to on every bike for as long as I can remember. At this width, I still feel the edges of my pinky finger brush up against trees and other objects without actually hitting them. Any wider and it would be game over for me! Ha ha!"
Grips: "ODI Elite Motion lock-on grips."
Shifters: "Shimano Saint."
Rear derailleur: "Shimano Saint. I've been able to thrash this derailleur to the absolute limit, and it continues to work and work no matter what I put it through!"
Pedals: "Shimano Saint."
Cranks: "Shimano Saint, 165mm."
Chainring: "Shimano Saint, 36T."
Chain: "Shimano."
Rear cassette: "Shimano 10-speed, 11-34T."
Saddle: "WTB Silverback."
Seatpost: "FSA K-Force."
Cables and housings: "Shimano."
Headset: "FSA."
Bottom bracket: "Shimano Saint."
Extras: "New for the 2020 season, we have started utilizing STFU chain-retention devices. These have been especially effective in reducing the amount of chain slap."
Head angle: "63 degrees."
Weight: 35 pounds.
Estimated value: $7499. 
MBA Q&A:
MBA: Where did you grow up?
Steven: Corona, California.
MBA: What kind of work did your father and mother do?
Steven: My father was a project manager at Disney, and my mother was an accountant for an aerospace company.
MBA: When did you first start riding a bicycle?
Steven: I've been riding bicycles since I could walk.
MBA: When did you first start racing bikes?
Steven: 2013 at the Southridge Winter Series in Fontana, California.
MBA: How did you do in your first mountain bike event?
Steven: I thought I was a cool guy and registered for Sport Men, 18 & Under. I finished second to last with a great run and decided I better drop down to Beginner Men 13–15.
MBA: What have been your best national and international results?
Steven: Nationally, I've been able to find myself on the National Championship podium in Juniors multiple times, numerous GRT Junior wins, and in the Pro ranks I've found myself on the National podium a few times, as well as a fourth-place finish at the 2019 Sea Otter Classic Dual Slalom. Internationally, I've placed 14th at Fort William in 2016, and 26th at the Maribor, SLO IXS Cup in 2019.
MBA: What titles have you won (or come close to winning)?
Steven: 2016 Pro GRT Junior overall champ; on the podium for the Junior National Championship in 2015, 2016, and 2017; fourth place in Pro Dual-Slalom Sea Otter Classic 2019; second in 2019 Crafts N Cranks.
MBA: Where did you go to school?
Steven: Santiago High School (freshman year), Springs Charter School for the remainder of my high school years.
MBA: Did you attend or do you plan to attend college?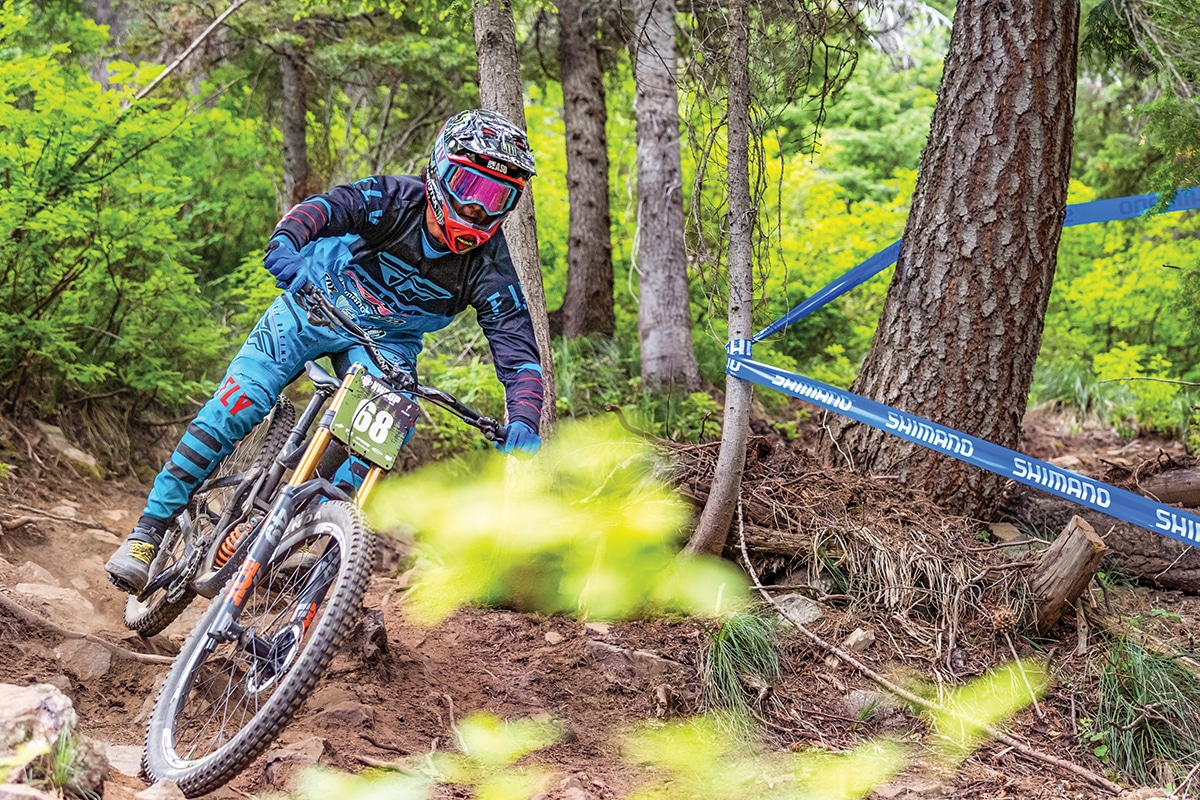 Steven: Nope. I have nothing against college. I may even find myself attending someday, but for the time being, I thoroughly enjoy welding and fabrication when I am not racing. I can see myself pursuing something within that field after racing.
MBA: Did you earn any awards in sports or academics in school?
Steven: I made it through many years of Boy Scouts to receive the Arrow of Light Award.
MBA: What other sports do you do besides mountain biking?
Steven: Golfing, tennis, snowboarding, road biking, moto.
---
Mountain Bike Action is a monthly magazine devoted to all things mountain biking (yes, that's 12 times a year because we never take a month off of mountain biking). It has been around since 1986 and we're still having fun.
Call us at (800) 767-0345