Mountain Bike Action Bike Test: Norco Shore 1 Trail Bike
Norco Shore 1
Trail Bike
Around two decades ago, Norco drew up the plans for the original Shore with the hope of building something as strong and capable as the bike sitting here today. The original bike was born to conquer Vancouver's most demanding North Shore trails and helped spark the freeride movement. Today, the Shore returns to Norco's lineup with modern components and geometry; however, its legacy remains the same. Tossing one leg over the Shore immediately reveals its true intentions. Norco's Shore is possibly the most rugged bike the company offers, with its downhill-rated frame and two different models to choose from.
The first model is the bike you see here, and the second is a bike-park model built with a dual-crown fork, 7-speed gearing and a rigid seatpost. Meanwhile, the Shore 1 is equally tough but offers the ability to climb between laps, thanks to a dropper post and wide-range, 12-speed gearing. That said, this ultra-tough freeride machine is way more of a downhill bruiser than a climber. Regardless, our test riders put this 38-pound beast to the test by riding it up the trails to earn our ticket back down. Here's what you need to know about Norco's new Shore.
FRAME
Before we begin to explain how tough the Shore's frame really is, you might want to head to YouTube and witness for yourself exactly what the North Shore trails have to offer. This is a place that chews up enduro bikes and spits them out. The only way to survive the massive ladder drops and steep rock slaps is to have a bike that's truly as tough as nails. So, that's what Norco built. The hydroformed aluminum frame would bring tears to the eyes of any weight weenie. Furthermore, Norco went with 27.5-inch wheels and advises you stick with them for reduced rotational mass while climbing or while attempting to spin 360 degrees off 15-foot-tall drops. Norco is well aware of the benefits of carbon frames for most types of riding, but will be the first to tell you that carbon has no place in the world of freeride bikes.
COMPONENTS
Norco designed the Shore with an idler pulley that's said to greatly reduce pedal kickback.
Earlier, we mentioned there are two models to choose from; however, there are actually four ways you can get your hands on the new Shore. Of course, there's the Shore 1 tested here and the Shore Park, which offers 10 additional millimeters of rear travel and another 20 in front. The Park model retails for $4000 and requires the use of shuttle runs and ski-lift access. Other options include the $3700 Shore 2, which comes with a standout pink and purple paint job, along with RockShox suspension and Shimano brakes and drivetrain. The Shore 1 has a raw look and receives Fox Factory suspension, along with SRAM's new GX Eagle drivetrain. Across the lineup, weight was never a deciding factor in choosing components. Instead, Norco ensured this bike could handle being tossed off the roof of a building.
SUSPENSION
To maximize performance and reduce pedal kickback (a common trait on some longer travel bikes), Norco integrated an idler pulley above the crankset. The idler pulley, along with the elevated pivot Horst Link suspension system, provides a rearward axle path while greatly reducing pedal kickback. This design allows the coil-specific suspension to maximize grip and support when boosting jumps and diving into rough trails.
DOWN AND DIRTY
Norco's Shore is built tough as nails. Riders looking for the extreme durability will gravitate towards the Shore's bomb-proof construction.
The Shore is a purpose-built bike continuing what it started back in 2001. As a freeride bike, the Shore is more likely to appeal to daredevil riders with strong-enough legs to get this hefty beast to the top of the trails. Once at the top, however, this bike comes alive and begs for big hits and tricks over every feature.
CLIMBING
Long-travel suspension provides unrivaled traction through corners.
Although the Shore is built with a hefty frame, it still has some fight in it when tackling climbs. From a pedaling standpoint, the Shore provides a good platform with minimal suspension movement. Considering it packs 180mm of travel, this is quite an outstanding feat. That said, don't expect to get the Shore to the top of the hill in a hurry. The best way to describe this Norco is that it's a fully capable downhill bike with the right gearing and seat position to crawl its way back up the mountain.
The Shore is absolutely overkilled for most trails, yet that's exactly what makes this freeride tank so much fun.
THE FLOW
Most riders aboard the Shore will dream about being at the top of the trail with a wide-open singletrack staring back up at them. Once we dropped in on our first descent, the Shore quickly reminded us what it was built for. This downhill machine carries speed like none other and soaks up big rocks, landings and bumps as if they weren't even there. A less aggressive rider could easily be left feeling like a passenger; however, a rider who is willing to pin it will be rewarded with a great deal of fun.
The Shore's idler pulley design does an excellent job of smoothing out the suspension feel, allowing the bike's 180 mm of travel to deliver unmatched performance. This combination gave every one of our test riders the confidence to push a little harder than normal on steep and fast sections of trail.
The Shore is likely to spend quality time in the back of a shuttle vehicle, so Norco armored the downtube with a protective shuttle guard, along with bottom bracket protection.
MODS AND UPGRADES
The most obvious upgrade to the Shore is the reduced weight; however, that could be a negative considering the bike's intended purpose. Norco built this bike to take a hit and keep on going. The drivetrain parts are midrange, allowing riders to replace them without taking a big hit to the wallet. Meanwhile, the suspension parts are topnotch, allowing for maximum performance on downhill runs.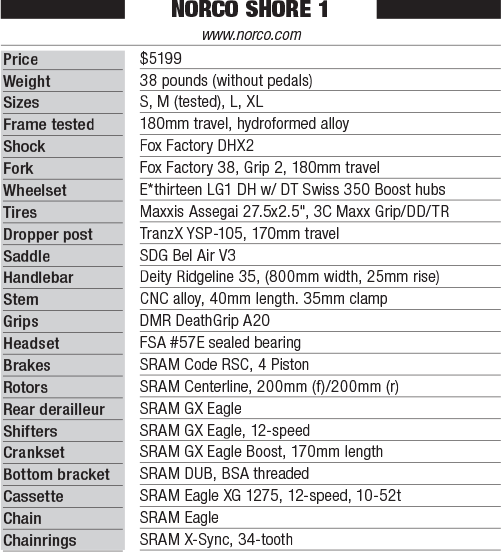 One worthy upgrade a rider might consider is sizing down the front chainring from a 34T to maybe a 32T or 30T. Having a smaller ring will limit top speed, but will make every climb a little easier on the legs.
BOTTOM LINE
Norco is well aware that the Shore is not for everyone and will likely be overkill for the majority of trail riders. That said, the Shore wasn't made for normal riding. It's a beast built to take on the most daring stunts and keep on going. Riders looking for a park bike to add to their stable or riders who simply want the toughest bike they can find will gravitate towards the Shore. This bike prefers the assistance of a shuttle vehicle or ski lift, but isn't afraid to occasionally earn its turns. Riders willing to sacrifice uphill performance for all-out speed and plushness will be most excited about the Shore's return to Norco's lineup.
---
Mountain Bike Action is a monthly magazine devoted to all things mountain biking (yes, that's 12 times a year because we never take a month off of mountain biking). It has been around since 1986 and we're still having fun.
Call us at (800) 767-0345