Mountain Bike Action Product Test: 100% Altec Helmet
100%

Altec Helmet
C
ombining a long motocross heritage with a newfound passion for cycling, 100% is making its mark on the mountain bike scene. Starting with eyewear and moving to riding kits and protective equipment, 100% can now cover a rider from head to toe. In fact, the only gear 100% doesn't make yet is riding shoes. The Altec helmet is made for trail riding while being lightweight enough for cross-country use. What really sets the Altec helmet apart is 100%'s decision to forgo MIPS technology and create its own advanced safety design deemed Smartshock. This month the wrecking crew tested 100%'s trail helmet, evaluating its breathability, comfort and safety.
Tech Features:
The Altec helmet combines trail functionality with safety and style. Since 100% prides itself on being an eyewear company first, the helmet needed integration with goggles and sunglasses. To accomplish this, the visor flips up out of the way to allow for goggle storage underneath. If sunglasses are more your style, 100% designed channels at the back of the helmet to hold your sunglasses in place during mid-ride breaks or while passing through a dark forest.
Safety is a major concern for any helmet, which is why 100% designed its own directional and rotational impact system. Smartshock, as it is called, is essentially 14 elastomers placed in key areas to reduce the transfer of energy during an impact. These shocks sit up against your head as opposed to technologies like 6D's ODS system or Bell's Flex technologies that use shock absorbers between two shells. 100% then used multi-density EPS foam to further reduce impact energy.
Altec helmets are available in five different color options and three different sizes. Each helmet has 15 vents to ensure breathability and a fitment system to keep the helmet snug on a rider's head. A size-medium helmet weighs 350 grams, just over 3/4 of a pound.
Field Test Results:
On the trail, the Altec helmet provides excellent ventilation (due to the large ports) and comfort (thanks to the seamlessly integrated safety system). Inside the helmet there is ample padding, and if that's not enough, there is additional padding in the box so you can customize the fit. The ratcheting fitment system worked well and gave our test riders a snug fit that prevented the helmet from bouncing around on the trails. Eyewear integration is a key feature that's often overlooked by other helmet manufacturers. The Altec helmet secures your eyewear even when trails get rough. All in all, the Altec helmet is a strong contender in the mountain bike helmet market. With the Altec's safety, style and function, we found nothing to criticize.
If you're looking to buy a new trail helmet, you'd be hard-pressed to find a better option. The Altec costs $165. See their website for more info: www.100percent.com.
 Hits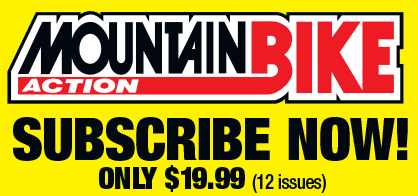 ★★★★★
Price: $165
Contact: 100percent.com
---
THERE ARE SO MANY WAYS TO GET MOUNTAIN BIKE ACTION
Mountain Bike Action is a monthly magazine devoted to all things mountain biking (yes, that's 12 times a year because we never take a month off of mountain biking). It has been around since 1986 and we're still having fun.
Start a subscription by clicking here or calling (800) 767-0345.