Mountain Bike Action Product Test: 7IDP Project Lite Knee Pads
7IDP

Project Lite Knee Pads
Protective gear has gone through major changes over the past few years, from bulky hardshell body armor to soft-shell protection. Today's new tech, is more comfortable and breathable than ever before, meaning riders can go the distance without their protection getting in the way. Seven intelligent Design Protection, otherwise known as 7iDP, is a leading innovator in protective gear. This month the wrecking crew signed up to be crash-test dummies for the all-new Project Lite knee pads. Here's how those pads held up to our crew's thrash testing.
Tech features:
The Project Lite knee pads are designed to be as lightweight as possible for long days in the saddle. The pads are constructed from a knit shock using ample length to avoid the dreaded skin gap between shorts and knee pads. They also have a hard yet flexible inner shell for maximum protection and a slick outer surface to allow the pads to slide instead of sticking to the ground in a crash. The compression fit sock was designed to be breathable, offering needed ventilation for summer days on the trail. Riders can find these pads in a range of sizes from small to extra large.
Should you need more protection, 7iDP offers the Project Lite knee pads with more rugged and durable construction.
Field test results:
Seven's Project Lite knee pads are designed to maximize comfort and freedom, and it showed during our testing. The first thing we noticed when we pulled these knee pads on was the long sleeves that offered a secure fit, preventing the pads from sliding down during our rides. The inner pad material takes a ride or two to mold to the shape of your knee, but once the pads were broken in, we found them to be quite comfortable. The sleeve material was a touch thicker than some of the spandex-like materials used in other pads, making them retain a bit more heat; however, this only seemed to be an issue on mid-summer days.
As far as protection goes, we were lucky enough not to crash while wearing these pads, but with their construction and design, we felt confident they would perform well if we took a spill. While the materials are light, they seemed burly enough to handle minor crashes without tearing. One gripe from a few of our testers was the lack of adjustable bands, while others found the simple elastic bands with rubberized grippers did a fine job of holding the pads in place. All in all, these thin yet durable pads are a great option for trail or enduro riders looking for protection without sacrificing mobility.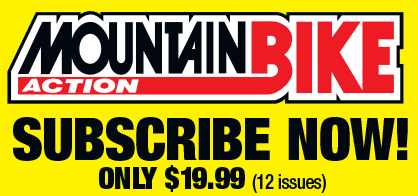 ★★★★☆
Price: $109.99
Contact: www.7protection.com
---
THERE ARE SO MANY WAYS TO GET MOUNTAIN BIKE ACTION
Mountain Bike Action is a monthly magazine devoted to all things mountain biking (yes, that's 12 times a year because we never take a month off of mountain biking). It has been around since 1986 and we're still having fun. Start a subscription by clicking here or calling (800) 767-0345.