Mountain Bike Action Product Test: Giro Manifest Helmet Trail Helmet
Giro Manifest Helmet
When it comes to protecting your head, you don't want to play around. But with so many different types of safety technology on the market today, it is hard to know what works. Most helmet companies use a plastic rotating inner liner known as MIPS. Others rely on proprietary damper designs to minimize impact and rotation. MIPS has become a must-have for many riders, while others can't stand the system due to its uncomfortable plastic feel and retention of heat. Giro decided to address these issues with the all-new Manifest helmet. The key goals were breathability, comfort and safety. We put this new helmet to the test to see for ourselves if Giro met its goals. Here's our full breakdown on Giro's Manifest helmet.
Tech features: 
The heart of the Manifest's design is Spherical technology, once referred to as MIPS Spherical. The word "MIPS" was later dropped so riders wouldn't confuse the technology with the traditional MIPS plastic liner. Spherical technology powered by MIPS can best be imagined by picturing a ball and socket. It's basically two pieces moving independently of one another. If you take a closer look at our test helmet, you'll see an outer shell that rotates separately from the lower shell. Giro was able to use lower-density foam in the lower shell to mitigate low-speed impacts.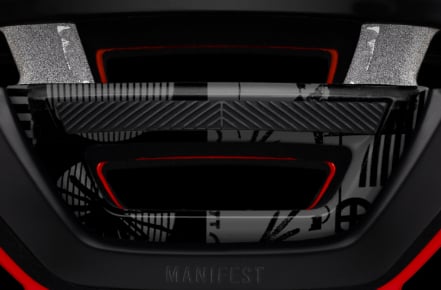 Meanwhile, the outer shell works like an outer layer of armor. To make sure the helmet was breathable, Giro made the vents as large as possible; however, when the ports became larger, the structural integrity needed reinforcement, so Giro employed an Aura reinforcing arch. The clear, thin arch runs from side to side across the helmet, allowing for huge air ports without sacrificing rigidity. Giro then finished off the helmet with some nice touches, such as a Roc-Loc fit system, eyewear grippers and an adjustable visor. Find more tech details by heading over to www.giro.com.
Field test results:
With three sizes and seven colors to choose from, the Manifest helmet should fit a wide variety of riders. It's slim enough to suit XC racers, while its advanced protection and capacity to accommodate goggles will please the pickiest aggressive trail riders. Once we got out on some singletrack, we quickly noticed the large vent openings did a great job dissipating heat on warm days. The fit system held the helmet securely to our head, and there was little to no movement. The integrated eyewear grippers are a nice feature and keep your glasses from getting tossed from your helmet.
Additionally, riders who run goggles…
↓