New Bike Day: Scott Spark RC and Spark 900
Scott Spark RC and Spark 900
By Scott
Spark RC
For years, the Spark family of bikes here at SCOTT has been a cornerstone of our success in the mountain bike industry. From World Cup win to World Cup win, to riding singletrack kingdom's and everything in between, the Spark RC and Spark 900 line of bikes have been constant go-to's for riders of all abilities all over the world. For 2022, the all-new Spark is set to continue this heritage on race tracks and trails for years to come.
Building on Success – Now in it's fourth generation, the Spark made it's way into our lives back in 2008. Since then, it's given us the highest of highs on and off the race track. Several World Championships, dozens of World Cup Wins, some special shiny medals and countless good times on the trails later, the newest Spark platform is something else. How do you improve upon the best? Let's find out.
Integrated Suspension Technology
Now, a more noticeable change is that we've moved to a frame platform with an integrated shock. If we take a deeper look, this approach allows us to refine suspension characteristics without sacrificing weight. Often, when working with bikes at this level, the concept of marginal gains becomes an ever important one. For the optimal performance of a suspension shock, power transfer must be the most direct possible. What we want to avoid are any inefficient directional movements, in other words, lateral movements (sideways to the direction of travel) as the shock goes through its compression.
Having an integrated shock allows us to improve this in several ways. Firstly, the frame construction around the shock and with the trunnion mount can be designed to be much more rigid, reducing movement and fostering more efficient power transfer. We can also add much larger bearings to the seat tube pivot, further reinforcing this area and reducing any unnecessary motion. Our Integrated Suspension Technology also helps us to engineer frames with a lower shock placement which lowers center of gravity. As a result, the bike benefits from better handling, and a more stable, confidence-inspiring ride for the end user.
Suspension Layout – Kinematic
A full suspension bike will never have success without, well, good suspension design. From the first time we rode the Spark's single pivot layout we fell in love. Years later, we still believe that for technical cross-country racing and fast, punchy singletrack it is the best approach. The Spark's suspension layout has a very specific and proven kinematic and less unsprung mass. Using a flex pivot in the seat stay is an ideal solution for bikes in this travel range. This allows us to keep a very lightweight system while still ensuring optimal suspension performance.
Geometry & Frame Design
When deciding on the Geometry for the Spark Platform, we decided to look towards Science rather than trends. We worked closely with SWISS BIOMECHANICS to do so, particularly in collaboration with the SCOTT-SRAM MTB Racing Team. We aimed to have one frame platform that could be the world's fastest and most capable XC race bike and an ultra-dynamic trail bike all in one. One thing we wanted to achieve was to have a similar pedaling position for both the RC and the 900. Both of the bikes are meant to be punchy, quick accelerators when stood up or sat down. With the built in ability to modify the head angle, we can run a longer, trail oriented fork on the 900, or a fork with slightly less travel on the RC that can easily be used for a more aggressive position on the bike for racing. The result? An XC bike that has the ability to descend like a trail bike without sacrificing anything when you need to put the hammer down, and a trail bike that can fly up the hill, and excel even more on the way back down.
Spark 900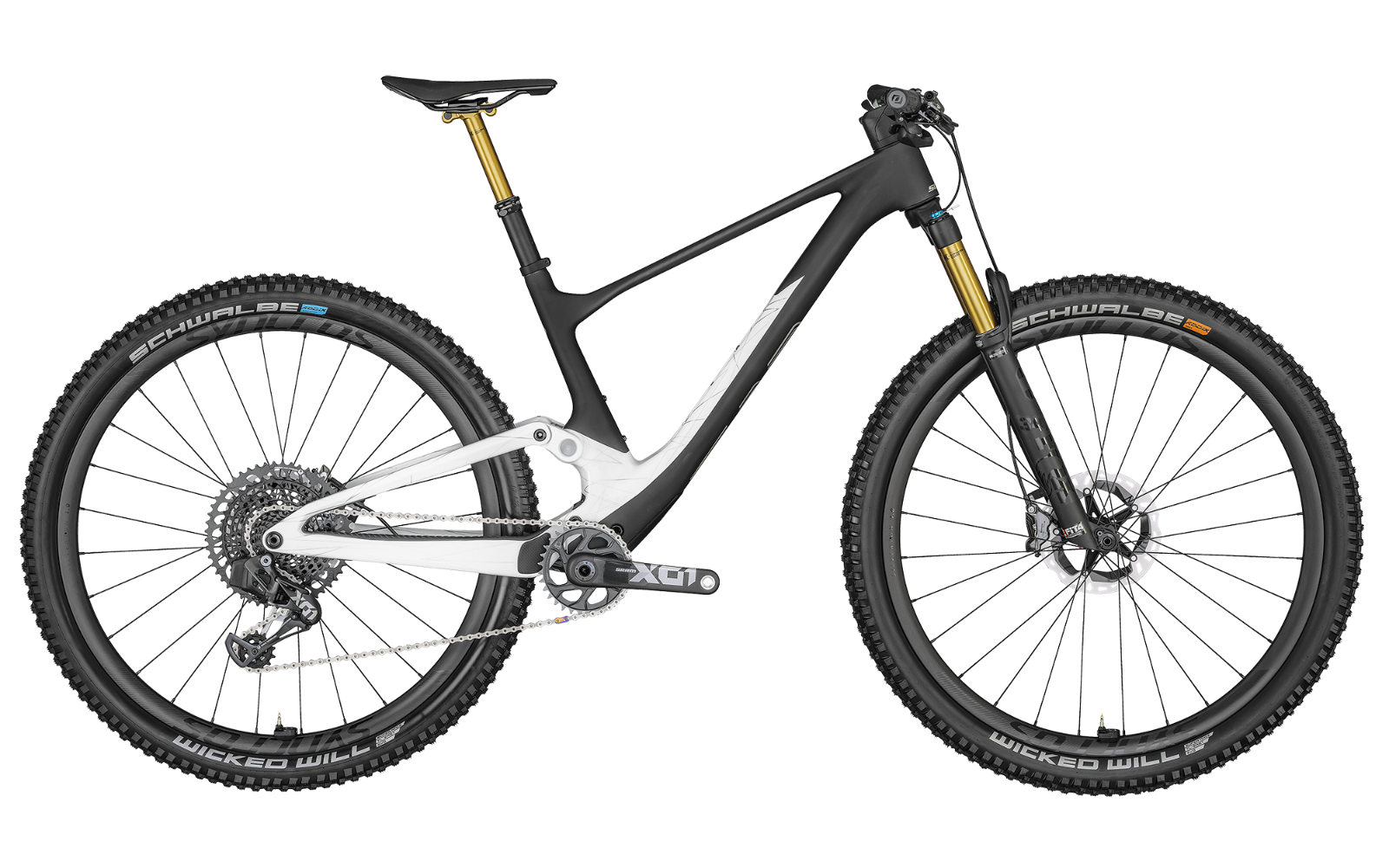 MOUNTAIN BIKE ACTION MAGAZINE