New Product Discovery: 7iDP Project 23 Full Face Helmet
Ventilation – The '23' In Project.23 refers to the 23 full-bore vents that allow air to flow in at the front, move through the specifically designed channels and exhaust heat at the rear.
Weight – 7iDP used materials to ensure the correct balance between protection and weight. This resulted in a weight of 945 grams for the Carbon and 1060grams for the Glass Fibre model in a size large.
SERT – Seven Energy Reduction Technology – So what is SERT?
Essentially, SERT is a smart foam with two key functions:
1. Research and dialogue with experts indicated that it is absolutely key to reduce the amount of energy that reaches the brain on impact. SERT does this by absorbing greater levels of energy than an EPS liner alone and can reduce the energy transfer to the brain by up to 20%.
2. Test data indicated that SERT also leads to a reduction in the rotational motion of the brain on impact.
CRV – Crash Release Visor
To further reduce the rotational motion of the brain, we designed our visor to break away on
impact. The visor snaps on/off, so in the event of a crash it:
– Releases on impact.
– It can be snapped back into position or replaced quickly – no bolts to shear and get stuck
internally in the helmet.
Project.23 Features:
● SERT Technology – smart foam liner that absorbs up to 20% more energy and reduces
rotational forces
● 23 big-bore vents – for in-and-out airflow to remove excess heat
● CRV (Crash Release Visor) system – allows the visor to release on
impact to help reduce rotational forces
● Easy position adjustable visor angle
● Injection-molded trim – protects helmet shell
● Goggle Dock – for perfect goggle fit and stability
● AegisTM anti-microbial liner – helps to keep internal fabric fresh

● Quick-release liner – for easy washing and cleaning
● FidlockTM – magnetic strap closure for quick and easy removal
● TF (through flow) goggle ventilation – allows airflow for improved visibility
● Carbon helmet supplied with padded Pro Helmet Bag.
● GF helmet supplied with drawstring bag.
● Micro sizing to ensure perfect fit – sizes XS(53-54cm), S(55-56cm), M(57-58cm),
L(59-60cm), XL(61-62cm), XXL(63-64cm)
Carbon
Colors: Raw Carbon/Gloss Grey | Raw Carbon/Gloss
ElectricBlue
Weight: 945 grams (L)
$349.99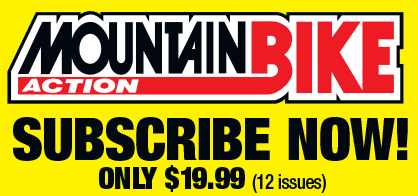 Glass Fibre
Colors: Matt Blue/Gloss Grey | Matt Teal/Gloss Black | Matt Dark Red/Gloss Red | Matt
Grey/Gloss Black
Weight: 1060 grams (L)
$239.99
Project.23 helmets are available from 7Protection.com and 7iDP retailers.
THERE ARE SO MANY WAYS TO GET MOUNTAIN BIKE ACTION
Mountain Bike Action is a monthly magazine devoted to all things mountain biking (yes, that's 12 times a year because we never take a month off of mountain biking). It has been around since 1986 and we're still having fun.
Start a subscription by clicking here or calling (800) 767-0345.