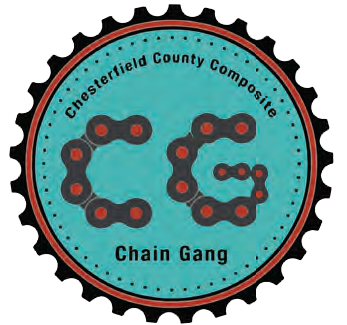 NICA

Team of the Month Chesterfield Chain Gang Bike Team
Virginia High School Cycling
League: www.virginiamtb.org
Chesterfield Chain Gang MTB Team:
www.chesterfieldchaingang.com
NICA: www.nationalmtb.org
One of the most inspirational developments to come out of the world of USA mountain biking has been the explosive growth of high school racing. This month we reached out to head coach Paula Labieniec to learn about the Chesterfield Chain Gang MTB Team in Richmond, Virginia.
Team name?
Chesterfield Chain Gang MTB Team. We are in Chesterfield County, just outside of Richmond, Virginia. We are typically referred to as the "Chain Gang."
Where did the name come from?
The first group of riders on the team came up with the name.
Which league do you race with?
The Virginia High School Cycling League, an official NICA Project League.
When was the team started?
The Chesterfield Chain Gang MTB Team was founded in the summer of 2015 by former competitive cyclist Ann Hardy, who set the stage for continued growth. There were 14 riders on the inaugural team.
Team size?
The Chain Gang had 36 registered riders for the 2018 fall NICA season. Of those, 33 raced at least once, and 24 raced all four races in the series.
How many boys and how many girls are on the team?
We had 31 boys and five girls registered for the team.
Athlete spotlights?
Our super-fast middle school crew won the state title in the Virginia High School Cycling League's 2018 Fall Race Series.
What is your favorite course?
We are lucky to have Pocahontas State Park, the largest Virginia State Park, in our backyard. Park staff are very welcoming to us, and the park offers 44.5 miles of dedicated singletrack and 64 miles of fire roads and double-track. Our riders overwhelmingly prefer riding any of the singletrack trails over the fire roads. If they had to name their favorite, it would be Blue Jay Way, which is named after our former head coach, Lt. Jay Cullen ("Coach Jay"). Coach Jay unfortunately passed away during the 2017 NICA race season in an on-duty helicopter crash outside of Charlottesville, Virginia. The team will always ride hard in his honor.
Any team or school fun facts?
We have a helicopter printed on the back of our race jersey in memory of Coach Jay.
In addition to the super kids on the Chain Gang, we are also lucky to have the greatest volunteer base any team could hope for. We have experienced bikers who don't even have children on the team who come to provide assistance and share their knowhow.
As a team, taking care of the trails we ride is very important to us. Periodically, we arrange for volunteer opportunities to support trail work and clean up.
---
THERE ARE SO MANY WAYS TO GET MOUNTAIN BIKE ACTION