Down The Trail: Bikes of the Future
In our November 1998 issue we had an article titled, "Do You Really Need Nine Speeds?" Of course, back then, nearly everyone was using triple chainrings and eight-cog cassettes for a total of 24 gear choices. Since we were talking about nine-speed cassettes, the question probably should have been, "Do you really need 27 speeds?" Times change. 
We also had an article on "Bikes of the Future." The bikes were pretty wild-looking, but the only drawback was that the bikes were designed by artists instead of experienced bike builders. They still came up with some really interesting designs.
In an article on aging, "Are You Too Old to Be Any Good?," we took a look at some of the older, more successful mountain bikers in the sport. We talked about Ned Overend, who turned 43 that year and was still racing against the top pros in the sport. Ned had won six American cross-country titles after the age of 30, his last one coming at age 37. Another rider we mentioned was Toby Henderson, who was 36 years old and still racing pro downhill. Today, Toby is the founder and CEO of Box Components. 
Elsewhere in the issue we took a look at what was slowly becoming known as one of the top states for mountain biking in the country. The place was North Carolina, and it's now home to some of the top college mountain biking teams in the U.S., as well as two of America's top downhill riders—Luca Shaw and Neko Mulally.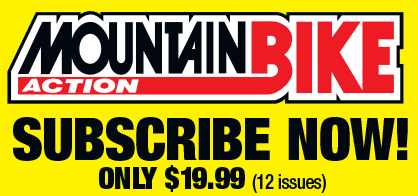 ---
THERE ARE SO MANY WAYS TO GET MOUNTAIN BIKE ACTION