Product Test: Shimano SH-ME7 Shoes
Shimano has been hard at work developing new products for the 2019 season. Of course, Shimano's all-new XTR drivetrain and brakes steal the show, but let's not forget to shine some light on some other cool products Shimano has recently released. To go along with its all-new XTR Race and XTR Trail pedals, Shimano announced two newly refined shoes. Building off its previous top-of-the-line cross-country and enduro shoes, Shimano's 2019 S-Phyre XC9 and SH-ME7 are ready for the 2019 racing season. We treated our feet to a pair of Shimano's newest shoe candy and stomped our way to our nearest enduro test track. Here's what Shimano's new SH-ME7s have to offer out on the trails. 
Tech features: Shimano looked into modern enduro racing trends and collected feedback from elite EWS athletes in order to improve upon an already great shoe. The new SH-ME7 focuses on better breathability, more protection and enhanced comfort. The new upper has a perforated synthetic leather that replaces the mesh upper from the previous model. This change adds more elasticity and more breathability for greater comfort. Shimano then reinforced the SH-ME7 shoe with more armor to increase protection and durability. The speed lacing system, along with a low-profile reverse buckle, ensures a tight fit. Shimano offers these shoes in a wide range of sizes from 38 to 50. A stretchy neoprene ankle collar was added to further enhance comfort and protection. The shoe continues to use Michelin rubber outsoles for grip when off the bike. A new sealed cleat area was added to help keep water out. Our size-44 test shoes weigh 480 grams per pair with cleats and have a retail price of $200. 
Field test results: Once we received our new SH-ME7 shoes, we were eager to slap on our cleats and take them for a ride. When installing our cleats, we decided to run small shims to make sure our shoes would have enough clearance with our pedals; however, once we started riding, we realized the shims were not necessary. The shoes slid onto our feet easily, thanks to the added elasticity. Once on our feet, the pull-strings hidden behind the Velcro flaps ensured a snug fit. The SH-ME7s offered great coverage, coming right up to the top of our ankle, and the neoprene collar rose up just a touch above that. We rode with these shoes during some hot Southern California summer days, and our feet never felt too hot. The reinforced toe caps offer solid protection against trail debris, although not as much as a full downhill shoe. These Shimanos aren't overly stiff, nor are they too flexible. Shimano seemed to find a nice balance between pedaling efficiency and flexibility. Overall, these shoes provide comfort right out of the box, offering breathability and protection. At $200, these shoes might be out of reach for some riders; however, knowing how many seasons we've put on Shimano shoes in the past with very little wear, we believe they're well worth the investment. Whether you're looking to race a local enduro series or just pedal the trails on the weekends, the all-new SH-ME7s are hard to beat and should last at least a few seasons. bike.shimano.com
Hits
-Wide range of sizes
-Comfortable and roomy fit
-Easy to secure the fit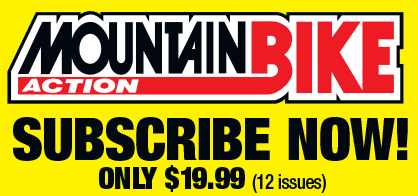 Misses
-None
Star Rating
5 out 5 stars
---
THERE ARE SO MANY WAYS TO GET MOUNTAIN BIKE ACTION