Product Test: Garmin Edge 130 Cycling Computer
When it comes to cycling computers, the name Garmin often comes to mind. Garmin is one of the leading innovators of GPS devices for a wide range of sports and outdoor activities. Providing products for the automotive, aviation, marine, outdoor and fitness markets is what Garmin knows and loves. The Garmin Edge 130 is a new cycling computer from Garmin designed to be compact, easy to read and full of all the features a rider could want or need. The Edge 130 can be purchased as a device only or in two different bundle options. For obvious reasons, we opted for the mountain bike bundle. The Garmin Edge 130 has a competitive price and promises to provide mountain bikers with the data and mounting options they want. We brought an Edge 130 into our lineup of product tests this month to see for ourselves if it's the perfect cycling computer for the avid mountain biker. 
Tech features:
The Garmin Edge 130 has a 1.8-inch black and white display with the ability to show up to eight customizable data fields per page. It features a long list of built-in sensors that provides everything a rider might want to know, such as speed, distance, altitude, effort and much more. Pairing the device with other Bluetooth or ANT+ devices will further enhance the amount of data the Edge 130 can offer. Garmin sells the Edge 130 with a standard mount and a charging cable for $200. We opted for the mountain bike bundle, which includes a mountain bike-specific mount, an Edge remote, a silicone case and an additional standard mount, plus a USB charging cable, all for $250. The Edge remote allows a rider to operate the Edge 130 without having to take his hands off the bars. It does, however, require that an additional device be mounted to your handlebar. Garmin claims the Edge 130 has a battery life of 15 hours. The Edge 130 automatically sends ride data to Garmin Connect or Strava and can provide turn-by-turn navigation while riding via Garmin's Course Creator feature. Riders who often go out alone will appreciate features such as LiveTrack and Assistance, which make it easy to share your location with a friend or loved one. The Edge 130 might not be the top dog in Garmin's lineup, but if there's a data field missing on this device, you likely don't need it. 
Field test results:
As with any cycling computer or electric device, there is often a learning curve; however, the Edge 130 is about as user-friendly as it gets. Sure, you can get lost in its long list of data fields and customizable pages, but once you get everything set up and learn the basic controls, the device is fairly straightforward to use. We mounted the mountain bike-specific mount to our Canyon Spectral test bike and found the over-the-stem mount worked well and placed the device in an easy-to-read position. And while we're on the topic of easy-to-read, the Edge 130, even with its black and white screen, is incredibly easy to read out on the trails. The Edge has the option to display phone calls or text messages, and it can alert you if foul weather is coming your way. Our testers loved the silicone case, which adds protection while playing in the dirt and noted that the buttons were nicely oriented for ease of operation. We tried using the remote, but found the extra clutter on the bars wasn't worth the benefits; however, some riders may enjoy having control over their computer without taking their hands off the bars. Overall, the Edge 130 is a great computer for any type of riding, but its small size, rugged construction and feature-rich design make it an excellent choice for any mountain biker looking for an edge over the competition. buy.garmin.com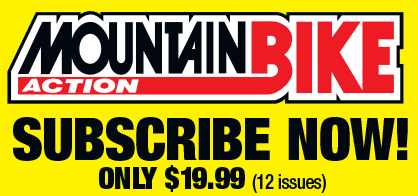 Hits
Small and compact unit
Offer all the metrics
Easy-to-read display
Misses
Black and White screen
Heart rate monitor sold separately
Star Rating: 4 1/2 out of 5 Stars
---
THERE ARE SO MANY WAYS TO GET MOUNTAIN BIKE ACTION