Tested – OneUp EDC Tool System
Always prepared, always ready
OneUp Components is a small team of passionate mountain bikers who planted roots in Squamish, British Columbia. The three original founders and former Race Face engineers quit their stable 9-to-5 jobs in order to move closer to their favorite trails and establish a new company. OneUp's motto—"Work less. Ride more"—allows these engineers to get out into the field and discover what products avid mountain bikers truly need. Although the engineers at OneUp love to get out and ride, these guys also know how to put their heads down and work. One of their latest projects was developing a way for riders to easily store all of their essential riding tools inside of their bikes. The final product soon became known as the EDC (Every Day Carry) tool system, and it is a game-changer for any rider who is looking for a clever way to attach a toolkit to his or her bike—a toolkit that will always be there any time it's needed.
Tech features: The EDC tool system is designed to fit into your steerer tube, keeping it hidden and out of the way while riding; however, it does require modifications to your steerer. It's also important to note that only aluminum steerer tubes are compatible with this system. Double-check with OneUp to ensure your fork is compatible before purchasing an EDC toolkit. A OneUp Tap kit, which sells for $35, is required, but first check with your local bike shop, as they may already have one. This Tap kit comes with OneUp's star-nut puller, a threaded tap and a self-alignment tool. First the star-nut needs to be removed to make room for the EDC tool to slide into your steerer tube. This can be done without removing your fork from your bike. Follow OneUp's detailed instructional video (found on its website) to see how the entire installation is done before you start. You will be required to tap threads into the inside of your steerer tube and replace your original top cap with an EDC top-cap kit. This kit sells for $25 and includes a new threaded top cap, available in black or green; a couple spacers; and a plug, which helps keep the tool system from rattling around. Once the proper procedures are finished, the EDC setup will simply slide in and out of your steerer tube. The EDC system sells for $59 and includes a wide variety of tools, including hex wrenches, a T25 Torx wrench, a chain-breaker, a tire lever, a flat-head screwdriver, spoke wrenches and much more. Riders can also attach a 20-gram CO2 to the bottom of the EDC tool or use a small storage capsule. The entire system weighs just under a 1/2 pound and sits flush at the top of your top cap, making it almost unnoticeable.
Field test results: Installation of the EDC tool system may sound complicated, but it is actually pretty straightforward. It's important to note, however, that tapping threads into the inside of your steerer tube and removing your star nut will permanently force you to use OneUp's threaded top cap and will likely void your fork's warranty. We followed OneUp's detailed how-to video while we installed the EDC system and found each step was easy to replicate. When it came time to thread our inner steerer tube, we found the self-aligning guide was well designed and made the process almost foolproof. Use chain lube or cutting oil, and take your time. If you're nervous at all about this installation, stop and take it to your local shop. The top cap is then installed with a cassette lock-ring tool, and the stem holds everything in place, as on a normal setup. Once the kit was installed, our tools were easily accessible, and a 20-gram CO2 cartage fit with no problem. The process of tapping your steerer will create small metal shavings, so be careful not to let any of them fall near your fork seals, as they could cause unwanted damage. Our headset stayed tight during our testing, and our tools sat quietly hidden, always ready to be used. If you're a rider looking to add a James Bond-style toolkit to your bike, look no further than OneUp's EDC tool system.
HITS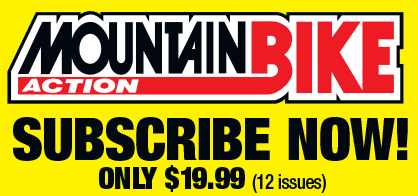 • Very innovative and a great way to carry tools
• A cool gadget that will impress your riding buddies
• Has a large range of tools and carries a CO2 cartridge
MISSES
• Requires permanent modifications to your steerer tube
• Does not include a CO2 inflator
• Is only compatible with aluminum steerer tubes
• Will likely void fork warranty