Product Test: ACRE Hauser 10L Trailpack
Whether he actually said it or not, Mark Twain is often credited with saying, "The coldest winter I ever spent was a summer in San Francisco."  With Acre being based out of San Francisco, we have a hunch the Bay Area's unpredictable weather, along with its residents' impeccable knack for style, had a considerable influence on the design of the Hauser Trailpack. Acre packs are designed with the wild adventurer in mind more than the novice trail rider. After employees' own excursions spanning continents and conquering motley terrain, they know from experience that weather is the most common cause for a trip turned sour.
Tech Features: Claiming something is "weatherproof" is a bold statement, but Acre backs up its claim by constructing the outer panels of the Hauser with waterproof, laminated, 210d ripstop nylon. The inner fabric is a 70d ripstop nylon that is also waterproof laminated to ensure further protection from the elements. Access to the pack is available through four zippered pockets, which are also weatherproofed using a urethane coating. While there aren't any interior dividers built into the pack, the largest external zipper pocket holds a heavy duty tool roll, made out of 500d cordura, that contains numerous mesh pockets to organize your tools and small parts.
We tested the 10-liter Hauser model, but Acre also offers a 14-liter model for those looking to pack a little extra gear. The Hauser 10-liter pack will leave your wallet $195 lighter, and they'll throw in a 3-liter Hydrapak or Camelbak reservoir for an additional $35. Best of all, the pack enables riders to shred with a pack full of pride, considering it's probably the only pack on the trail that is made in the good ole' U.S.A.
On our back: Our initial interest in the Hauser Trailpack revolved around its stylish looks, which deviate from that of typical "outdoor" gear. Turns out, while the style is indeed on-point, the pack also offers numerous features that others simply don't. The weatherproof material is a game changer. Up until this point, most packs didn't offer any sort of integrated waterproof capabilities, and if they did, the system usually relied on a rain cover that didn't offer complete protection. We filled our Hauser with various electronics (primarily so we could make a huge fuss if the claim didn't hold up), then placed it in the middle of our backyard while the sprinklers ran through a full cycle. Then we placed it in the front yard to endure an additional watering cycle. We did this two separate nights, first utilizing the roll closer, then the buckle closure. Either way, the interior of the pack stayed bone dry. Somehow not satisfied, we used the roll-top closure and repeatedly dunked the pack in our bathtub. After the dunk test, we're fairly certain it'll hold up to any weather you encounter.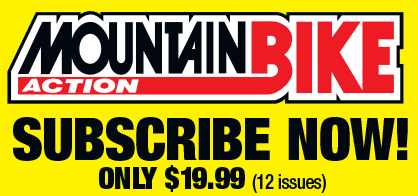 We enjoyed the roll-top closure option for any sort of moderate trail riding and primarily used the pack in such a fashion; however, on steep descents, we occasionally found the back of our helmet catching on the roll top, which caused us to use the buckle closure in downhill or aggressive trail situations. Both closure systems worked great, but we found each to be more applicable in specific disciplines. The shoulder and hip belt straps come with a great deal of extra length and whipped around initially, but after a few rides we we're able to figure out exactly how we wanted the pack to fit. Then we cut the straps to leave only a couple inches of extra material.
The 10-liter storage capacity is adequate for any ride limited to four hours, and we didn't have any trouble carrying our pads in the pack for the pedal up, while the helmet straps securely held either a three-quarter or full-face helmet with ease. The back panel venting doesn't contain a suspension system to dissipate heat, but the lack of such a feature actually offered us a benefit we had previously overlooked. Many venting panels on other packs place them off our backs a couple inches and essentially place greater leverage on any pack movement. The Hauser remained slung close to our bodies, resulting in reduced fatigue in our lower backs.
While its quality construction makes its high cost rational, we still find it hard to fork over $195 for a pack, let alone one that doesn't include a hydration reservoir. However, being able to purchase the reservoir separately does give you the freedom to choose a Hydrapak or Camelbak product through Acre or any other manufacturer. This is a huge benefit, especially for riders like us who find the Hydrapak reservoir to be very poorly designed. Does the option outweigh the cost? Probably not, but it's always good to have options.

The Acre Hauser may not be for everybody, but for a specific group of riders, it's the ultimate pack. If you're a rider living in the Pacific Northwest and find yourself riding in the rain more often than you see blue skies from the trail, then this is the pack for you. If you venture into remote regions where you'll likely face unsavory weather, this pack is for you. If you live remotely close to San Francisco's Bay Area, this pack is certainly for you.
__________________________________
THERE ARE SO MANY WAYS TO GET MOUNTAIN BIKE ACTION:
Mountain Bike Action is a monthly magazine devoted to all things mountain biking (yes, that's 12 times a year because we never take a month off of mountain biking). It has been around since 1986 and we're still having fun. You can start a subscription by clicking here or calling (800) 767-0345. Also available from the Apple Newsstand for reading on your iPad, iPhone or iPod Touch.
Contact us via email at [email protected]
____________________________________