Product Test: Feedback Pro Elite Repair Stand

While not the most exciting piece of equipment in the shop, a proper workstand is critical. A poorly designed workstand will frustrate amateur and professional mechanics alike. The Pro-Elite repair stand is the top-of-the-line offering from Feedback's Pro series and retails for $259.99. They also offer more basic "recreational" and "sport" versions for $129.99 and $169.99.


Tech features: The Pro-Elite repair stand has a patented quick-release system with a secure lock that features ratchet-action closing and push-button release. The Tri-Knob
allows fine-tuning of the clamp's jaw pressure, and the jaws are rubber-coated. The clamp head can be rotated 360 degrees, the jaws can accommodate up to 2.6-inch tubing and Feedback claims the stand will support up to 85 pounds. The work height is adjustable from 42 to 71 inches. The tripod base is constructed of aluminum and is held together with quick release- style clamps. The stand uses anodized aluminum tubing and weighs 12.6 pounds. For more information, contact Feedback Sports at (800) 975-2854.


Field test results: The seatpost clamp of the Pro-Elite is the crown jewel of the system. Its 360-degree adjustable design and height-adjustable mast allow the bike to be positioned securely at any angle. Push the jaws closed on the seatpost, give it a little snug with the knob and you're good to go. Hit the quick-release button and the jaws automatically spring open to make you feel like you're performing repairs for a World Cup athlete. It's stable enough to support any kind of bike, including downhill sleds. Our only criticism is that the stand can become unstable if the tripod-style legs are not set up properly; it's a small trade-off for the portability and does not hurt the overall performance. This stand is comfortable in a pro shop, out at the races or in the garage of a skilled do-it-yourself mechanic. It's light enough to be portable for events or to take along for trailhead maintenance sessions (a nice feature if your riding buddies tend to show up unprepared). After several seasons of use, this stand has become a favorite of the wrecking crew. Whether out in the field for a quick tuneup or in the garage for a complete overhaul, the Pro-Elite is a champ.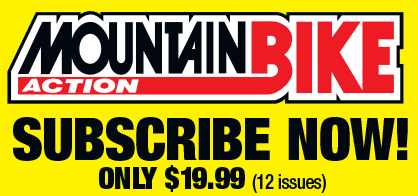 Mountain Bike Action Magazine has tests like this (along with bike tests) in every issue. If you found this review helpful, don't miss another one by subscribing today. (Click Here) Mountain Bike Action Magazine is a monthly publication about all things mountain biking.