Product Test: Hayes Radar Hydraulic Disc Brakes
In 1997, Hayes changed the mountain bike industry with its HFX Mag hydraulic disc brakes. Since then, Hayes has been steadily improving and broadening its lineup with products that cater to different types of riding. Hayes' brakes have always been known for their reliability, and the new Radar hydraulic disc brakes are no exception. Hayes is no stranger to controls and brake technology, so when they launched this new brake set, we couldn't wait to give it a go.
Tech features:
The Hayes Radar is a hydraulic disc brake set intended for cross-country and trail riding. The brakes utilize Hayes' all-new Venom mineral oil and feature a cross-hair alignment system for setting a perfect no-rub brake caliper position. The Radar comes with sintered metallic brake pads that load from the bottom of the caliper, and the pads utilize Hayes' proprietary pad treatment that is said to shorten the bed-in period and provide the best out-of-the-box stopping performance. The brakes are designed to work in unison with Hayes L-series brake rotors, available in 140-, 160- and 180-millimeter sizes.
Moving up the brake line, the Radar levers feature a Delrin bushing at the lever's pivot point designed for longevity and weight savings. There is a lever reach adjust that can be changed with a hex wrench and a split clamp design that makes mounting easier and allows riders to switch their levers to "moto-style" if they want. On top of all this, Hayes is so confident in its products that it offers a lifetime leak-proof warranty on the brakes. At just $95 per side, we couldn't wait to put them to the test.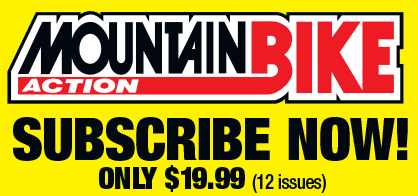 Field test results:
Our Radar brakes came ready to go with 160-millimeter rotors. Mounting the brakes was easy thanks to the split clamp design and cross-hair alignment system, which worked as advertised. We had the calipers centered in no time, and it was great not needing to loosen and tighten the caliper bolts multiple times to find a sweet spot. After mounting the new rotors and double-checking all the bolts, we were ready to ride. We immediately took the bike out to check out the new brakes and bed-in the pads. The Radars only needed about seven stops to get the pads bedded-in and ready for the trail.

We rode everywhere with these brakes. On cross-country trails, the brakes performed well and did a great job at modulating speed. The lever feel was light and responsive. We never had any issues with the brakes on these types of trails; however, once we moved to more aggressive trails that pitched downward a bit more, we discovered the limitations of the Radars. The brakes were good at keeping speed in check but lacked enough power for hard, sudden braking. If we came into a sharp corner too hot, the Radars weren't quite powerful enough to get us back on track. Instead, we found ourselves riding smoother and easing into the brakes earlier than normal. The drawback to this was that the brakes got pretty darn hot with the 160-millimeter rotors. Overall, the brakes performed well as long as they were used for the intended type of riding. At $95 per side, the Radars are a great value. We expect to see many of these on new bikes as they are a cost effective and reliable brake option.
 __________________________________
THERE ARE SO MANY WAYS TO GET MOUNTAIN BIKE ACTION:

Mountain Bike Action is a monthly magazine devoted to all things mountain biking (yes, that's 12 times a year because we never take a month off of mountain biking). It has been around since 1986 and we're still having fun. You can start a subscription by clicking here or calling (800) 767-0345. Also available from the Apple Newsstand for reading on your iPad, iPhone or iPod Touch.
Contact us via email at [email protected]
____________________________________