Product Test: Magura MT7 Brakes
Magura is a German hydraulics company that's been in business for over 120 years. Its passion for technical innovation is its strength and shows through in its products. The MT7 is Magura's strongest brake designed for the rigors of aggressive trail riding, downhill and enduro racing. The four-piston caliper was designed after the brakes that slow down motorcycles, something Magura knows plenty about. Magura components have been used as original equipment on BMW motorcycles for over 90 years. When we had the chance to use a pair of brakes with that kind of pedigree, we couldn't resist.
Tech Features: The MT7 features a four-piston and four-brake pad configuration in each caliper that puts it in a class of its own. The brake features Magura's proprietary Carbontechture SL brake lever construction and an aluminum bar clamp mated to a two-finger ergonomic lever blade with tool-free reach and bite point adjustment. The caliper is built from forged aluminum with four pistons and four separate magnetically held pads. Our pair of MT7 brakes weighed in at 270 grams per brake with 7-inch Magura Storm rotors and all mounting hardware included. The MT7 also carries a confidence-inspiring five-year leakproof warranty and retails for $320 per wheel.
Field Test Results: The Magura brakes we've tested in the past have been renowned for their excellent modulation, impressive weight savings, and dialed ergonomics. The MT7 delivers these traits in spades, much like its lightweight companion the MT8, which is designed as an ultra-lightweight cross-country brake. Where the MT8 truly shines, though, is in its sheer power and quiet braking performance; something that other Magura models have struggled with in the past. The brakes delivered plenty of power for the trail bikes we tested them on, inspiring confidence that they would be just as at home on an enduro or gravity bike. In fact, with this much stopping power, the most aggressive riders will reap the most benefit from the MT7s. For lighter-duty stoppers, cross-country and lightweight trail riders should look to the MT8 brakes, which feature the same Carbotecture master cylinder structure with a much lighter two-, rather than four-, piston caliper.
In the dry and dusty conditions we tested in, the MT7 proved much quieter than previous-generation Magura brakes, making them among the quietest and smoothest feeling we've used. The consistent and nearly vibration-free feel also left testers impressed.
Possibly the most impressive trait of the MT7 brakes, especially given the size of the caliper and pad setup, was the ease of setup. Whereas Magura's big-power brakes of the past constantly rubbed, these brakes bolted up and adjusted perfectly on the first attempt—thanks to the quality machining and large "window" on the top of the caliper, which made alignment a snap.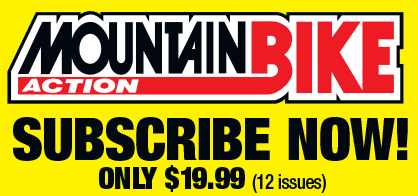 Magura designed the MT7 with plenty of modulation in mind, which means the lever lacks the snappy feel of some of its piers. Even with a proper bleed, the lever has a tiny bit of "squish," which prevents the brakes from having the "on/off" feel that some riders hate. The MT7 has plenty of stopping power, but the feel will be something to get used to for riders coming off brakes from the big blue company or the big red company.
The MT7 proves that Magura's 120 years of hydraulic design experience can build a great mountain bike brake. The MT7 is a seriously powerful stopper with nice features built in, all at a competitive weight. While some riders may not like the lever feel at first, after a few short miles, the MT7 brakes proved their mettle to the Mountain Bike Action wrecking crew.
__________________________________
THERE ARE SO MANY WAYS TO GET MOUNTAIN BIKE ACTION:

Mountain Bike Action is a monthly magazine devoted to all things mountain biking (yes, that's 12 times a year because we never take a month off of mountain biking). It has been around since 1986 and we're still having fun. You can start a subscription by clicking here or calling (800) 767-0345. Also available from the Apple Newsstand for reading on your iPad, iPhone or iPod Touch.
Contact us via email at [email protected]
____________________________________