Product Test: Oneup Components Dropper Post
Oneup Components Dropper Post
OneUp is one of our favorite component companies, because it makes our lives easier with clever engineering. The company began when a group of Race Face engineers left their jobs, moved to the mountains and began designing rad products. They happily live by the motto "Work less, ride more." OneUp's more recent creation is a long-travel dropper post. It may not have a clever name, but OneUp's dropper post offers unique features that makes it stand out from the rest. We decided to give this post a full shakedown by installing it on one of our test bikes featured in this issue.
Tech features: OneUp created this dropper post with a short stack height and drop rails so riders can run longer dropper-post travel without raising their saddle height. These posts are available in 150mm- and 170mm-travel options but are completely tunable to your liking. More on that soon. Two seatpost diameters are available—30.9 and 31.6. OneUp only offers an internally routed post, which shouldn't be a problem on the majority of new bikes. The post is cable-actuated and infinitely adjustable through its travel. Multiple mounts are offered for its remote, so you can pair it with your brake lever or run it on its own clamp. The post can be purchased without a remote for $170 should you want to run an aftermarket one. OneUp's remote adds $50 to the cost of the post. The weight of the post varies from 509 to 565 grams.
A unique feature of OneUp's dropper post is that it can be shimmed down as much as 50mm. That means that if you buy the 170mm post, you can adjust that down to 120mm or anywhere in between. The 150mm-travel post can be tuned down to 100mm. It's also possible to adjust the post to a custom length should you want 163.5mm of travel or something odd like that. To top it all off, OneUp backs its dropper post with a two-year warranty.
Field test results: The difficulty of installing OneUp's dropper post will vary greatly depending on the bike you're installing it on. If your internally routed frame has tubes inside, then you just need to route the cable through and install the post. Other frames may cause a headache. It will all depend on how the manufacturer of your bike deigned the frame. Once we installed our post, we focused our attention on the lever, using a Shimano I-Spec II mount to incorporate the lever on the same handlebar clamp as our XT brake. Not only did this clean up the look of our cockpit, it also gave us the ability to rotate the shifter-style remote into a comfortable position.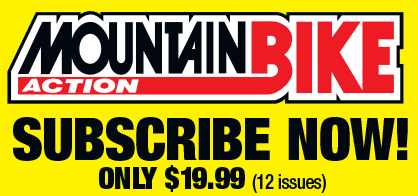 Now, you're probably wondering what's involved in tuning the travel. OneUp claims this process can be done without removing the post or even the saddle from the bike. No tools are needed except for something sharp enough to cut through the plastic shims, and there's no need to break out a shock pump. We could go into detail about this process, but it's best to just watch OneUp's three-minute how-to video on its website. We attempted shortening our post down to 160mm and found it to be an easier process than installing the post.
On the trails, our post operated well, doing its job of going up and down when we needed it to. There were really no complaints when it came to function. So, who exactly is this post made for? Well, it could be great for a taller rider looking to get 170mm of travel or a shorter rider who wants maximum dropper travel without the risk of buying a post that's too long. The ability to customize the length of travel is a key feature here and makes this post desirable for a wide variety of users.
How to Grease your Dropper Post Upper Bushing from OneUp Components
Hits