Product Test: Onza Ibex 27.5-inch FRC Tires
We are picky when it comes to tires, since these molded pieces of rubber can make or break an entire bike. When we find a tread that works, we cling to it like a kid to his mother on the first day of school. So, when we received a set of Ibex tires from Onza to test on one of our beloved enduro bikes, we were a bit apprehensive to say the least; however, our uncertainty quickly diminished after the first few miles on the new treads.
Tech features:  
The Ibex is Onza's all-around tire designed to roll fast and smooth on terrain consisting of everything from loose gravel to freshly rained-on soil. We were able to get our hands on a set of 27.5×2.40-inch FRC TLR (tubeless ready) tires that are intended for all-mountain and enduro riding. These tires feature a Kevlar folding bead, 60 tpi casing, and a dual-compound composition that places faster rolling rubber in the center of the tread and a tackier compound on the outside. Our particular treads came in at just under 900 grams each and go for $80 per tire.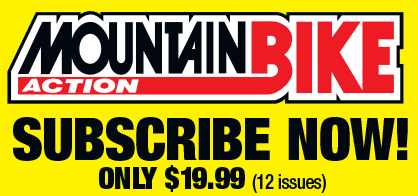 Field test results:
What better way to test a new set of tires than by mounting them to one of our favorite sleds and heading out to Mammoth to race the three-stage enduro at the 2014 Kamikaze Bike Games. Alright, so maybe we weren't quite that ambitious at first. We first installed the tires onto a set of Easton Haven wheels and started sending them through the local ringer, riding all types of different terrain.
The first thing we noticed was that these tires rolled much quicker than we thought they would. They have an aggressive tread pattern that looks as if it would have a hard time letting the earth pass by, yet the Ibex tires carried speed well on both uphills and downhills. Although these tires wouldn't win any cross-country races, they didn't put up too much of a fuss on climbs. This reduced the amount of pedaling we had to do and helped our legs stay fresh longer.
Once we pointed the tires downhill, they really started to shine. The wide center knobs laid down the braking power and allowed us to tackle steep sections with confidence. The tread pattern also worked great in corners. The tires transitioned smoothly and predictably into and out of each turn and calmly made us aware when we had pushed the limits of traction too far.
The most appreciated attribute of the Ibex tires was the stiffness of the sidewalls. We usually experience excessive lateral tire flex when running Kevlar folding bead tires down our rough test loops. Not so much in the front, but on the rear tire due to the forces seen in turns. The Ibex tires were incredibly resistant to folding over, despite some of the hard turns and sideways landings they encountered. Additionally, we only had one flat tire during the duration of the test, and that's saying something.

    Overall, the Ibex tires are hard to beat. We grew so fond of the tires that we ended up racing the three-stage enduro in Mammoth with them—and they never let us down. The tread pattern was confidence inspiring. Not only do the tires provide a predictable platform, they're also durable. We definitely recommend these tires for all-mountain riding.
__________________________________
THERE ARE SO MANY WAYS TO GET MOUNTAIN BIKE ACTION:

Mountain Bike Action is a monthly magazine devoted to all things mountain biking (yes, that's 12 times a year because we never take a month off of mountain biking). It has been around since 1986 and we're still having fun. You can start a subscription by clicking here or calling (800) 767-0345. Also available from the Apple Newsstand for reading on your iPad, iPhone or iPod Touch.
Contact us via email at [email protected]
____________________________________